Things to Do
St. George has blossomed into a haven for people of all ages and interests looking for mild to warm weather and amenities such as golfing on one of dozens of courses, including the top-rated Entrada at Snow Canyon, and renowned destination retreats like Green Valley Spa and Resort and Red Mountain Resort and Spa. Climbers can seek out numerous intriguing sandstone destinations, including Snow Canyon State Park, Pioneer Park, Green Valley Gap and Moe's Valley. Aside from all the great outdoor things to do in St. George, the dining options are plentiful as well. From the chic Zagat-rated Painted Pony to authentic Neapolitan-style pizza at Riggatti's, St. George has emerged as a top dining town in Southern Utah.
Visitors interested in the area's unique pioneer heritage can tour an old cotton mill, Brigham Young's winter home and the Daughters of the Utah Pioneer Museum. The city's LDS Temple, the construction of which Brigham Young oversaw, is an historic architectural gem in the heart of St. George.
For families, the St. George Dinosaur Discovery Site at Johnson Farm and St. George Children's Museum combine with a wildlife museum, nature center, aquatic center and multiple local hikes to petroglyph sites for a complete family getaway. St. George is also home to Dixie State University. The Southwest Symphony season runs October through May. The nearby Tuacahn Amphitheater & Center for the Arts stages theatrical and musical performances. Indeed, as a basecamp to Zion National Park, St. George offers plenty of cultural amenities to help expand your itinerary in southwest Utah once you've explored Zion.
Discover more things to do courtesy of the Greater Zion Tourism Office & Visitor Center.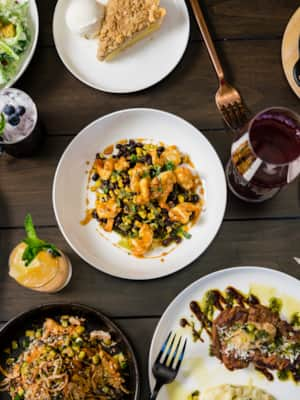 Where to Eat and Drink in St. George
As you explore St. George and Greater Zion seeking excellent food, coffee and drinks, you'll want to add these top restaurants to your list.