7 Trails Near Zion National Park to Expand Your Hiking Experience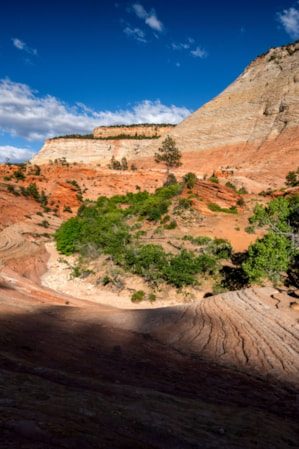 The towering red rock cliffs and cooling waters of the Narrows slot canyon within Zion National Park are the images that define southwestern Utah for many explorers. While millions of people come to the region to see Zion for the first time or to revisit a favorite experience, outstanding hiking abounds outside the park boundary for well-prepared and responsible travelers.
The deep slot canyons of Zion are no doubt the most impressive, but they unfold into vast expanses of more canyon country in the surrounding desert, including in a confluence of regions and ecosystems throughout the Red Cliffs Desert Reserve. Getting out into the distance is the only way to fully see the contrast of the Zion region's white and yellow cliffs and neighboring geology towering over red rock creations all around.
Pro Tip: It's always helpful to have a solid understanding of the terrain you visit, and even better when that knowledge is augmented by tools to help keep you oriented and safe. A physical map, compass, GPS-enabled device or phone with plenty of battery life and offline-capable apps and maps is essential to navigation in the remote parts of Utah.
"While millions of people come to the region to see Zion for the first time or to revisit a favorite experience, outstanding hiking abounds outside the park boundary for well-prepared and responsible travelers."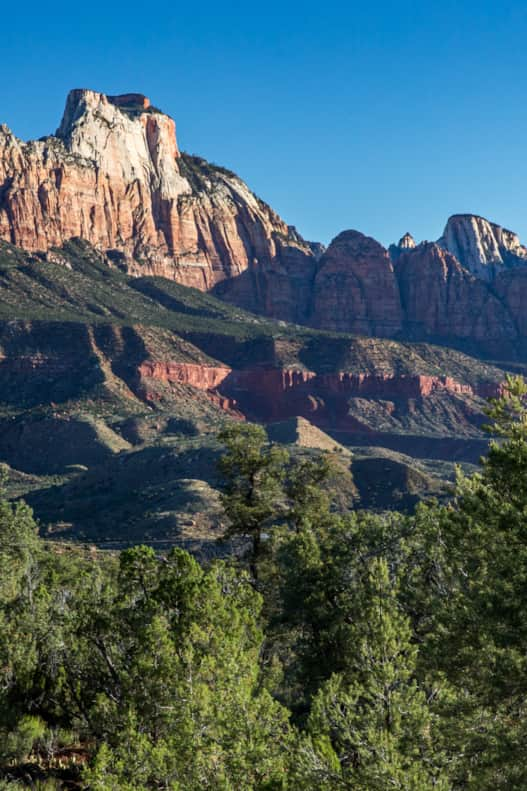 1. Eagle Crags
2.85 miles one-way with 900 feet of elevation gain | Moderate to Strenuous
The Eagle Crags, a collection of spiked sandstone pinnacles on a high ridge south of Springdale, fills the jagged skyline above the Eagle Crags Trail parking lot in the dusty hills south of Rockville and the Virgin River (not far from the Grafton ghost town). The vertical Vermillion Cliffs march away on either side of the spires, forming the southern boundary of Zion's great canyons. The narrow, sandy trail crosses shallow washes scoured by summer flash floods and winds up at broad ridges sparsely covered with a pygmy forest of aromatic piñon pine and juniper.
The Crags lie on Bureau of Land Management (BLM) public lands outside of Zion National Park. The Eagle Crags lie at the northern end of a jutting rock peninsula that extends north from 7,363-foot Canaan Mountain, a huge sandstone massif flanking the south side of the Virgin River's broad gorge. Though just outside the popular park, hiking the trail to Eagle Crags is a rewarding trek to a wild place offering sweet solitude and distant views.
Pro Tips: Dogs are allowed but keep them under control. Watch for rocky and narrow section. Ambitious hikers can continue on a primitive trail to Lower Mountain and higher Canaan Mountain. With all Southern Utah hikes, carry plenty of water, avoid peak summer sun, check the weather before recreating and leave no trace.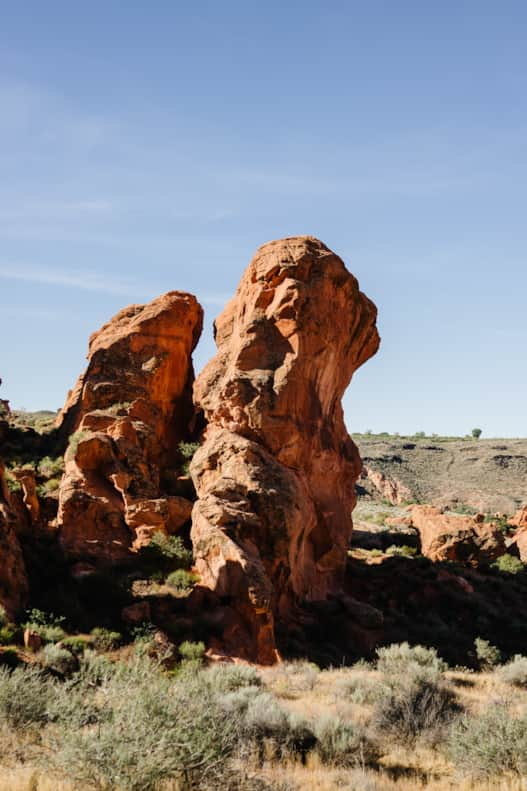 2. Red Reef
1.5 miles round-trip | Moderate
There are multiple sections to the sprawling Red Cliffs Desert Reserve, which encompasses the Red Cliffs National Conservation Area and Snow Canyon State Park. Outside of Snow Canyon, perhaps the finest introduction to this rugged desert ecosystem is the Red Cliffs Recreation Area. The campground and trailheads are a fee area just a short drive from I-15 west of Harrisburg and the north end of Quail Creek State Park. The Babylon area fills in the space between the interstate and La Verkin, where state Route 9 veers east toward Zion National Park.
To get started exploring, here are two uniquely different hikes in the northeastern end of the Red Desert Reserve: the lower Red Reef Trail and Babylon Arch.
The lower Red Reef Trail is a 1.5-mile round-trip that is accessed from the Red Cliffs Trailhead. The full Red Reef trail is 6-miles (one-way) and ventures into the Cottonwood Canyon Wilderness area, whch is more of a strenuous backcountry experience. The lower section is no tame nature walk, it's a fun ramble into a twisting rock canyon. In the spring and after rain, you will likely encounter pools at a few different areas with delightful flowing water you can stomp through and swim in. A leisurely desert waterfall serves as a major landmark a short way up. This area is perfect for families allowing the kids (of all ages) to play in these cool desert oasis swimming holes, but there's no need to end your ramble there. Using the Moqui Steps and rope, you can scramble up the waterfall's sandstone edge and continue onward as long as you like. Most visitors end their hike here, for those wanting to continue be prepared for a more strenuous backcountry hike with no trail signs.
Pro Tips: Parking is limited for this hike and it is best to visit during the week or plan to arrive before 10 a.m. or after 5 p.m. on weekends. There are vault toilets and picnic areas at the trailhead. Carry cash for the $5 Red Cliffs Recreation Area fee. Save time for the short Silver Reef Trail to see dinosaur tracks and Anasazi Trail to archaeological sites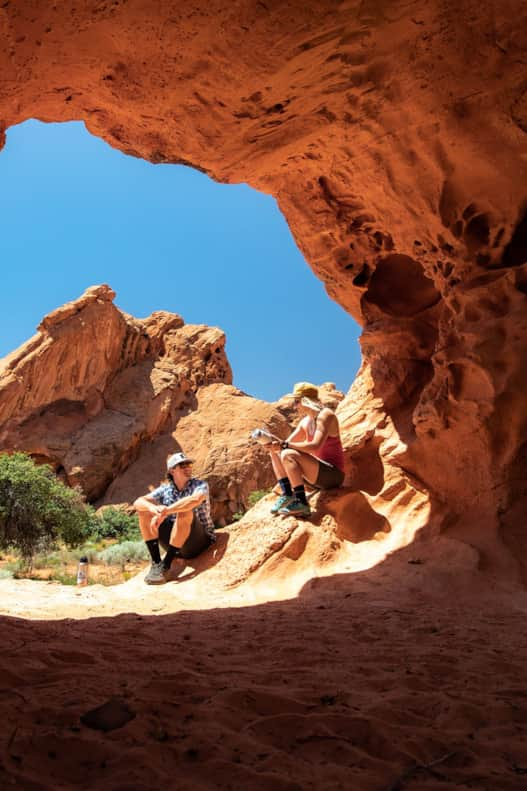 3. Babylon Arch
2.7 miles round-trip | Moderate
Babylon Arch is a 2.7-mile (out-and-back) moderate trail that is accessed from the Sand Cove Trailhead. The landscape and terrain of this portion of the Red Cliffs Desert Reserve is vastly different from the Red Cliffs area, providing epic views of the expanse desert landscapes surrounding the Virgin River corridor. The route begins on the Flicker trail for .2 miles and then a double-track jeep road for .4 miles. At this point you are in the Sandstone Mountain primitive camping area, which can be accessed via UTV or high-clearance 4X4. Look for the Babylon Arch trail sign on the far end of the camping area. From here the trail is mostly downhill and winds through some rocky terrain, be sure to stop a few times to enjoy the epic vistas along the route. There are a few sand dune sections of the hike just before reaching the arch. For those wanting to continue it is another .5 mile to the Virgin River.
Pro Tips: The road to access the Sand Cove Trailhead is sandy and it is advisable for AWD or 4X4 vehicles. The trailhead parking area has a map and trail kiosk but no restrooms.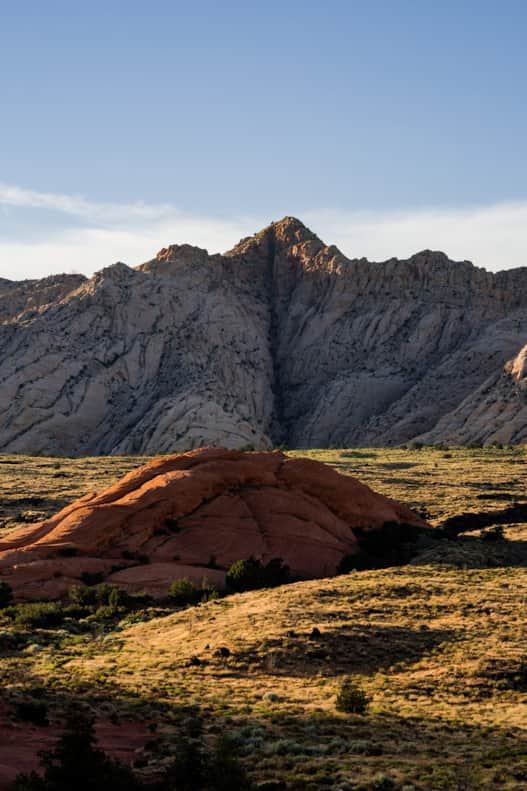 4. Snow Canyon Overlook
4.8 miles, out-and-back | Moderate
The Western and Red Mountain portions of Red Cliffs Desert Reserve include stunning desert terrain — and they're situated near charming Kayenta, where a tourist-friendly artists' village lies. It's hard to beat this incredible pairing. You can find hikes both easy and challenging in this part of the reserve, and each trail has its own unique flavor, merit and great view. You may wander sage and juniper-studded desert washes, or you can clamber into towering, multi-hued red rock canyons, or traverse cooler high-country terrain.
One of the best hikes here is the Snow Canyon Overlook via the Red Mountain Trail through the Red Mountain Wilderness. Just getting to the trailhead is a scenic drive, with the option to route through Snow Canyon State Park along the way (fee required, and you'll certainly want to stop for several hikes in Snow Canyon if you do) or along S.R. 18. The hike to the overlook of Snow Canyon ascends along a steady incline and winds through serene desert junipers on a rock-studded path that eventually gives way to sand. Veer left to arrive at the jaw-dropping Snow Canyon Overlook, which offers sweeping vistas of Snow Canyon State Park, a bonanza of multi-colored rocks and determined desert wildlife.
Pro Tips: A long hike with a big reward, be prepared to navigate several sandy and rocky sections and do not hike in the peak heat of summer. Leashed dogs and horses are also able to use this trail.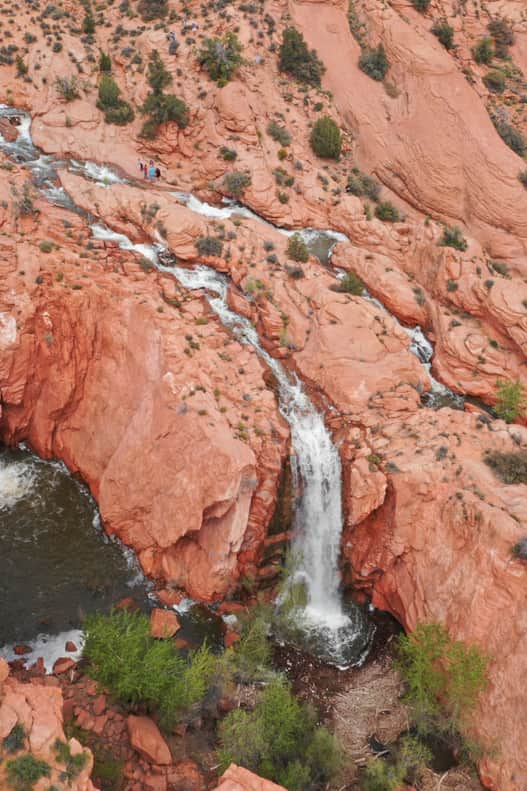 5. Vortex
2.3 miles, round-trip | Moderate
The Vortex is a moderate 2.3-mile (out-and-back) hike that leads to a unique 20 foot deep sandstone bowl. The trail begins at the Lower Sand Cove Trailhead in the Red Mountain Wilderness, located near Gunlock State Park, 20 miles northwest of St. George. The trail winds through many different surfaces, beginning with a rocky descent through black lava rock, then into a sandy stream bed and followed by a climb up and over several fantastic petrified sand dunes. Just before the route levels out head right and walk about 50 yards to find The Vortex. In addition to this really unique petrified bowl, the panoramic views from here are outstanding.
Pro Tips: There are no amenities at the trailhead so plan accordingly. Pack out everything you pack in. If needed, carry wag bags.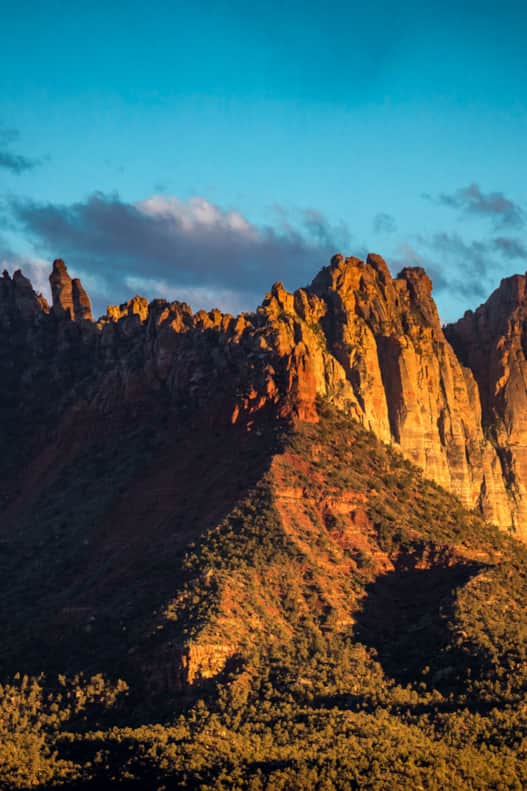 6. Chinle Trail
8 miles one-way | Moderate to Strenuous
Chinle is a journey for lovers of open spaces. It offers a taste of Zion National Park's expansive wilderness outside of the well-trafficked main canyon. (It's almost impossible to visit southwestern Utah without stopping by one of the state's most loved and inspiring landscapes.) Chinle is one of Zion's desert trails, those off the high plateau and out of the canyons, in lower elevation and on smoother ground. As the Chinle Trail rolls over hills and dips into dry washes, it earns fantastic and rarely seen perspectives of the landscape. This is the best view you can get of the fortress-like walls of Mount Kinesava, the prominent peak seen when driving to Zion from the south. Other eyefuls include the jagged spires of Eagle Crags to the south, the forested flat top of Gooseberry Mesa, and the towering West Temple to the east.
The desert also yields many smaller pleasures, like fragrant wildflowers in the spring, lizards and rabbits darting across the trail and on Chinle Trail in particular, petrified wood from prehistoric forests. About four miles into the hike the route crosses the petrified forest in Utah, where small and colorful pieces of fossilized trees can be found scattered around.
Have patience with this trail: Walking through the neighborhood at first and then a few miles along a wide, sandy path is initially uninspiring, but about three miles in the trail feels all of a sudden escaped from society and erased from time.
Pro Tips: National Parks pass required to hike. Always check the weather in advance. Can often be hiked in winter but watch for high winds. Can shorten hike by turning around whenever you like.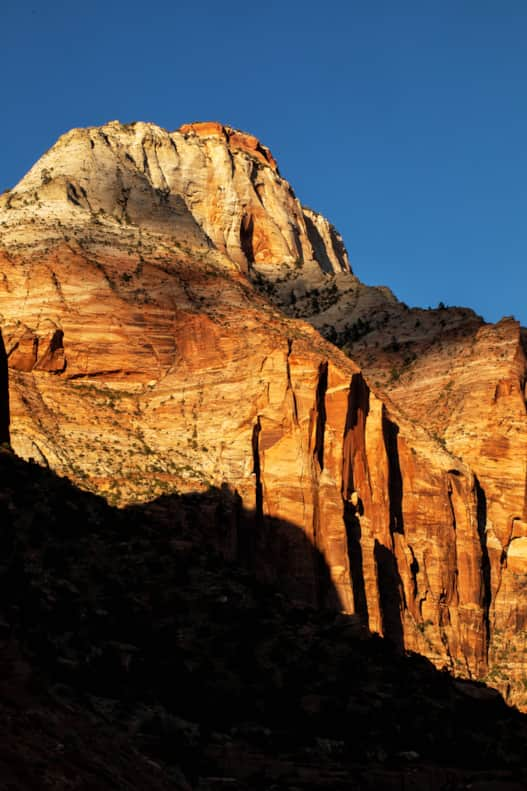 7. Water Canyon
2.5 miles round-trip | Moderate
The Utah-Arizona border shares many spectacular red rock views and high-desert adventures. Think: Monument Valley Navajo Tribal Park, Glen Canyon National Recreation Area and the Paria Canyon-Vermilion Cliffs Wilderness, home of Coyote Buttes and the Wave. A stone's-throw from the Arizona border, and about an hour southeast of St. George, lies the town of Hildale (an east-west road that tip-toes the border carries the name Uzona), gateway to the Canaan Mountain Wilderness Area.
Water Canyon is among the most well-known features of the nearly 45,000 acres of designated public lands wilderness, an area that shares much of the geology, ecology and wonder of Zion National Park. This moderate 1.25 mile (one-way) route takes visitors to a lush box canyon where the towering walls are covered with many hanging gardens that grow where water seeps from the canyon walls. Be sure to keep an eye out for Water Canyon Arch that lies near the top of the 1,200 foot wall of the east side of the canyon. Experienced and well-prepared hikers may continue farther. Because this is less-trafficked Bureau of Land Management terrain, visitors must take extra precautions and visit with the utmost care and sense of responsibility to personal safety and the land.
Pro Tips: Spring and fall may be the best time to avoid peak summer heat, although spring runoff from snowpack can render the trail dangerous. Carry plenty of water hiking in Utah's desert, particularly in the summer. The trail picks up around 600 feet in elevation, requiring good fitness and preparedness.