U.S. Federal Shutdown Information
At this time, all of Utah's national parks, monuments and recreation areas remain open.
Learn more.
Kayenta Art Village
Like a Marfa, Texas, or Paonia, Colorado, Kayenta is often regarded as an artist colony of sorts. Kayenta's Art Village is a hub of cultural and social activity for locals and visitors alike.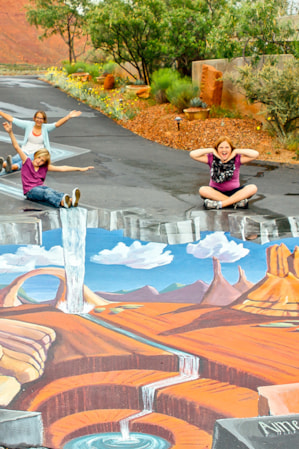 Nestled against the Red Mountain in true red rock country, just seven miles north of St. George, near Ivins, Utah, lies the hamlet of Kayenta, and its famed
Kayenta Art Village
— it's tranquil but not secluded. Conscientious growth and the use of local materials, such as the area's famous red clay for pottery classes, are hallmarks of this community. Like Marfa, Texas, or Paonia, Colorado, many regard Kayenta as an artist colony of sorts.
With so many things to see and do, the Kayenta Village is a hub of cultural and social activity for locals and visitors alike. Galleries and artist studios abound, and if you're an art fanatic, there is nothing more special than meeting artists and watching them create in their studios. You can even try your hand at a pottery or painting class, and participate in special events and performances year-round. At Xetava Gardens Café, you can grab a cup of coffee or a bite to eat, or visit the Sacred Space Spa to unwind and relax after a long day of hiking.
Some of the galleries you'll find here include Juniper Sky Fine Art Gallery, with wind sculptures and glass work from local artists; Gallery 873, with copper creations, stoneware, hand-crafted jewelry and gourd art; Datura Gallery, with jewelry created by regional artists and unique wood paintings; Mystic Light Photo Gallery; and Purple Sage Studios, where if you ask about their "back room deals — fine art steals" you can get fine art for up to 40% off.
Not just art and jewelry galleries, there are interactive options at the art village as well. Check out the Desert Rose Labyrinth and sculpture garden for a walking meditation after a busy day of exploring, or learn about plants native to Southern Utah at the Kayenta Desert Arboretum. The Blue Raven Art Studio is a great place for families to get a painting lesson together or a private session with an experienced art educator. Another local favorite in the Art Village is the Cabaret Theatre, an outdoor venue featuring a range of performances – music, theatre, lectures — adding to the extremely family-friendly nature of this community.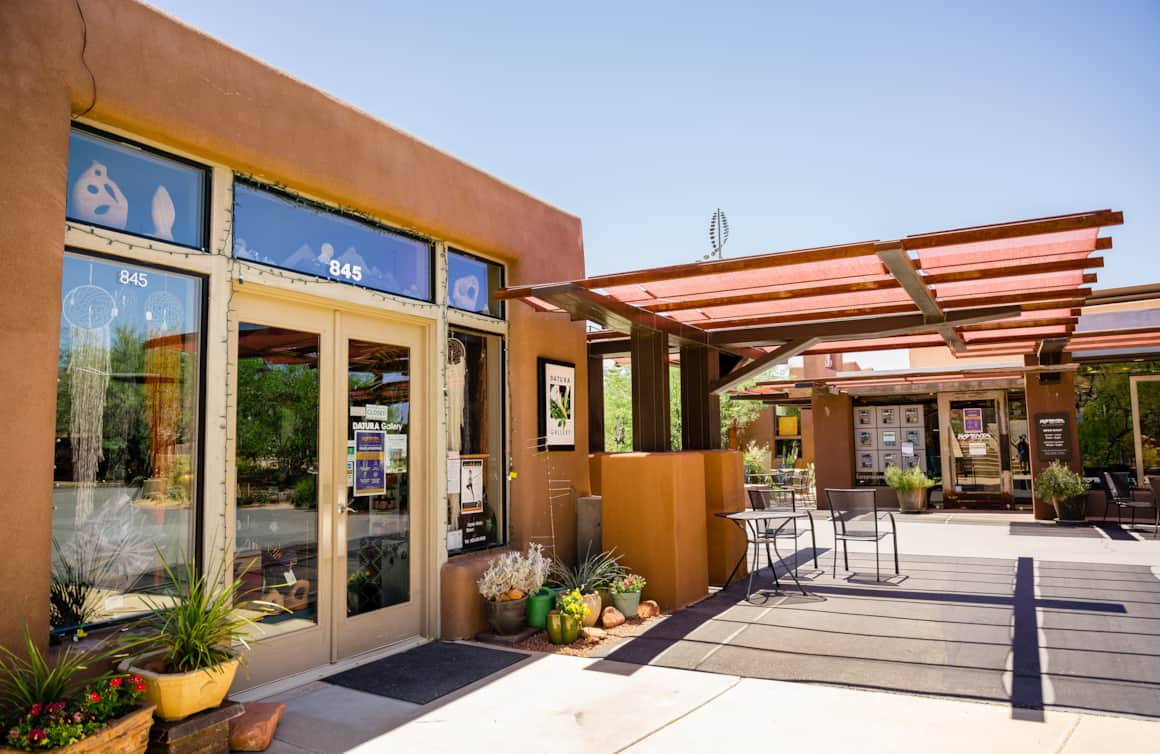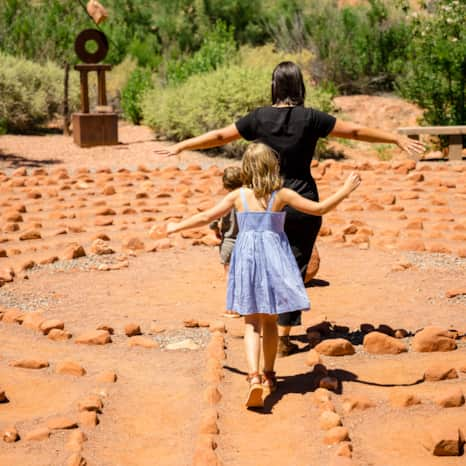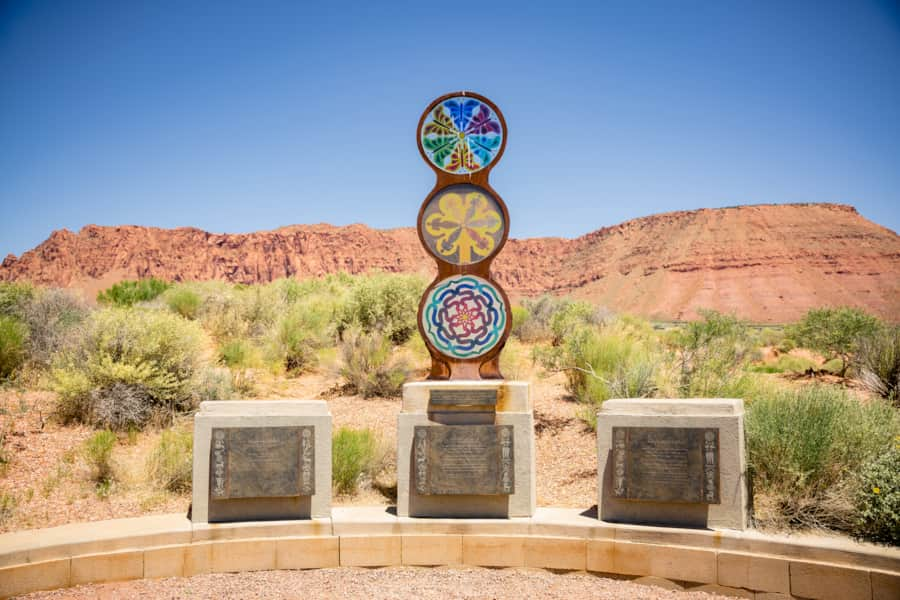 One of the main reasons that Kayenta is so popular for artists is the red rock landscape provides such inspiration. After you get your fill of watching artists work, head into the great outdoors and inspire some creativity in yourself. Kayenta is known as a gateway to "the Grand Circle of National Parks," which includes
Zion
,
Bryce Canyon
,
Lake Powell
, the Grand Canyon,
Monument Valley
, and Mesa Verde, so there is no lack of options for your adventures.
If you want to explore the surrounding area, there are many hiking trails around, including Rock Park, the largest park in the center of Kayenta; Elephant Rock, with access from East Evening Star Drive; Hell Hole Canyon with its natural waterfall feature; and Three Mile Wash, following the fall line off the Kayenta Cliffs in Hell Hole Canyon.

There is also a network of dirt roads with access to hundreds of acres for mountain biking. In order to preserve the quiet and sanctity of the natural landscape for bikers and hikers, no motorized vehicles are allowed on these roads. If paved roads are more your riding preference, you will find a perfect blend of easy and moderate terrain for a relaxing and mellow ride. Blue Raven Bikes offers e-bike rentals with trails accessible right outside of the shop.

Whether you are an aspiring artist looking for creative vision or an adventurer looking to explore the beautiful state of Utah, Kayenta is a great place to grab a paintbrush or your road bike and enjoy the ride.

A great time to visit the village is during one of the many art festivals that take place throughout the year that include street painting, the President's Day Gallery Walk, and many more. You can check out the Kayenta Art Village website for a complete and up-to-date listing of events. The village is open to the public daily from 10 a.m. to 5:30 p.m., and is located at 875 Coyote Gulch Court in Ivins. Xetava Gardens Café and the Sacred Space Spa are both open daily, check their websites for up-to-date hours.
GPS Coordinates: 37.185035, -113.706456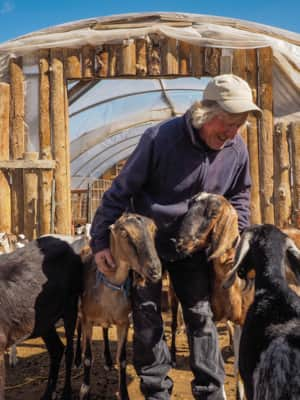 Utah's Unexpected Pit Stops
You're doing it wrong if you think road trip pit stops are boring layovers on your way to more exciting destinations. How many of these hidden gems have you been to? Here are 11 mini-adventures to check off your list next time you're road-tripping through Utah.