1. Milt's Stop & Eat - $
356 S Mill Creek Drive, Moab
There are few things more rewarding in life than a chocolate milkshake, loaded Cowboy Burger and basket of onion rings at Milt's Stop & Eat after a long day of playing in the Moab desert. Moab's oldest restaurant has been serving food since 1954 – and has the original Formica counters to prove it. Milt's has reached cult status among tourists and locals. The fries are hand-cut, the malts are made to order and the burgers come loaded with everything from onion rings to grilled pineapple. Eating here is like turning back the clock.
Milt's is located en route to the Slickrock Trail and has a tiny dining room that fills up quickly. There's also a pick-up window if you choose to eat at the outdoor tables. Along with being stewards of Moab nostalgia, owners BC Laprade and Danelle Ballengee buy local dairy products, grass-fed beef and desert-grown produce. The lines can be very long, but don't get discouraged — the shakes are worth the wait!
"There are few things more rewarding in life than a chocolate milkshake, loaded Cowboy Burger and basket of onion rings at Milt's Stop & Eat after a long day of playing in the Moab desert."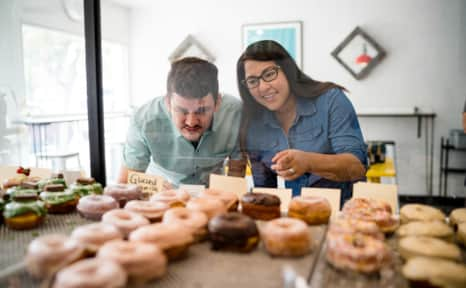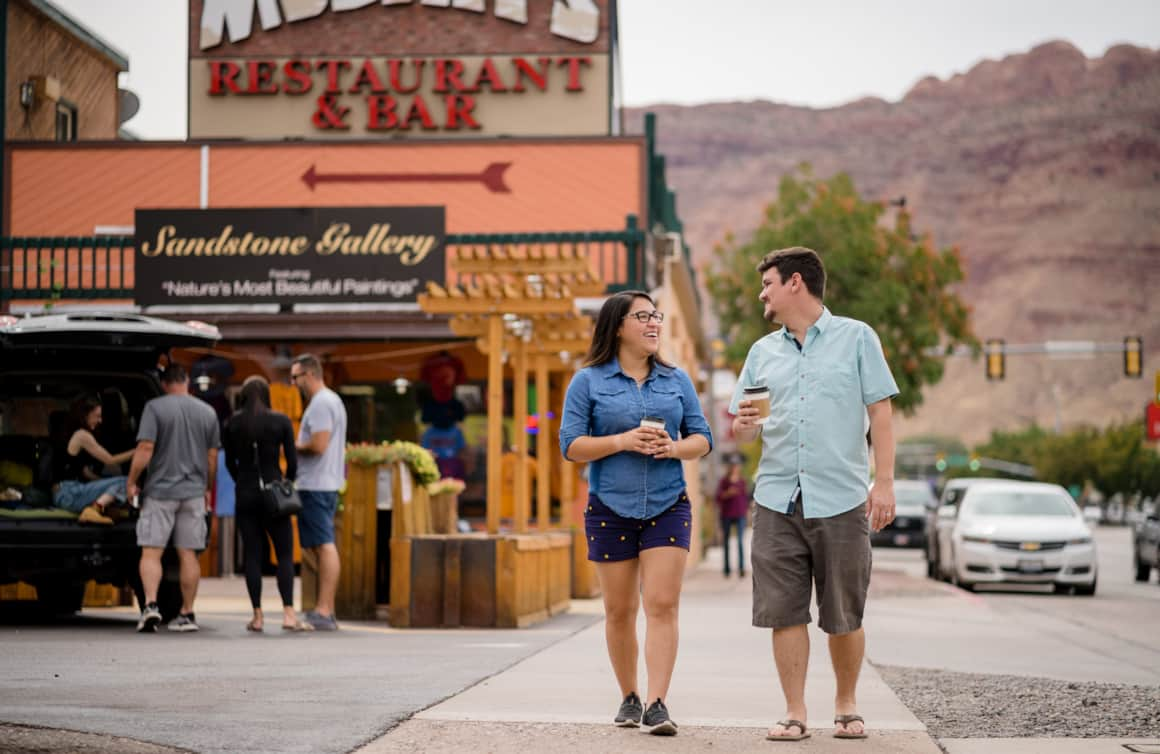 2. Jailhouse Cafe - $
101 N Main Street, Moab
Jailhouse Cafe has been serving up pancakes, eggs and coffee in downtown Moab for more than 25 years. A mural on the side of this brightly colored eatery proclaims itself (accurately) as Moab's Breakfast Place. Fuel up for your day on fluffy stacks of pancakes, savory egg scrambles and fresh fruit juices. Fans of a classic American breakfast will feel right at home in this cozy cafe.
3. Antica Forma - $$
267 N Main Street, Moab
What would an adventure town be without a top-notch pizza place? Antica Forma's wood-fired Neapolitan pizzas are legendary. They are more Italian than American in style, meaning they are big on flavor and less focused on heavy amounts of dough (they are also available gluten-free). The Funghi and Capanna pies are among the best they offer.
Besides pizza, Antica Forma offers pasta dishes, sumptuous appetizers and crisp salads. The calzones are heaven-sent after a big day of biking or climbing. As a bonus, the restaurant's ambiance (and welcome air-conditioning) is casual but classy, anchored by the impressive woodstove behind the counter. It's a friendly, relaxed place that has become one of Moab's favorites.
4. Sabaku Sushi - $$
90 E Center Street, Moab
Sabaku Sushi offers a unique fusion of Asian sushi with a Southwest twist. It's a rare opportunity to order fresh ceviche, maki sushi, vegetarian sushi — even elk tataki (lightly seared) — and cocktails all in the same sitting. Since 2010, Sabaku Sushi has been delighting customers with dishes that are as visually impressive as they are delicious.
The chefs at Sabaku Sushi use only top-notch ingredients that are locally sourced, and fresh fish is flown in overnight. Anyone with eating restrictions will find the menu extremely customizable, with substitutions available for seaweed, gluten and other allergies. Visit this culinary oasis in Moab's 'Sabaku,' the Japanese word for desert.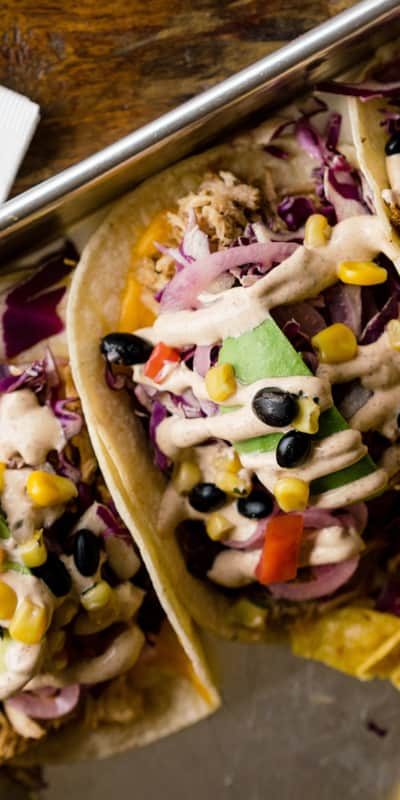 5. Moab Diner - $
189 S Main Street, Moab
A hearty breakfast at the Moab Diner has powered countless mountain bike adventures, Jeep tours and rock climbing sessions. Known for generous portions, affordable prices and a retro-desert-hip vibe, this diner is one of the very best places in town to take in big calories without sacrificing taste or quality. And it's not just a breakfast joint — excellent diner-style food is available until 9 p.m. You'll be excused if you partake of a second breakfast after the day's activities are done.
Some of the most memorable meal options include the sourdough French toast, steak burritos and the just-right hash browns. Dinner options such as the ribeye steak and the smothered Moab melt (a roast beef, cheese and green chili sandwich) hit the spot, especially when paired with the pie ala mode for dessert. And if you're not in the mood for a full meal — or you have just enough room for a little extra after your meal — the ice cream shop serves an assortment of flavors and sundaes.
6. Moab Brewery - $$
686 S Main Street, Moab
If kiddos are in tow and you need a low-fuss restaurant that still offers excellent beer choices for the grown-ups, check out the Moab Brewery. Their lengthy menu has something for everyone: kids, vegetarians, light eaters and gluten-free folks too. The real star, though, is their selection of draft beers which are brewed and bottled on-site.
The Moab Brewery opened its doors in 1996 and remains the only microbrewery in Moab. Wash down your meal with a frosty glass of their popular Dead Horse Ale or award-winning Rocket Bike American Lager. Or grab a variety pack to go. Whatever you choose, the Moab Brewery is a refreshing stop.
7. Thai Bella - $$
218 N 100 W, Moab
Not expecting Thai food in Moab? How about really good Thai food? Thai Bella is a town favorite and it isn't just a novelty. The cuisine is rich, flavorful and authentically Thai. It's also one of the best places for vegetarians to gorge themselves on delicious stir-frys, noodle dishes and a variety of soups. Curry dishes, uncooked spring rolls and tempura dishes are popular. Of course, there are plenty of meat options such as cashew chicken and beef noodles.
Besides the great food, the service is noted for being friendly, quick and attentive. The outdoor seating area has ample shade and is decorated with flowers and very Moab-ish rock gardens. Thai Bella is a nice variation to pub-powered food, but you'll need to be careful when selecting your spice levels — the hottest level is as scorching as Moab's summer sun!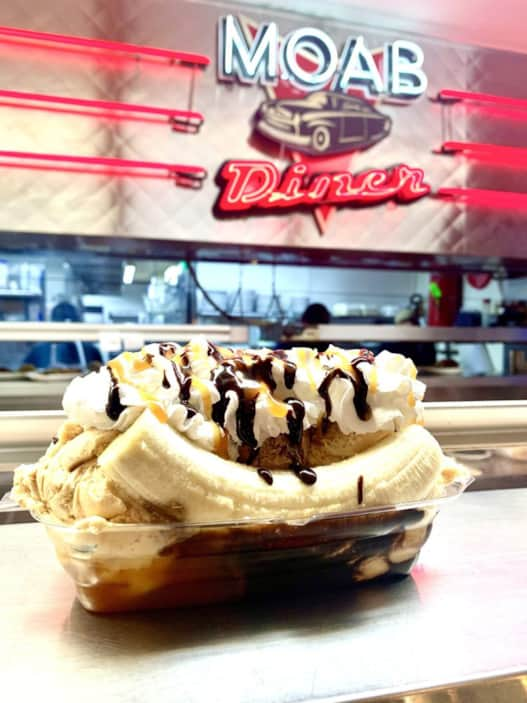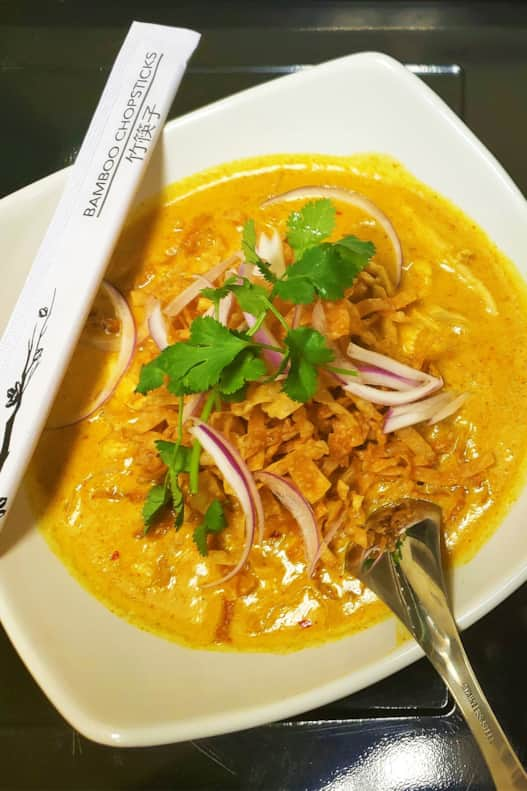 Looking for more options? Moab's dining scene continues to evolve, don't miss additional downtown restaurants like Desert Bistro, Josie Wyatt's Grille and Dewey's Restaurant and Bar. Also along Main Street, you'll find Sunset Grill just north of downtown and Hidden Cuisine just a little bit south.