Touring Greater Zion's Parklands and Natural Wonders
As you're mapping out your winter trip to the Southwestern Utah region, consider adding the following parks and natural wonders to your itinerary.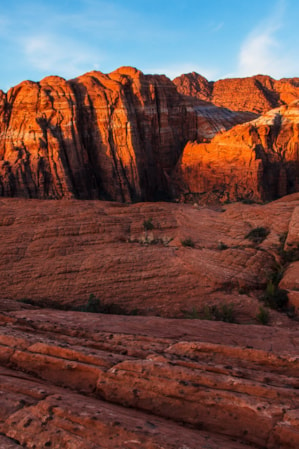 When winter sweeps into southwestern Utah, the crowds roll away, and park visitors can enjoy quiet trails and sunny days. While there are fewer daylight hours, it's a fantastic time to explore the outdoors. In the Southwestern region of Utah, winters are surprisingly mild, making it a pleasant time to experience the natural wonders of scenic areas like Zion National Park, Snow Canyon State Park and Joshua Tree National Natural Landmark (see more places nearby Zion). During winter, these landscapes are hauntingly beautiful with rainbow-tinted rock layers, twisting slot canyons, wooded highlands and turquoise skies.
Be prepared for warm days and little precipitation or snow in the lower elevation parks like Zion and Snow Canyon, which was named for early settlers Lorenzo and Erastus Snow rather than a blanket of winter white. The city of St. George, the snowbird capital of the Southwestern region, boasts Utah's mildest winter weather for hiking, golfing and sightseeing. Visitors who crave a winter wonderland can head to the snow-bound rim of Bryce Canyon's 9,000-foot plateau for snowshoeing and cross-country skiing. As you're mapping out your trip to the Southwestern region of Utah, consider adding the following parks and natural wonders to your itinerary.
Zion National Park
Utah's crown jewel is Zion National Park, a massive refuge of deep canyons, towering sandstone cliffs and soaring peaks chiseled by wind and water. Winter is the ideal time to visit Zion, as you'll encounter few other visitors. While you won't pass many other hikers on the trails, you'll still see plenty of wildlife.
Zion Canyon, the most visited park sector, offers raw nature and unforgettable experiences for winter visitors. You can explore a dozen trails or take a scenic drive up the majestic canyon while enjoying warm daytime temperatures and colorful sunsets. For an easy stroll, walk the half-mile (one way) Grotto Trail. Or, follow the Watchman Trail, a 3.1-mile loop, for excellent views of the 2,200-foot Watchman Spire. If you're seeking a more strenuous hike, and you don't have a problem with heights, the Angel's Landing Trail receives fewer visitors in the winter. On this 2.4-mile (one way) hike, you'll follow a knife-edge ridge surrounded by breathtaking scenery — but check conditions when attempting this hike in winter. To enjoy a quiet overnight spot, stay at the mostly deserted Watchman Campground.
Time requirement: 1-2 days, depending on number of trails you tackle
Special gear needed: Bring warm clothes for the afternoon after the sun leaves the canyon. If you're camping, bring a sleeping bag rated for frigid temperatures. Use trekking poles if you're hiking on snow-packed trails.
Zion's Kolob Canyons
The Kolob Canyons, Zion National Park's best secret place, is a perfect winter stop off Interstate 15 north of St. George. The five-mile Kolob Fingers Road Scenic Byway climbs to spectacular lookouts. Plus, the road leads to a short trail that visits the impressive Timber Creek Overlook. From the overlook, you'll have expansive views of the Kolob finger canyons, Shuntavi Butte and the North Rim of the Grand Canyon, which lies more than 100 miles to the southeast.
The Kolob receives more snow than lower Southwestern Utah areas, so most trails are icy. Bring snowshoes, trekking poles, and microspikes if you want to hike out to the 287-foot-long Kolob Arch, the sixth-longest arch in the world.
Time requirement: 1 day is plenty of time to stop at the visitor center, drive the scenic road, and do a couple of short hikes.
Special gear needed: Wear warm clothes since the canyons are at high elevations. Bring trekking poles and microspikes or snowshoes for long hikes
Snow Canyon State Park
Lying on the northern edge of St. George, Snow Canyon State Park is an incredible winter destination with unspoiled views, dazzling cliffs, petrified sand dunes, and 38 miles of trails. Snow Canyon's beauty rivals that of neighboring Zion and, in winter, there are usually no crowds, and temperatures are perfect for hiking. Snow Canyon's 13 trails offer everything from challenging hikes to carefree romps. You can explore windswept dunes, rugged canyons, Native American rock art sites, and slender slot canyons. Rock climbers can try trad and sport routes at excellent crags like the Circus Wall, which is part of the Island in the Sky series of rock formations. If you're a cyclist, you'll enjoy riding the scenic park drive.
Time requirement: 1-2 days to explore the park, stop at the Visitor Center, and hike several trails.
Special gear needed: Pack a light jacket, sun hat, sturdy hiking shoes, and drinking water. Pack extra clothes if it's possible that you'll be on the trail at sunset when the temperature drops.
Smithsonian Butte Back Country Byway
The nine-mile Smithsonian Butte Back Country Byway is an off-the-beaten-track dirt road that climbs to stunning vistas across Dixie National Forest. Beginning in Rockville, the byway follows a single-lane bridge over the Virgin River and bends past the ghost town of Grafton. (Read:"Utah's Unexpected Pit Stops".) As you're traveling this route, stop at the old townsite, a movie set for Butch Cassidy and the Sundance Kid. You can also see a house built in 1862, an abandoned church, and a cemetery filled with weathered pioneer gravestones. The road, impassable when wet, twists south up Crybaby Hill to marvelous views of Zion Canyon, Mount Kinesava, Eagle Crags, Gooseberry Mesa, and the Vermillion Cliffs before bumping south across Big Plain to Highway 59. It's recommended that you travel this route in a 4WD vehicle with high clearance.
Time requirement: A half-day to drive the backcountry road and visit Grafton.
Special gear needed: A four-wheel-drive vehicle is ideal, because sections of the dirt and gravel road could be muddy or packed with snow.
Coral Pink Sand Dunes State Park
Westerly winds funnel grains of sand through a gap between the Moquith and Moccasin Mountains, forming the Coral Pink Sand Dunes, the largest dune field in southern Utah. The rippled, windswept dunes are a giant sandbox for playtime, nature study, and wondrous scenery.
Visit in winter and have the state park to yourself. Hike across the dunes, go sandboarding (snowboarding without the snow), maneuver an off-highway vehicle (OHV) on more than 2,000 acres of sand and study the diverse plants and animals that live on the bleak landscape. Before heading to nearby Kanab for the evening, hang around for sunset when sunlight bathes the dunes and mountains in an unearthly red glow.
Time requirement: 1 day is ideal to explore the dune field, hike park trails, take an ATV ride, and photograph the sunset.
Special gear needed: Wear warm clothes since it can be windy, and wear sturdy shoes for hiking in sand.
Joshua Tree National Natural Landmark
The far southwestern corner of Utah is home to the only Joshua tree forest in Utah and the northernmost grove in the United States. The fanciful yucca trees, named by early Mormon settlers for the bearded biblical prophet, are protected on 1,052-acres in Joshua Tree National Natural Landmark. To see vast stands of Joshua trees, take a drive on the Mojave Desert-Joshua Tree Scenic Byway. Head down the west side of the rugged Beaver Dam Mountains to reach Beaver Dam Wash, Utah's lowest point. In the desert valley, a few miles north of the Arizona border, you'll find not only Joshua trees but also the endangered desert tortoise.
Time requirement: 1 day to drive the scenic route and see the Joshua trees.
Special gear needed: The road has a maintained gravel and dirt surface that is usually passable in two-wheel-drive vehicles. A high-clearance, four-wheel-drive vehicle is recommended after rain or if the road surface is wet and muddy. Bring drinking water since it's often warm and dry.
Bryce Canyon National Park
Winter is the quiet time at Bryce Canyon National Park, an eroded fantasyland of skinny hoodoos and slender spires crowded into Bryce Amphitheater. The summer tourists are gone, leaving behind sparkling fields of deep snow, plowed roads, and cross-country ski trails that skirt the lofty rim of the Paunsaugunt Plateau. At sunrise, you can hike or ski to the rim to glimpse the strange rock formations glowing in fluorescent orange, yellow sienna, and flaming red. If you want to walk among the obelisks, flying buttresses, and minarets below the rim, check with the rangers at the visitor center to see which trails are open. Also, wear microspikes on your boots for traction. A good time to visit is President's Day weekend when the annual Bryce Canyon Winter Festival celebrates the chilly season.
Time requirement: 1-2 days to hike to overlooks, descend a trail into the hoodoo wonderland, and snowshoe and cross-country ski to more distant viewpoints.
Special gear needed: Wear warm clothes since the rim is above 8,000 feet. Sturdy winter boots are essential because you'll be hiking in snow. Bring snowshoes, cross-country skis, microspikes, and trekking poles for hiking and ski touring along the rim and in Bryce Amphitheater.
​Hemingway and The Byrd

SONDERimmersive and CytyByrd cafe's Byrdhouze present: Hemingway and The Byrd (An excerpt of The Lost Generation) AN IMMERSIVE DINNER THEATRE EXPERIENCE DINNER Journey through a designed menu where fresh ingredients are transformed into more than the sum of their parts while respecting and celebrating the farmer's bounty.  The care and thoughtfulness in each dish is ever present on the plate and palate. Click here to see the evenings menu. IMMERSIVE THEATRE There is no stage. Once you set foot into Cytybyrd, you have entered the rocky life and fictional writings of Ernest Hemingway, which play out all around you. ​Each drink and each course interweave within the story. Playful, surprising, fun... An unusual intimacy -Salt Lake Magazine Elevates the dinner theatre experience​  -The Utah Review Replete with desire, joy, absurdity, fear, and loss… ​The food and drinks are themselves characters in the story -Utah Theatre Bloggers Association

"A Celtic Summer's Night"

Evening Series performances are held at the Murray Park Amphitheater and run June - September. . WHEN: August 27 & 28 WHO: A Celtic Summer's Night Concert **Starring the Scariff School of Irish Dance alongside Mairead Nesbitt. TIME: 8:00 PM WHERE: Murray Park Amphitheater (Parking located at 495 East 5300 South; Handicapped parking may be accessed directly south of the Murray Parks Office) . Mairead Nesbitt's eclectic music has always encompassed the contrasting styles of Traditionally Irish Music and Classical Music. An Emmy-and-Grammy-nominated artist and composer, Irish Music Magazine Best Tradition Artist, and multi-recipient of the Irish Music Awards, Mairead has always been determined to master and merge the two seemingly conflicting styles. The diversity of her musical influences is as much a testament to her abundantly musical childhood as it is to her unique playing style of today. The Scariff School of Irish Dance offers Irish dance instruction for both competitive and recreational dancers.. TICKETS $15 General Admission Tickets may be purchased in advance at the Murray Parks & Rec Office (296 E Murray Park Ave) or at the gate approximately 30 minutes prior to show time. Tickets may also be purchased online at RegTix.

"A Drop of English Blood" with Nannette Watts - Proper-Distanced House Concert with Recording Option

Knowing who we are when the night is dark can lend stability when times are tough. Each drop of detail fills us with strength, drop by drop. Join us for an evening of discovery as performing artist Nannette Watts guides us through stories that are so specific, they become universal. Nannette Watts is co-director of National Youth Storytelling. She has told stories beyond each corner of Utah and in between. House Concert is at the Hedman Home backyard in West Jordan, UT with proper distancing at 4835 W. Sunset Park Lane, West Jordan, UT 84081. Masks are required. Masks will also be available to anyone donating $15+ or simply to buy for $15.

"Be My Golden Valentine," feat. GOLD STANDARD, a Funky Jazz Trio

An Evening of Love, Live Jazz, and Cocktails! It's about time we got back out on the town, listened to some great live music, and enjoyed some fine wine, beer, cocktails, and eats. And it's all executed with everyone's safety in mind in the spacious, carefully laid out subterranean O.P. Rockwell Music Hall (look for "the red door!"), now featuring a cutting-edge air purification system. This weekend, The Rock presents the funky jazz trio GOLD STANDARD! There is a limited number of seats available for this event. Charcuterie platters are available for purchase in advance when you book your tickets. Doors open at 7 p.m., and the music starts at 8 p.m. THIS IS A 21-AND-OVER EVENT. *** Precautions we are taking to ensure everyone's safety: This is a COVID-conscious gathering. Your party will be seated a minimum of six feet away from other groups inside The Rock Building at 268 Main Street, which features a brand-new, air-purification feature. Tables are sanitized, and hand sanitizer is available throughout the room. Guests are required to wear their masks unless seated at their tables. We follow all Summit County COVID-19 guidelines.

#Utahisrad: The Cool Kids' Guide to Salt Lake City

Meet the locals, see the weird stuff, try the local beer, see the bands and discover why #utahisrad.

'We Are All Great Salt Lake': A Biologist Explains the Lake's Mysteries

A career studying one of the most unique ecosystems in the world might be smelly, but Jaimi Butler wouldn't trade her time on Great Salt Lake for anything.

10 Places to Honor Women's History on Your Trip to Utah

Notable places you can visit where women have shaped history

10 Routes Chosen by Utah Cyclists

We reached out to cycling experts and enthusiasts — in some cases to people who literally wrote the book on cycling in Utah — to get a feel for some of Utah's best road cycling routes.

11 Classy Ski Experiences That are Uniquely Utah

From sheer proximity and the biggest mountains to a ski-in distillery and a celebrity-owned resort, these are the reasons to ski Utah now.

A Family Road Trip From Las Vegas to Zion National Park

A three-day weekend is a perfect start in exploring the Wild West of Zion National Park and Southern Utah. This family-friendly road trip pairs a big helping of adventure with new discoveries in Southern Utah's frontier for a weekend you and the kids won't soon forget.

A Sensory-friendly and Adaptive Survival Guide to Traveling in Urban Utah

Helpful suggestions for families of disabled and neurodiverse kiddos to help plan a trip with minimal meltdowns and maximum enjoyment.

A Winter Trip Through the Heart of Utah's Desert

Experience a world unlike anything you've ever imagined in the high desert mountains and plummeting canyons of south-central Utah. You'll step into two national parks, three state parks, and all the scenic winding roads your heart could desire.

Accessible Utah

There are so many great adaptive adventures in Utah, whether you enjoy skiing, cycling, hiking or just about any other outdoor activity.

AirBnB Experiences

Airbnb and the Utah Office of Tourism have partnered to make Utah among the first states featured on Airbnb's new Experiences Platform

Airports

Find information for flying to Utah through Salt Lake City International Airport. Find airport details and contact information.

Alpine Splendor

Fall foliage driving tours through Utah are an amazing experience. Enjoy alpine splendor and refreshing mountain air. Plan now! Travel to Utah this autumn.

Alta Ski Area

Alta Ski Resort is a skiers' paradise which offers afternoon ski deals for Alta ski area.

Anasazi State Park Museum

The Anasazi State Park Museum near Boulder, Utah is the former site of one of the largest Puebloan communities in the region. Learn more and plan a visit!

Antelope Canyon

Want to visit the awesome Antelope Canyon? Utah offers all kinds of adventurous day trips for visitors — start planning your getaway today.

Antelope Island State Park

Antelope Island State Park is 25 miles north of Salt Lake City. Accessed by a causeway, the island sits in Great Salt Lake and features free-roaming bison and antelope herds.

Backpacking

Backpacking in Utah can take you through alpine forests, red rock lands, jagged peaks or lush waterways.

Boomer Travel

Trip itineraries for multigenerational vacations to Utah have something for everyone. Check out these Utah vacation spots when planning your family trips.

Camping

The camping is nearly boundless in Utah — find free camping, campgrounds near national parks, or browse by state region to start planning your trip.

Cities & Towns

Cities located in Northern Utah offer access to ski areas, mountain adventures, urban lifestyle and excellent amenities. Heading a few hundred miles south opens up a completely different landscape, where you can disconnect in outdoor basecamps surrounded by redrock scenery and unforgettable vistas (and some skiing, too).