Touring the Dinosaur Diamond Prehistoric Highway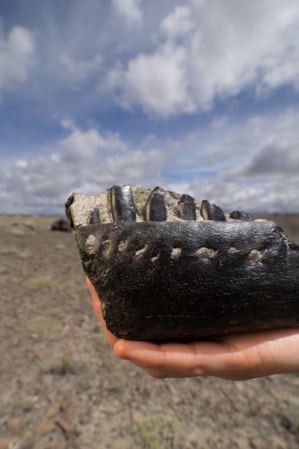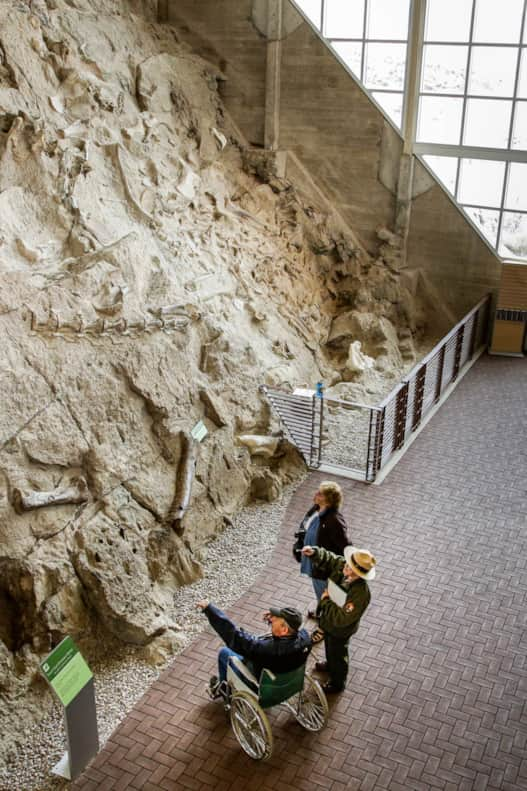 This diamond-shaped National Scenic Byway not only offers visitors the unique chance to see, touch and learn about the gigantic creatures that once roamed this land, but view prehistoric Native American art in natural settings and try out world-class recreation adventures among forested mountains, wildlife-rich rivers, red rock canyons and cliffs, and wide-open spaces.
Explore Dinosaur National Monument
A great place to begin your travel is Dinosaur National Monument, a highlight of the byway, which spans over 200,000 acres across the Utah and Colorado border. Thousands of dinosaur fossils were first unearthed on the Utah side in 1909; after 30 years of scientific and cultural discovery, the protected national treasure was greatly expanded in 1938, cementing it as one of the most significant prehistoric sites in the world.
Starting in Jensen, head north on Highway 149 to the Quarry Visitor Center. From there, drive or take a shuttle (during the summer) to the Dinosaur Quarry Exhibit Hall, a protective quarry building where you can view a Jurassic boneyard wall of 1,500 protruding skulls, femurs, vertebrae and more — preserved in their original form. You'll also get the chance to touch real dinosaur fossils, which no doubt will result in a jolt of wonderment in all ages.
Vernal: Dino-Selfies and Much More
Take the short drive west on U.S. 40 from Jensen to Vernal, the heart of "Dinosaurland", and visit the Utah Field House of Natural History State Park Museum, which houses fossils, dinosaur skeletons, educational exhibits and cultural displays.
A grand feature at the museum is the Dinosaur Garden, an outdoor diorama with numerous full-sized dinosaur replicas including a 20-foot-tall Tyrannosaurus Rex and a 6-ton Stegosaurus. These prehistoric creatures make the perfect backdrop to your vacation selfie.
"This majestic geography [is] considered the best place in the world to experience dinosaurs."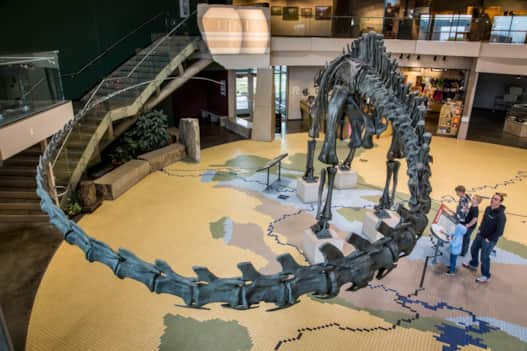 When you're ready to stretch your legs, Vernal and the surrounding area offer myriad activities for every type of outdoor enthusiast, from the beginner to the extreme adventurer.
Mountain biking trails wind throughout the rugged and cloud-reaching Uinta Mountains, also a popular destination for fishing, hiking, camping, backpacking and ATV. Nearby reservoirs, lakes and rushing rivers provide ample opportunities to get wet — from boating to whitewater rafting and kayaking.
Head South for Scenic Vistas
From Vernal, the byway travels west and south on U.S. 191 and into the Ashley National Forest, through which you'll experience the Indian Canyon Scenic DriveByway. Hundreds of shades of green welcome you as the road climbs through steep cliffs into a forest of pinyon pine, juniper and Douglas fir before cresting at the 9,100-foot summit with amazing views of deep rugged canyons. On the descent, the vista opens up into the former mining and railroad town of Helper along U.S. 6.
A Must-See Museum and Active Quarry
The prime visit in Price is the Utah State University Eastern Prehistoric Museum. Displays reveal exclusive archeological and paleontological wonders such as a cast of the Huntington Mammoth, ancient artifacts from the Fremont Indians and the skeletal remains of the Utahraptor, discovered in 1989 and known as the "super-slasher" because of its 15-inch claws. (Read: A Deep Dig into Utah's Deep Time)
The museum is unique in that the items on display were discovered nearby at the Cleveland-Lloyd Dinosaur Quarry. The working dig site is known internationally for having the densest collection of Jurassic-era dinosaur fossils ever discovered, and many of those bones are of the flesh-eating Allosaurus.
Bringing it down to pint-sized fun, kids will devour the children's digging room with a realistic quarry where the youngest of budding archeologists can dig for dinosaur bones, play games and piece together puzzles.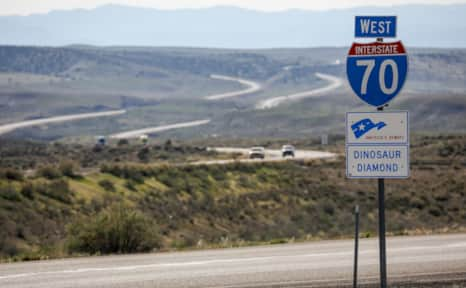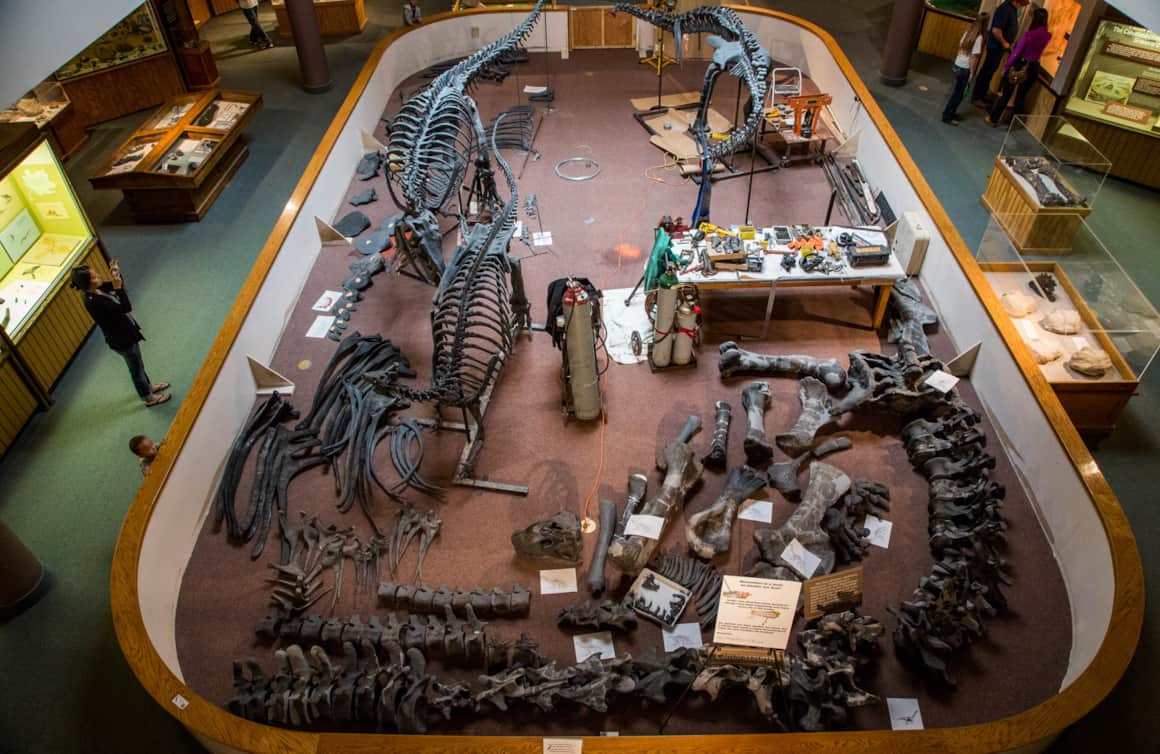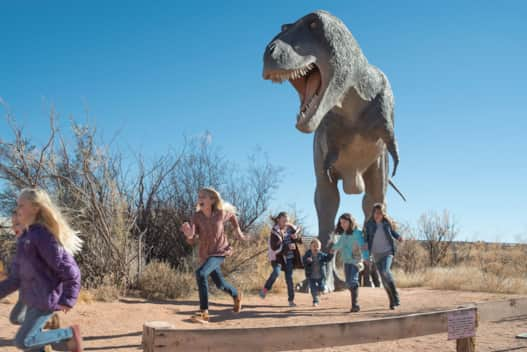 Get Away to Green River
An hour down the road to Green River offers plenty of lodging and dining options. The small town was once the stomping ground for Butch Cassidy and his Wild Bunch. An outdoor haven for river rafters as well as campers, hikers and, yes, golfers, all will find their happy place at Green River State Park. The town is also known for its homegrown watermelons, the cold-water Crystal Geyser (one of only 15 of its kind in the world), and the John Wesley Powell Museum.
Tremendous Trackways
If you've been yearning to inspect footprints of massive prehistoric dinosaurs, you'll be immensely rewarded with opportunities after heading south off Interstate 70 on U.S. 191 toward Moab.
Your first stop will be at mile marker 148, turning east on a dirt road to the trailhead of the Copper Ridge Dinosaur Trackways — a 15-minute easy trek to see tracks in the red rock likely left by the Apatosaurus and the Diplodocus.
A few miles south at mile marker 141, turn west on Mill Canyon Road to explore the Mill Canyon Dinosaur Trail, a self-guided short hike featuring fossilized bones and wood, as well as more exotic dinosaur tracks.
Dinosaur Tracks Trail (also known as Poison Spider Dinosaur Track) is an easy hike to a tilted boulder above the Colorado River featuring the tracks of the three-toed Allosaurus. To get there, keep traveling south on U.S. 191 and turn right on S.R. 279/Potash Road. Drive south for 6 miles to a right turn toward Poison Spider Mesa trailhead and continue to a parking area and the Dinosaur Tracks trailhead.
Moab: Dinos, Arches, Slickrock and City Strolls
The dramatically weathered red rock formations of picturesque Arches National Park perfectly showcase the meaning of a "natural wonder". This vast park includes more than 2,000 natural stone arches in addition to scores of soaring spires, pinnacles, massive fins, and gravity-defying balanced rocks. You can view many of the beautiful structures right from your car. Or, set out to explore the area on foot through short or long hiking trails.
After a dazzling visit to Arches, take advantage of Moab's easy-going downtown full of artistic shops and one-of-a-kind eateries, or take a guided raft trip along the Colorado River. Many lodging options exist for the bed-loving traveler, or if camping is your thing, hundreds of campsites abound, including nearby Dead Horse Point State Park and inside surrounding BLM lands. And of course, Moab is internally known for its mountain biking trails perfect for beginners, experts and those willing to test their mettle on the popular Slickrock Trail.
For one last Utah-dinosaur outing, take a stroll through the Moab Giants Dinosaur Park and Museum, combining indoor and outdoor displays (including an interactive paleo exhibit) to capture the interest of everyone in your family.
From Moab back to Interstate 70, you'll travel alongside the Colorado River on S.R. 128. The copper-tinged waterway is sandwiched between multi-story rock walls and bluffs on one side and luscious greenery and the roadway on the other. Along the route, you may recognize the famous Fisher Towers that jet up from the wide-open and sage brush-filled earth like expertly designed urban high-rises. A 2.6 mile-trail at the towers beckons you to a stunning 360-degree view of the Colorado River Basin.
Cap Your Adventure in Colorado
Complete the Dinosaur Diamond Prehistoric Highway through western Colorado with stops in Fruita to visit the Dinosaur Journey Museum and Dinosaur Hill. Then head north toward Rangely to explore the Canyon Pintado National Historic District.
Read the inspirational seven-day itinerary: Trekking Along the Dinosaur Diamond Prehistoric Highway