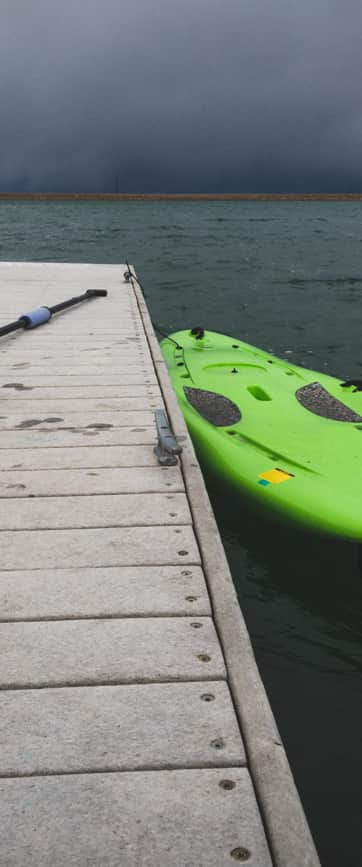 What Makes It Great
As morning sun lights up the shale stone cliffs at the mouth of Huntington Canyon, start your day beneath cottonwoods in the park's grass-covered campground. Modern facilities with covered tables, barbeque grills, restrooms, and hot showers are available. Both RV's and tents are welcome. There are no hookups, but they do have a sewage dumping station.

After breakfast try fishing the reservoir by casting a line from the shore or boat. The roomy boat launch and courtesy docks are convenient and easily accessed. Bluegill, catfish, crawdads, largemouth bass, rainbow trout, and Utah chub all lure anglers to the sea colored waters of Huntington Reservoir. After fishing you can take the kids out in kayaks or hop on stand-up paddleboards and enjoy paddling across the beautiful water. Kayaks and paddleboards may be rented from the main office. With water temperatures getting as warm as 70 during the summer it's also a great place for water skiing and swimming. (The annual San Rafael Classic Sprint Triathlon is held here every June.)

After your morning session on the lake, pack a lunch and drive east into the San Rafael Swell for an afternoon of exploring the Cleveland-Lloyd Dinosaur Quarry. Approximately 20 miles from the Huntington State Park you can tour the museum containing dinosaur skeleton replicas, observe the exposed bones of Dinosaur in the Butler Buildings and take the self-guided Rock Walk, Raptor Trail, and the Rim Trail.
Once you have returned to camp at Huntington State Park and have had dinner, enjoy a leisurely walk with your family along the Outback Nature Trail. It's a relaxing 2.7-mile gravel path that takes you around the reservoir and offers front row viewing of waterfowl and other migratory birds. The trail begins at the south edge of the campground, walks the earthen dam before reaching the western shores where stands of cottonwood trees frame the campground.

Return to camp as the sun dips below the horizon and cast another fishing line into the pristine waters or simply choose to lounge on the beach listening to the song of birds and watch the fading light paint the surface of the water.
What You'll Remember
Relaxing. This place is set up for your enjoyment. Leisurely hikes, a beach, grassy campgrounds with warm water, and the opportunity to fish morning, noon, and night. Huntington Park is ideal for anyone looking for a few days retreat or a quiet, afternoon picnic on the shore.
Park Information & Camping Reservations
The park is open from 6 a.m.-10 p.m. during the summer and from 8 a.m.-5 p.m. during the winter. A day-use entry fee is required, you can purchase in-person or online. The Annual Utah State Park Pass is accepted for park entry. Advance camping reservations are recommended.
GPS Coordinates: 39.3389° N, -110.9475° W