Best Dude Ranches in Utah
Find wranglers, charm, great grub, hospitality and an authentic Wild West vacation at these Utah dude ranches.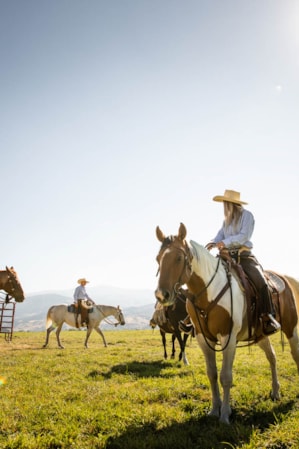 There's a certain allure that surrounds the reputation of the ole' West. That reputation was made up of wide-open spaces, the cowboy and cowgirl lifestyle, horses, and time on the open land — all of which attracted city visitors. In fact, it was during the late 19th-century that ranchers (aka real-life cowboys) started opening their homes to urbanites looking for a chance to relax in the open expanse of the West. The trend caught on, and dude ranches, as they became known, soon became a popular spot to vacation.
Today's dude ranches are still one of the best ways to experience the spirit of the Wild West. Usually at an all-inclusive price, ranches offer everything from horseback riding and cattle driving to massages, dancing and good old home cookin'. The attraction for visitors is the opportunity to explore trails by day, and relax around a campfire beneath a blanket of stars at night.
From the red rock of Moab to the mountains of Park City (Read: "A Classy Warm-Weather Weekend in Park City"), Utah offers a handful of ranches that will bring out your inner cowboy or cowgirl. So dust off your boots, pack your bags and book a stay at one of these seven dude ranches.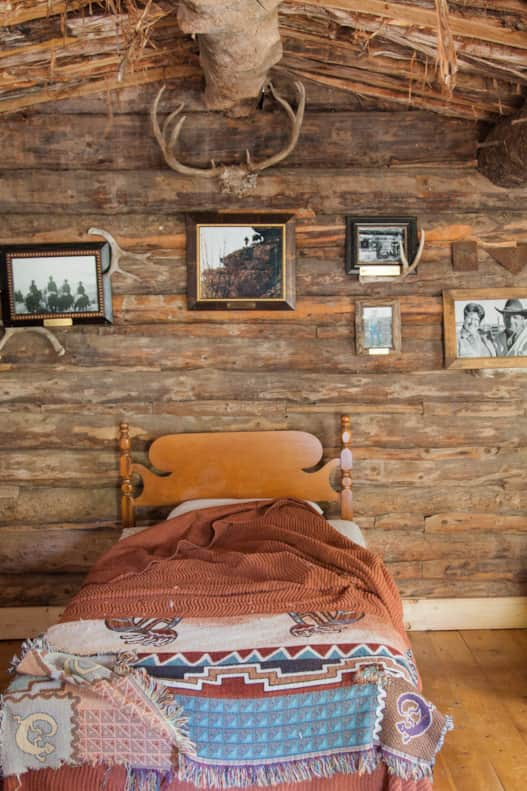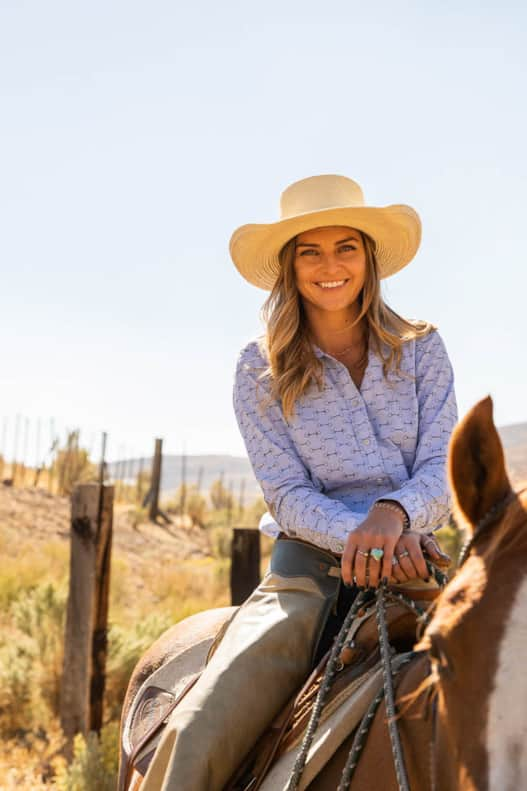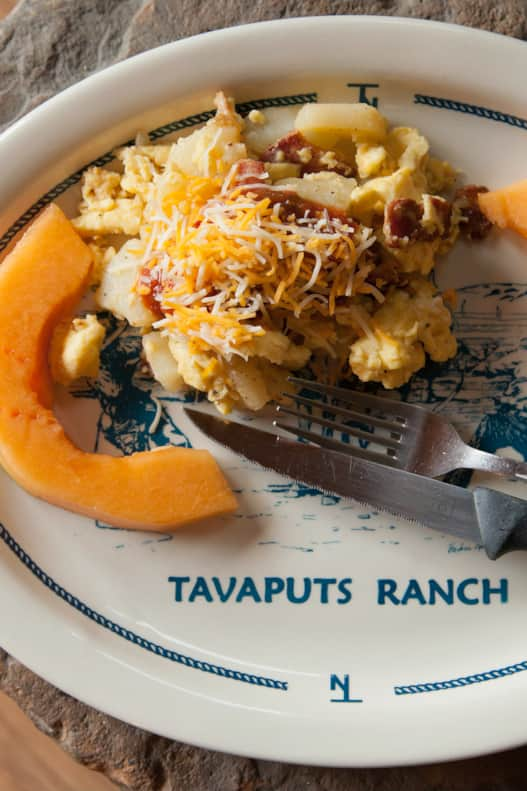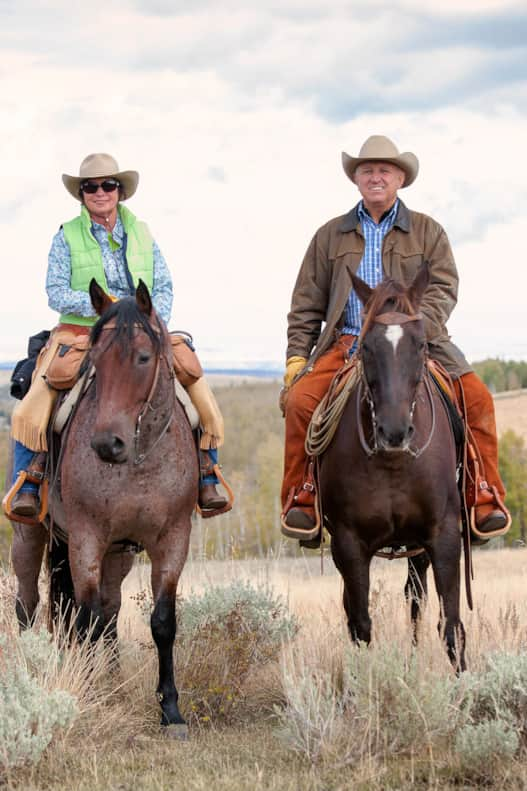 1. Defa's Dude Ranch
16350 N Country Road 7, Hanna
Season: May-October
Defa's Dude Ranch is a wrangler's paradise. Located in the heart of Ashley National Forest, this ranch offers an authentic Western experience away from it all. Since the 1940s, the ranch has been owned and operated by the Defa Family, but the ranch's backstory dates back to Prohibition when the property earned the reputation of being a supposed moonshine stop. Today, spirits flow (legally) when the cowbell rings — a signal that the day is done and a night of fun is about to begin.
The ranch has 18 hand-built cabins for guests, and offers horseback riding, camping, hiking, and fishing. You can dine in the '50s-style café or swing dance the night away at the cowboy bar and dance hall. Many guests return year after year to enjoy all Defa's has to offer.
On your way to the ranch, you'll need to remember there's no sign for the turn-off, so make sure you have the address right before you hit the dirt road
2. Rockin' R Ranch
705 UT-22, Antimony
Season: Summer
Hang your hat at Rockin' R Ranch for an authentic cattle ranch experience. Located near Bryce Canyon National Park, this three-story pine lodge offers western-themed accommodations in their 41 rooms, and entertainment including horseback riding, wagon rides, arena activities, swimming, tubing and line dancing. Indulge in cowboy grub with hearty buffet breakfasts and home-style dinners — just be sure to save room for a scoop at the Ol' Ice Cream Parlor.
This ranch truly brings the stereotypical wrangler vibe to life. As a guest you can go for a peaceful horseback ride on the surrounding land or ride a horse to chase after runaway calves on a cattle drive. You can also learn how to barrel race in the indoor arena, ride like a pro and gallop through the ranch's meadows and hills. By night, join all your partners as you gather 'round a campfire to share the day's adventures under a sky filled with stars.
3. Zion Ponderosa Ranch Resort
Twin Knolls Rd, Orderville
Season: Year-round
A mix of Utah's red-rock majesty and Western-style adventures perfectly encapsulates the mood at Zion Ponderosa Ranch Resort. The ranch, which sits at 6,500 feet elevation, used to be a pioneer logging camp but today welcomes guests to stay among the pines that surround it. The ranch is a quick 10 minutes from Zion's eastern boundary and within easy striking distance of its natural wonders.
Accommodations range from quaint cabins to opulent homes. Or you can choose to fully embrace the Old West by sleeping in a Conestoga wagon, outfitted with a bed, of course. The wagon is a fun glamping experience that doesn't quite cross the line into "roughin' it," so be assured you will feel rested for adventuring.
Horseback riding is one of the most popular activities at Zion National Park, and the ranch partners with East Zion Adventures to take guests on horseback along old pioneer trails through the forest. Let your guide know your equestrian skill set in advance so they can match you with the right steed. Kids under eight are too young for full trail rides, but will love 10-minute rides led by the wranglers.
Beyond horseback riding, resort amenities such as a resort pool, waterslides and a climbing wall make Zion Ponderosa Ranch ideal for families. You can grab breakfast at Ray's Restaurant or a coffee from the Narrows Coffee Bar, which means you won't have to venture into town. Keep the Western fun going into the night with wagon rides, and then close the day with a Dutch oven dinner both kids and adults will love.
The ranch is four hours from Salt Lake City and three hours from Las Vegas
4. Blue Sky Ranch
27649 Old Lincoln Hwy, Wanship
Season: Year-round
Sitting on 3,500-acres of mountainous terrain, The Lodge at Blue Sky Ranch is a new luxurious hotel with high-end lodging and exceptional food and services. Accommodations come in three styles: Creek Houses, free-standing suites along a river; Earth Suites, which are built into the land and have grass roofs, and Sky Lodge Suites, spacious rooms with amazing views.
Once you are settled in your chosen suite, venture onto private horseback trails that lead into the woods or take a ride to a secluded mountain tavern. You can go fly fishing, try cross-country skiing, practice yoga in a mountain meadow or hop in a helicopter and fly off on a backcountry ski adventure.
After a day of exploring the mountains, The Bar at Blue Sky is a perfect place to congregate and trade stories of your daily ranch adventures. Indulge in High West whiskey cocktails featuring herbs and garnishes grown and harvested on-site, or enjoy a locally-brewed craft beer and savory bar fare.
Down the road from the ranch sits the High West Distillery's Refectory. You can take a tour, taste the whiskey and enjoy High West's crafted cocktails. If you are visiting on a Thursday, you can participate in one of the distillery's Supper Club Dinner series, which includes a multi-course, chef-prepared feast, local live music, High West whiskey tastings and craft libations. (Read: "The Hills Are Alive With the Scent of Whiskey")
The ranch is just 20 minutes from Park City and 35 minutes from the Salt Lake International Airport. It feels completely secluded but offers easy access to everything.
5. Zion Mountain Ranch
9065 West Highway 9, Mt. Carmel
Season: Year-round
High in the mountains above Zion National Park, Zion Mountain Ranch sits atop a buffalo meadow preserve — it's still home to a herd. You can stay in one of 55 chic cabins, which provide a rustic yet luxurious ambiance, and range in size from one bedroom to huge, private homes. Spend your days exploring the natural wonders of Zion and Bryce national parks or venture into the wild on guided horseback tours through Zion's mountains. Once you're saddle sore, test your mettle on guided canyoneering trips in Utah's famed slot canyons, Jeep tour through the desert or go on a guided hike through red rock country
Once the sun sets over the cliffs, return for dinner at Cordwood, where farm-to-table cuisine takes center stage. Instead of basic barbecue and traditional western fare, feast on dishes the chef creates using vegetables from the ranch's garden and greenhouses.
The ranch is just three minutes from Zion National Park's east entrance, and offers easy access to the park and surrounding outdoor destinations.
6. Sorrel River Ranch Hotel & Spa Resort
Mile 17 UT-128, Moab
Season: Year-round
Harken back to the John Wayne western era at Sorrel River Ranch, the only upscale guest ranch in Moab. Though this spot is more luxury than working ranch, visitors will appreciate the stunning setting along the Colorado River with dramatic red rock formations and canyonlands. The property offers luxurious suites ranging from studio-sized to family-friendly, as well as an on-site spa, a fine dining restaurant and bar.
The ranch claims luxury-meets-adventure here, and guests can explore 10,000 acres of desert terrain by taking a guided horseback tour, hiking to nearby arches or floating down the Colorado on a raft. If you prefer to stick around the resort, you can enjoy complimentary games such as cornhole, horseshoes, table tennis and basketball.
Fresh, farm-sourced fare is on the menu everyday. Utah ingredients star in re-thought American classics for breakfast, lunch and dinner. Don't miss communal farm-to-table dinners, in partnership with local farms, held under the stars in the resort's garden on select summer dates.
7. Tavaputs Ranch
Near Sunnyside, Utah, on the eastern rim of Desolation Canyon
Season: Late June-early September
Tavaputs is located in eastern Utah's Book Cliffs on the eastern rim of Desolation Canyon. It sits atop Tavaputs Plateau at 9,000 feet, making it one of the most remote places in the United States. Three hours north of Green River, the trip to the ranch requires a long drive up a dirt road. While these harsh conditions led most of the area's early ranchers to vanish long ago, Tavaputs represents the generations of families who established the wrangler lifestyle in Utah's wilds
Passed down through six generations since its founding in 1889, the ranch is the essence of traditional American West style. You can learn about cattle ranching and see cowboys (they still exist!), ride horseback and herd cattle to their summer grazing ground on the plateau's open meadows. When you're not watching the cowboys and cowgirls roam (Read: "The Hunt for Tavaputs"). you can explore the ranch's 10,000 acres on foot by hiking the rim of Desolation Canyon, which drops as much as 5,000 feet.
Tavaputs is also the only privately owned ranch that sits adjacent to the famed archaeological Range Creek (Read: "Spirits in the Rock"). And it's one of the only vendors with whom you can book a tour of this historic Fremont Indian site. Only 28 people a day are allowed to see the ruins and preserved paint and rock art, so be sure to make your plans early. Note: You don't need to be a ranch guest to book this tour, and they can fill up fast.
At the resort itself, you can dine on ranch-style meals served buffet-style three times a day in the lodge, and enjoy desserts around the outdoor fire pit beneath the wide open sky each evening.
Whether you're looking for wranglers, great grub, or an authentic Wild West vacation, you're sure to find charm and hospitality at these Utah dude ranches.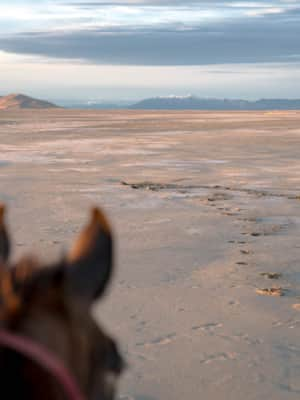 Best Trails for Horseback Riding Within an Hour of Salt Lake City
Here's a list of the best trails for horseback riding within an hour of Salt Lake City, Utah. Note, these five trails are for those with access to horses and trailers.