Family Adventure in Bryce Canyon Country
A family-friendly itinerary from Bryce Canyon National Park to Kanab, with hikes for kids, local eats and unbeatable sunset locations.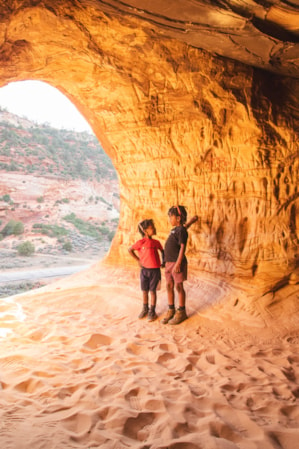 Southern Utah is what family road trip dreams are made of. With five national parks and countless other natural wonders, the possibilities for fun are endless. But with limited time and young children, it can be hard to know where to start.
Known for its otherworldly hoodoos, pristine dark skies and easy hiking trails that waste no time getting to the scenic views, Bryce Canyon National Park is a great option for families. So my two boys and I were eager to hit the road to Bryce for a four-day, family-friendly adventure. Beginning in Salt Lake City, with stops in Beaver, Bryce Canyon and Kanab, here are our recommendations for great kid hikes, local eats, unbeatable sunset locations and some unique travel spots to make memories with your family.
Day 1: Salt Lake to Bryce Canyon National Park
Welcome to Salt Lake City! You may want to grab a snack before heading south to Bryce Canyon. While the airport offers an impressive array of dining options, a great Salt Lake City stop is the Buds sandwich shop. Opened in 2012, it's a 100% plant-based sandwich shop with delicious options like a slow-cooked Texas BBQ jackfruit. Once you've finished eating, you'll make a 3.5-4 hour drive south on I-15 to Bryce Canyon National Park. To break up the drive, you can stop at The Creamery in Beaver, Utah, which is a farm-to-table restaurant and retail shop with a menu that spotlights locally made cheeses and ice cream. Another plus, your purchase supports local dairy farmers.
From The Creamery, it's about a 70 mile drive to Bryce Canyon. You'll find plenty of lodging options in the area, including Ruby's Inn Best Western or Best Western Plus Bryce Canyon Grand Hotel across the street. Ruby's Inn also offers an RV park and campground not too far from the hotel. Once you get checked in and situated, you can grab a quick dinner at the Cowboy's Buffet & Steak Room or Canyon Diner before heading into Bryce Canyon National Park for sunset. There is a fee to enter the park, but your pass is valid for seven consecutive days. If you have an America The Beautiful Annual Pass, this will also work just fine to enter. And if you're traveling with a fourth grader, be sure to print out the Every Kid Outdoors Pass, which provides a year of free family access to national parks, lands and waters.
Inside the park, there are a few overlooks where you can watch the sunset. Inspiration Point, Sunset Point and Sunrise Point are the most popular. If you have time, try going to Inspiration Point first and then over to Sunrise point. We thought Sunrise Point offered the best vantage point for watching the sun set, and the view was unbelievable.
Travel tip: With elevations averaging around 8,000 feet, Bryce Canyon is a high altitude park. It can get chilly in the evenings, so remember to pack a jacket for sunset or an early morning hike.
"With elevations averaging around 8,000 feet, Bryce Canyon can get chilly in the evenings, so remember to pack a jacket for sunset or an early morning hike."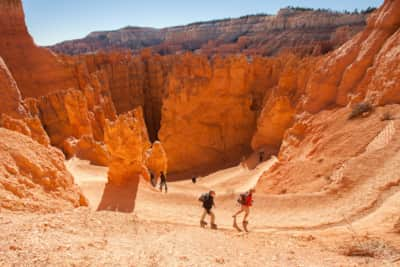 Day 2: Exploring Bryce Canyon Country
My number one tip for exploring Bryce Canyon is to start early. You'll catch an incredible sunrise at Sunset Point and you'll also get ahead of the crowds on the hiking trail. Bryce Canyon's most popular route, Navajo Loop and Queens Garden Trail, both feature unbelievable hoodoo formations. And when you combine the two, they make for one of the best three-mile hikes around. If sunrise hikes aren't your thing, or the family needs a little bit more rest, that's okay! Once you get up and get ready for the day, you can grab breakfast and explore a few of the park's main overlooks, including Rainbow and Yovimpa points. (Read: Things to Do in Bryce Canyon National Park)
You'll also want to check out the family-friendly Mossy Cave trail in the northern section of the park. Some people miss this trail because it is outside of the park entrance, but if you have the time, it's a must do. It's a quick one-mile out and back trail and takes you to a cave and waterfall overlook. The trail also runs along a little creek which makes for a fun stopping point for the kids to explore. Note that the trail is very popular in the summer, so consider visiting before 10 a.m. or after 4 p.m. to avoid peak usage.
From Mossy Cave, continue south along Scenic Byway 12 towards Kodachrome Basin State Park — named after the popular Kodak film known for its vibrant colors. The park features a number of short trails that are great for kids. Panorama Trail is an easy to moderate, 3-6 mile loop that passes some of the park's signature features, including the Ballerina Spire and Indian Cave. Since it is a Utah state park, note that there is a fee to enter.
The visitor center map recommends six different hiking trails within the park. We opted to do two, including the Nature Loop, which is a short and easy half mile loop and also an ADA accessible trail. The other route we chose was Angel's Palace, which is an easy to moderate, 1.5 mile loop. Angel's Palace can be a little hard to follow, so you can easily just make it an out and back adventure. The views from the top are amazing and definitely worth the quick trek. If you only have time for one hike in the park, make it this one!
From Kodachrome Basin, you'll want to head back to Bryce Canyon City for lunch. And after lunch, plan to check out the Bryce Wildlife Museum. This museum has an extensive collection of mounted animals from all over the world. They also have live European deer onsite that you can hand-feed. Admission is $5 for kids ages 2 to 12 and adults are $8. And it's an additional $2 to feed the deer. After exploring the museum, you may want to head back for a rest at your hotel. When traveling with kids, it's always important to schedule some downtime.
For a little fun before dinner, head over to the activity stand inside Ruby's Inn to sign up for their virtual reality ride, Soaring Southern Utah. Seated in a motion simulator with VR goggles, you'll experience the sounds and visuals of a helicopter ride over the very landscape you hiked that morning.
That evening we enjoyed a dinner show at Ebenezer's Barn and Grill. And if you save room for dessert, there is a cute ice cream stand at the Old Bryce Town shops across the street from Ruby's Inn.
"My number one tip for exploring Bryce Canyon is to start early. You'll catch an incredible sunrise at Sunset Point and you'll also get ahead of the crowds on the hiking trail."
Day 3: Cave Discovery in Kanab
From Bryce Canyon, you'll drive about 90 minutes south to Kanab, a classic American West town. Before you reach the city center, make a stop at Moqui Cave. The cave is a unique ancient history museum that showcases some of the geological rarities found throughout Southern Utah. Admissions is $7 and inside you'll find ancient artifacts, dinosaur tracks, fluorescent minerals and a gift shop. You'll also get the chance to learn the history of the cave, which was developed in the fifties. From the Moqui Cave, you can grab lunch in Kanab, which boasts an unexpectedly refined culinary scene (Read: 5 Road Trip-Worthy Restaurants in Kanab). We opted for Wild Thyme Café, which takes a garden-to-table approach, with a focus on southwestern-Cajun flavors. The food here is amazing and a must visit during your time in Kanab. After lunch, you'll want to check into your hotel and enjoy some relaxation before your early evening adventure. We stayed at Canyons Boutique Hotel and loved everything about it.
There are quite a few places to have dinner in Kanab. Rocking V Café is a cute and unique spot with made-from-scratch dishes and some great standard options for kids. The Sweet & Spicy Sprouts appetizer and Happy Hippie vegan burger were our favorite! At Rocking V, the second floor doubles as an art gallery, which features a curated assortment of photography, paintings, sculpture and ceramics. If you have the opportunity to sit up there, it'll feel like you're dining in a museum.
After dinner you'll want to head about five miles north on Highway 89 and check out Kanab's Sand Caves for sunset. These human-made caves are remnants of past mining in the area. To reach them, park in the gravel lot off Highway 89 and take the short 1.2 mile out and back trail to the caves. Note that the trail to the caves includes a scramble up a semi steep rock, so proceed carefully and take your time. Once you reach the caves, you can explore and have fun!
Day 4: Adventuring Around Kanab
Your last full day in Southern Utah will be just as adventurous as the first three. But first, breakfast. There are many small restaurants and coffee shops to choose from in town, but our favorite spot was Asava Juice. This family run juice spot serves fresh pressed juices, smoothies, smoothie bowls, toasts and more.
After breakfast, you'll head 30 minutes north to Coral Pink Sand Dunes State Park. Here, all of the dunes are open for hiking and kid-friendly playing. You can also rent sand boards and sand sleds onsite. ATV tours can be booked in advance through Coral Pink ATV Tours. We took the Dunes & Boarding tour, which includes a 30-minute ATV ride and 30 minutes of boarding down the tallest sand dune in the park, and it was so fun!
From Coral Pink Sand Dunes State Park, you'll head 16 miles northeast to explore Best Friends Animal Sanctuary — the world's largest no-kill animal shelter for homeless pets. You can enjoy lunch in their Angel Village Café, and then take a tour or spend time with the animals via a volunteer shift. Volunteer spots fill up quickly, so be sure to sign up in advance of your trip. We had the opportunity to meet some of the new kittens and dogs they had at the center and learn a little more about what they do as an organization.
Once you leave Best Friends, you'll have a couple of activity options. If you need a rest, you can enjoy a bit of scheduled downtime before dinner. But if you've got energy, then head about 50 miles east on U.S. 89 towards Grand Staircase-Escalante and hike the short 1.6 mile out and back Toadstool Hoodoos Trail. Due to forecasted rain, we snuck this hike in on our last morning before heading to the airport. But if you have time, it's a great cap-off for day four.
Once you reach the trailhead, take the sandy route out towards the beautiful toadstools. During the springtime you'll see wildflowers along the trail which make it an even more beautiful experience. A toadstool is what forms when you have a large block of hard rock balanced atop a soft or eroding rock underneath. They make for an otherworldly sight, and are much enjoyed by kids who love playing in such an imaginative space. Just remember to avoid touching and climbing on the fragile formations. It's always important to leave the outdoors better than you found it, so that others have the opportunity to explore these beautiful landscapes. You can learn more about protecting the outdoors via the seven principles of Leave No Trace.
After you hike the Toadstool Trail, head back to Kanab and enjoy an amazing dinner at Peekaboo Canyon Wood Fired Kitchen. This vegetarian and vegan pizza spot is a popular one for good reason! One thing I loved about Kanab was the accessibility of vegan and vegetarian food — it was very easy for us to find meals during our visit.
I hope this itinerary gives you a glimpse of what you can do in Southern Utah. With even just four days to explore, it's amazing how much you can do and see. If you choose to visit in the spring and summer, do note that the weather can be variable — with rainy mornings, hot afternoons and cool evenings. So remember to pack accordingly, take caution on trails and be flexible with your time.
Travel tip: If you're planning your return from Kanab, the closest major airport is Harry Reid International Airport in Las Vegas, Nevada (200 miles). You can also find some limited flight options out of St. George Regional Airport in St. George, Utah (84 miles).
I hope you have an amazing time on your trip to Southern Utah and always remember to recreate responsibly. See more responsible travel tips.