Flood Safety
Due to record snowpack and high amounts of spring runoff, please be advised of potential flooding that could impact travel plans.
Learn more
National Scenic Byways
All-American Road: Scenic Byway 12

Highway 12 from Panguitch to Torrey passes through twisting canyons, red rock towers, pine forests and pioneer towns. Punctuating the drive are breathtaking panoramas, national parks and monuments, recreation areas and state parks. Scenic Byway 12 is simply one of America's most beautiful drives. You'll find it difficult not to stop at multiple points along the way. You'll also see pioneer towns like Henrieville, untouched by time. You can taste Zagat-rated local cuisine in an unexpected place: Boulder, Utah. In winter, make sure to inquire locally for road conditions.

Dinosaur Diamond Prehistoric Highway National Scenic Byway

Connecting onto I-70, this 512-mile route truly is a gem, creating a "diamond" pattern on the map through what was once Utah's "Jurassic Park." Beginning from Moab, you'll drive north through Price and Vernal, then a return trip south through the western Colorado towns of Dinosaur, Rangely and Fruita. Join dinosaur enthusiasts and scientists from around the world along you way! Explore the museums, active dig sites and rock art, headlined by Dinosaur National Monument and Price's CEU Prehistoric Museum. Learn more about Utah as a dinosaur discovery utopia. This byway has an accompanying TravelStorys audio experience. Download the TravelStorys mobile app to listen and discover while on the open road.

Energy Loop: Huntington and Eccles Canyons National Scenic Byway

The Energy Loop: Huntington and Eccles Canyons National Scenic Byway (S.R. 96, 264, 31, U.S. 6) carries you over the Wasatch Plateau, capturing Utah's high-alpine experience with 360 degree views including Mount Nebo to the north and the San Rafael Swell to the east. During the fall, contrasting fields of yellow aspens and deep green conifers line the path. Don't miss the Wedge Overlook of the San Rafael Swell (the Little Grand Canyon), Huntington Reservoir and Mammoth Discovery Site of 8-8-88, Stuart Guard Station, Electric Lake and the famous Arapeen OHV trail.

Flaming Gorge-Uintas National Scenic Byway

The Flaming Gorge-Uintas National Scenic Byway runs between Vernal and Manila on U.S. 191 and Utah Highway 44. As you drive, you will pass through one of the richest areas for wildlife and their fossilized ancestors in the western United States. Pull over at any of the 15 Wildlife Through the Ages interpretive sites and nature trails to explore an unusual diversity of natural ecosystems both past and present. Here you will find stunning landscapes that have been uplifted and carved by the earth's forces, exposing almost seven miles of rock evidence of warm shallow seas along ancient coastlines and Sahara-like dune felds. The formations exposed comprise 770 million years of geologic history, making it one of the greatest varieties of formations found anywhere. You'll also have access to Flaming Gorge National Recreation Area with panoramic views of the reservoir, spreading north from the Flaming Gorge Dam. This byway has an accompanying TravelStorys audio experience. Download the TravelStorys mobile app to listen and discover while on the open road.

Logan Canyon National Scenic Byway

U.S. 89 north and east from Logan to the Utah/Idaho Border is a 41-mile National Scenic Byway and the most scenic route from Northern Utah to Jackson Hole and Yellowstone in Wyoming. The byway runs alongside the winding Logan River from the city of Logan to Garden City. Much of the corridor travels through spectacular, craggy limestone cliffs. The scenic byway peaks at a glorious vista overlooking the turquoise waters of Bear Lake, then winds down the mountain to the Idaho border.

Nebo Loop National Scenic Byway

The beautiful Nebo Loop National Scenic Byway (F.R. 15) provides stunning views of Utah and Nephi valleys while looking up at the tallest peak in the Wasatch Range, the 11,928- foot Mt. Nebo. The 38-mile loop offers multiple picturesque campsites, picnic sites and several waterfalls only a short hike off the road. Traversing between Payson and Nephi, the byway connects the Grotto Falls Trail, Payson Lakes, Nebo Snowmobile complex, the Historic Payson Guard Station, Devil's Kitchen (resembles Bryce Canyon) and the overlook of Mount Nebo.

Trail of the Ancients National Scenic Byway

Just south of Moab and Arches National Park you can travel through time along portions of the dramatic Trail of the Ancients National Scenic Byway (U.S. 191, 163 and S.R. 261, 262), which intersects with Ancestral Puebloan history of the Four Corners area. On your road trip, you'll see evidence of early cultures that built a life in the ruggedly beautiful Canyonlands region, including incredible cliff dwellings. Learn the Ancestral Puebloan history at Edge of the Cedars State Park Museum in Blanding. Explore the ruins of the fascinating Hovenweep National Monument. Take the scenic drive through Monument Valley Navajo Tribal Park then tour the Valley of the Gods. Plan a stop at the remote and spectacular Natural Bridges National Monument. Option to return home along the Bicentennial Highway Scenic Byway U.S. 95 to Hanksville through red rock landscapes and beautifully tranquil desert places.

Utah's Patchwork Parkway National Scenic Byway

Utah's Patchwork Parkway National Scenic Byway (S.R. 143) travels from Parowan to Panguitch with a side trip to Cedar Breaks National Monument on S.R. 148. Experience diverse colors, cultures and climates as you climb and descend the byway through the Dixie National Forest. During a winter snowstorm in 1864, Mormon pioneers painstakingly traversed this unforgettable mountain road by throwing down handmade patchwork quilts onto the snow, stepping on them gingerly to avoid sinking. Patchwork Parkway passes Brian Head Resort down the road on S.R. 148. Stop at the interpretive sites to learn more about the area's Mormon pioneer heritage.

Zion National Scenic Byway

The Zion National Scenic Byway (S.R. 9) travels from the intersection with S.R. 17 in La Verkin, through the towns of Rockville and Springdale, into Zion National Park and ending at the park's east entrance. The entrance fee is required, even if you're just in it for the road trip (but you'll want to stop and stay awhile). The Zion National Scenic Byway is a spectacular road that showcases unparalleled scenery, vibrant communities and diverse opportunities for outdoor recreation on public lands.
State Scenic Byways
Utah's distinct topography provides the surface for 19 designated state byways. From the high mountain meadows of the Mirror Lake Scenic Byway in Northern Utah to the exposed rock strata of Southern Utah's Capitol Reef Country Scenic Byway and the dozens of byways in between, Utah offers a state road network with unparalleled vistas and heritage.
Northern Utah
Bear Lake Scenic Byway

The top of Utah is a tranquil place, rich in wildlife, natural splendor and cultural amenities. Drive S.R. 30, from Laketown to Garden City along the shore of the brilliant turquoise-colored Bear Lake, a.k.a. the "Caribbean of the Rockies." In the summer, stop for one of Garden City's famous raspberry milkshakes. You can cool off on a personal watercraft or luxuriate on sandy beaches and complement your adventure with nights on the town or quiet sunrises in untouched wilderness.

Big Cottonwood Canyon Scenic Byway

Big Cottonwood Scenic Byway (S.R. 190) is just minutes from downtown Salt Lake City and can be accessed by taking I-215 to 6200 South exit. The byway begins at the mouth of the canyon and goes east on S.R. 190. The canyon narrows almost immediately to dramatic alpine scenery as you enter the forest. Visitors can hike through the mining country of the Old West or enjoy rock climbing, wildflower photographing, picnicking, camping or fishing. The major ski resorts of Solitude and Brighton are near the top of the canyon and in the summer months, travelers can continue through to Park City via Guardsman Pass. Note: watershed prohibits domestic animals in this area.

Great Salt Lake Legacy Parkway Scenic Byway

This beautiful area connects the Salt Lake City International Airport with views of the world-famous Great Salt Lake. The byway (S.R. 67) is just a short drive from Salt Lake City. Traveling northbound on I-15, take Exit 319 and go west. Traveling southbound, take Exit 324. Millions of migratory birds enjoy Great Salt Lake as a huge cafeteria as they pass through from South America and Canada each spring and fall. Visitors enjoy the white sand beaches of Antelope Island State Park and, yes, you can float in the Great Salt Lake. The scenic byway and trail system along the Great Salt Lake has provided a new way to experience its cultural and ecological importance.

Little Cottonwood Canyon Scenic Byway

Little Cottonwood Scenic Byway (S.R. 210) begins at the mouth of the canyon and can be accessed by taking I-215 to the 6200 South exit. Few places so near an urban area are so rich in natural diversity. On your scenic drive, if time permits, stop and take in the wildflowers that bloom in the Albion Basin during the spring and early summer months, or take a hike that leads to a high altitude lake for fishing. The granite cliffs are a paradise for both rock climbers and the mountain goats you might see as you drive the byway. During the summer Little Cottonwood Canyon is renowned for its crack climbing on 400-foot granite walls alongside the highway. During the winters, it is a skiers paradise on slopes at Alta and Snowbird ski resorts. Dogs are not permitted in the canyon as it is a protected watershed area.

Mirror Lake Scenic Byway

It's all scenic driving all the time on the 56-mile Mirror Lake Scenic Byway, until you're lured from your car. Between beautifully developed campgrounds and endless designated wilderness, you'll find the perfect stop to park your RV or pitch your tent for blissfully cool nights away from it all. Fish from your choice of hundreds of lakes and streams, take short strolls along the river, jump on a horse or ATV and, with way-finding skills and the right supplies, climb Utah's loftiest peaks. You'll pick up the byway in Kamas, which is only 45 minutes from Salt Lake City, 55 minutes from Provo and 75 minutes from Ogden. From Highway 189, take S.R. 32 east to Kamas. The Mirror Lake Scenic Byway (S.R. 150) traces the Upper Provo River as it climbs to 10,700 feet.

Morgan-Parleys Scenic Byway

This drive stretches from I-84 in Morgan along S.R. 66 to East Canyon State Park and then southward along S.R. 65 toward I-80 at Mountain Dell Reservoir. The route winds through canyons, farmland and forests and follows part of three historic trails: the Mormon, California and Pony Express trails. Note that the S.R. 65 south of Big Mountain to Little Dell Reservoir closes for approximately six months annually from winter to spring.

Ogden River Scenic Byway

The top of Utah is a tranquil place, rich in wildlife, natural splendor and cultural amenities. The Ogden River Scenic Byway (S.R. 39) starts from Ogden's 12th Street and heads east through Ogden Canyon and toward the Wasatch Cache National Forest Boundary. In the Ogden Valley, make a refreshing stop at Pineview Reservoir or take on a day of lift-served mountain biking at Snowbasin Resort. If time permits, stop for a bite in Ogden's historic downtown.

Provo Canyon Scenic Byway

The Provo Canyon Scenic Byway (U.S. 189) connects the beautiful Utah and Heber valleys through Provo Canyon. There are many opportunities for adventure in the canyon, such as Bridal Veil Falls, Stewart Falls, Sundance Mountain Resort, zip-lines, horseback riding, river tubing, Timpanogos Cave National Monument and an extensive trail system. About 45 miles south of Salt Lake City via I-15, you can begin the byway in Provo and continue northeast to Heber City. Choose the really scenic route (particularly in the fall) by adding the Alpine Loop (S.R. 92) past Sundance Mountain Resort and Timpanogos Cave.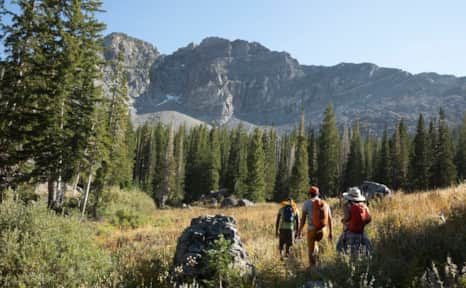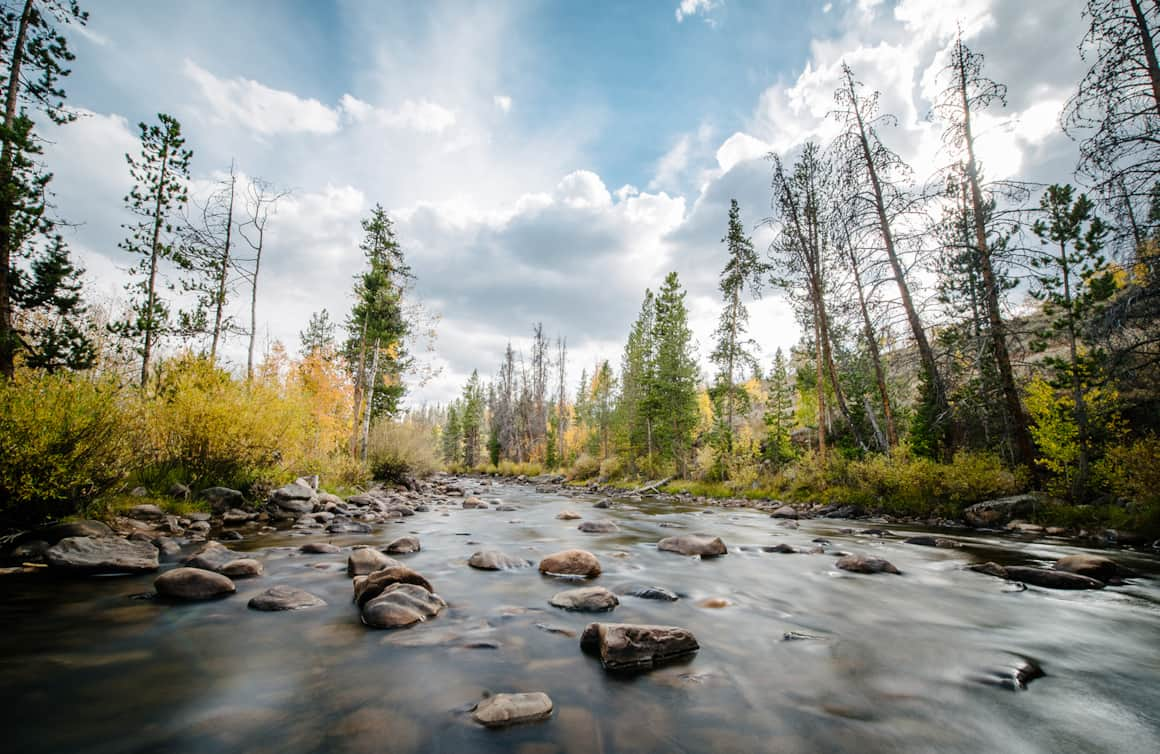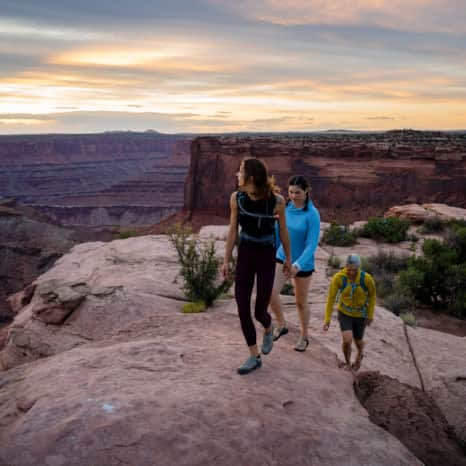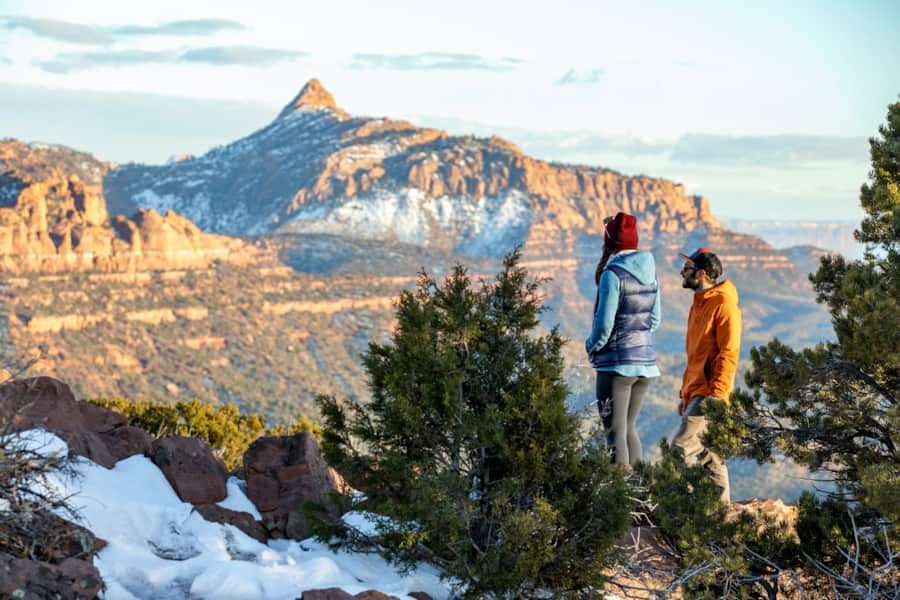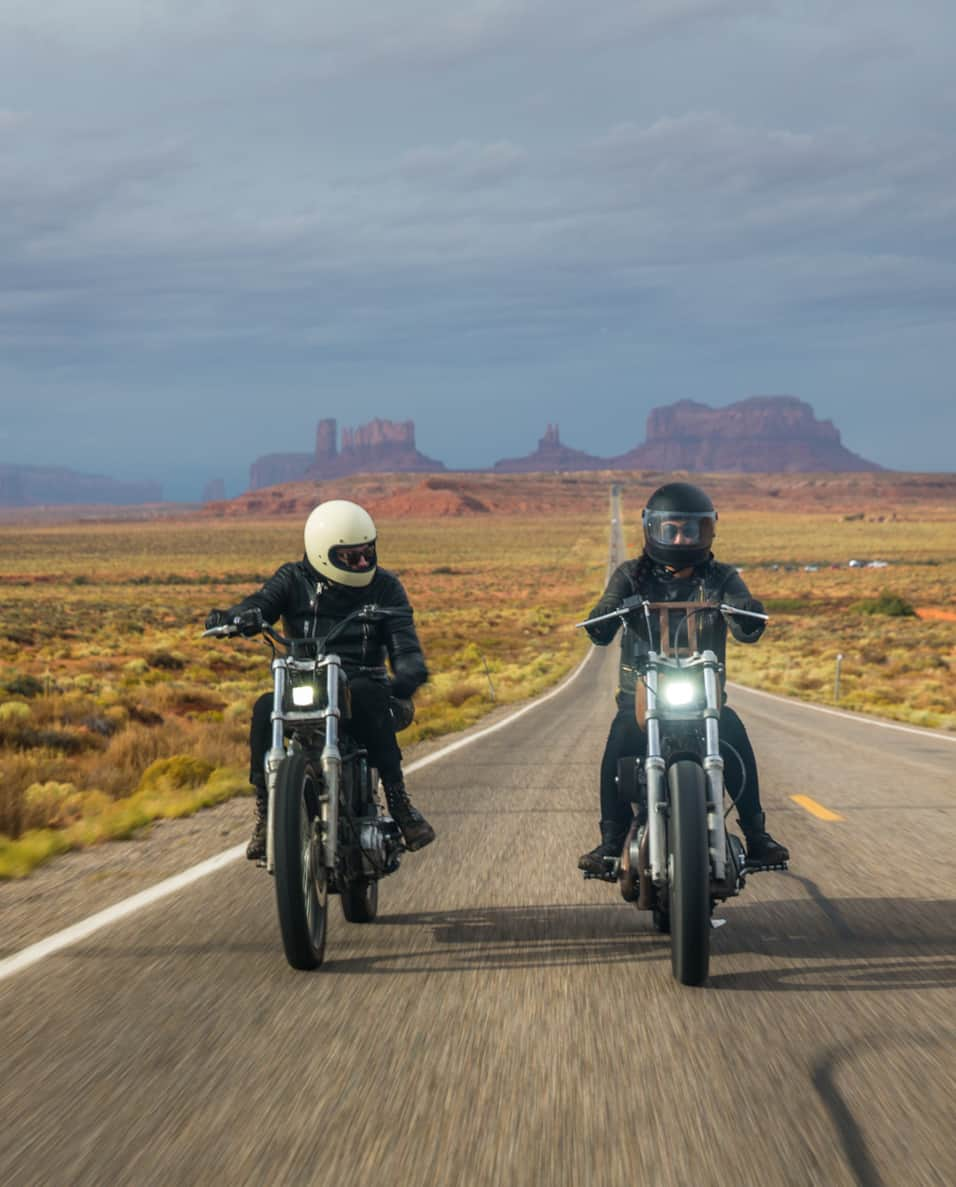 Easy Riding: Southern Wasatch to Monument Valley
Talking about freedom and living it are two different things. Utah's iconic American West offers both the picture-perfect backdrops to freedom and the roads for living it. This six-day itinerary follows the open-road inspiration of "Easy Rider."
Highlights
Timpanogos Cave National Monument
Helper
Indian Creek Corridor Scenic Byway
National Scenic Byways
Monument Valley Navajo Tribal Park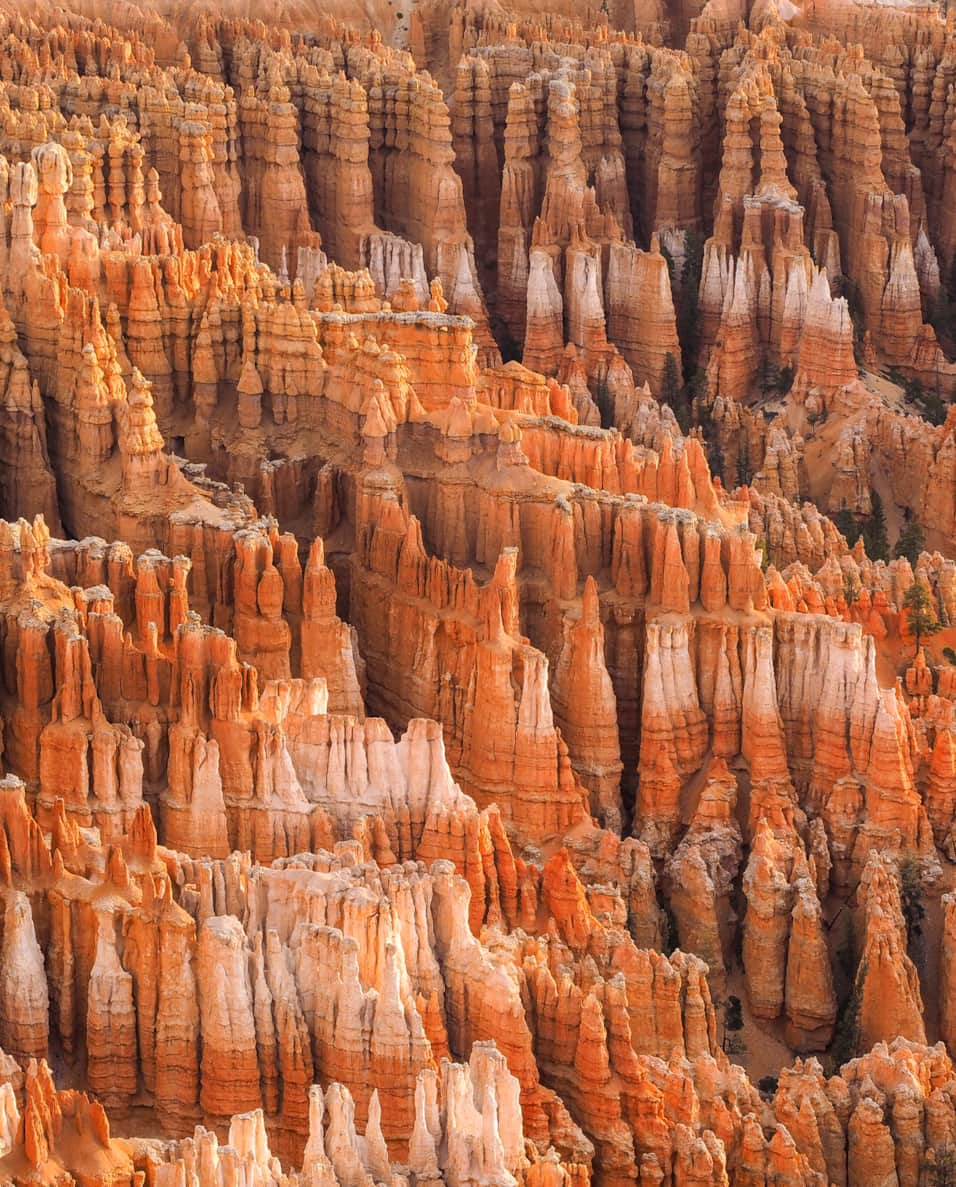 History & Hoodoos
Just the national parks, ma'am. We get it. You're a bucket-lister with a checklist and a pen. We hope it has a lot of ink.
Highlights
The Mighty 5® national parks
All-American Road Scenic Byway 12
Grand Staircase–Escalante National Monument
Dead Horse Point State Park