Denver to Moab: A High-Octane Weekend Road Trip
Pick one bucket-list adventure or do it all.
Let's hit the most adrenaline-inducing, pulse-racing, heart-hammering adventures from Denver to Moab that you can pack into three days. Ready?
Kick your road trip off with a day working the oars through the roaring rapids of the Colorado River, or opt for a longer rafting trip by adding a few days to the itinerary. Likewise, you could extend the itinerary by tackling a larger portion of the White Rim Trail.
Day two is all about Moab's magnificent mountain biking — we're talking the world-renowned, technical trails of the Magnificent 7, or the playful, imaginative ledges of Amasa Back. If you'd rather explore on foot, you can plunge yourself deep into the Fiery Furnace of Arches National Park — with a guide, of course. This incredible labyrinth of twisting and turning canyons and gorges is known to be difficult to navigate.
Day three is a hat trick of Moab adventure, and may set a new benchmark for your most exciting day. Start by jumping out of a plane over the Moab desert from 10,000 feet above the ground. Then it's on to hitting the ground – literally – rolling at 11,126 feet and dropping for 33 miles on one of the most unforgettable mountain bike rides anywhere (come prepared or rent in town). Finally, you can get up close and personal with the red rock as you hike to the third largest arch in the Western Hemisphere.
Cap off your adventure at a locals' favorite for a fat burger and beer — and you can say you conquered it.
Start: Drive roughly five and a half hours west on I-70 from Denver, Colorado to Moab, Utah.
End: Skydive Moab, just outside Arches National Park.
Hours of Driving: 5+ hours driving in Moab, 14+ hours total commute time.
Places To Stay & Local Guides: Make the most of your trip by Glamping at Moab Under Canvas, a camping resort that's equally luxurious and adventurous. Before you hit the road, be sure to make reservations for the skydiving, guided hikes and rafting tours in this itinerary. Discover more travel tips for visiting Moab.

Want to extend your stay? Try the full nine-day Higher Octane experience.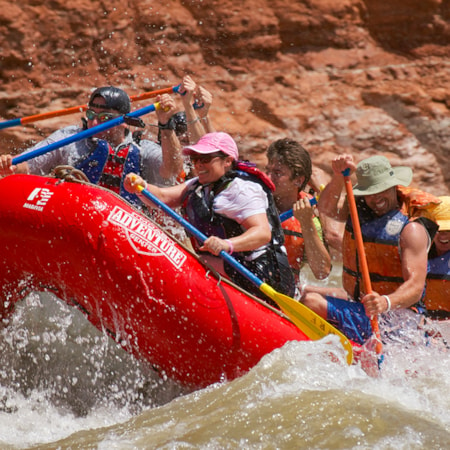 The choice is yours on the first day of this road trip: a day trip on the rapids of the Colorado, or a day pedaling through scenic Canyonlands country. The popular Moab Daily stretch is a perfect way to get a taste of rafting on the mighty Colorado. Otherwise, pedaling a section of the White Rim Trail in Canyonlands National Park makes for an uber-scenic introductory ride. While the trail can be a 3-4 day ride along a 103-mile 4x4 road, we'd recommend conquering a small portion then driving back to town. Don't worry, there is plenty of opportunity for more riding to come. That evening, head into Moab for a bite to eat at one of many excellent local eateries. Be sure to rest up because the coming days are full of hiking, climbing and riding your way through the best of Moab.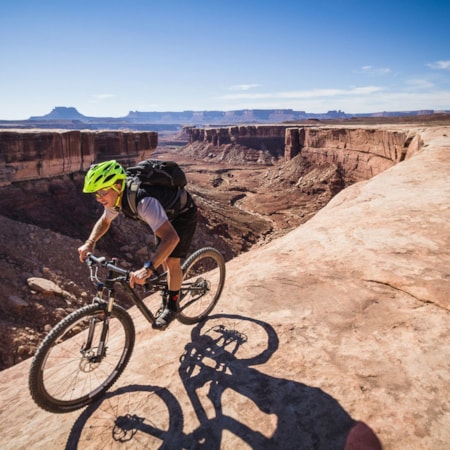 Hiking & Mountain Biking
50 Miles
Day two is all about hiking and riding local favorite trails that you may not have visited before. If this is your first time to Moab, you'll want to add a day or two to your road trip to visit the world-famous Slickrock Trail and hike to Delicate Arch in Arches National Park. Otherwise, it's time to head to the Magnificent 7 and Amasa Back trail networks. Both are some of Moab's best, so it can be difficult to choose. Highly conditioned riders may want to tackle both, but don't get wiped out before a guided tour of the Fiery Furnace in the afternoon.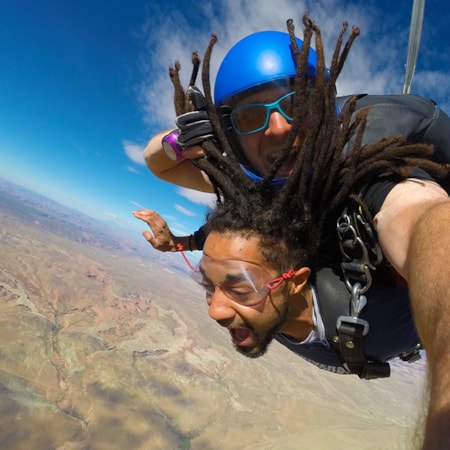 From 13,000 Feet, To An Oasis
50 Miles
Is it possible to mountain bike one of the greatest singletrack downhill rides, sky dive and sneak in a classic hike all in a day? The last day of your Moab road trip is the perfect day to find out. You'll want to make mountain biking shuttle and skydiving reservations before the trip, and plan your day accordingly. Then, after an adrenaline packed weekend, a hike to the oasis at the end of the Grandstaff hiking trail will seem like a perfect send-off back home.
Looking for ways to extend your road trip? Explore more of Moab's greatest in the Arches region and Canyonlands region.