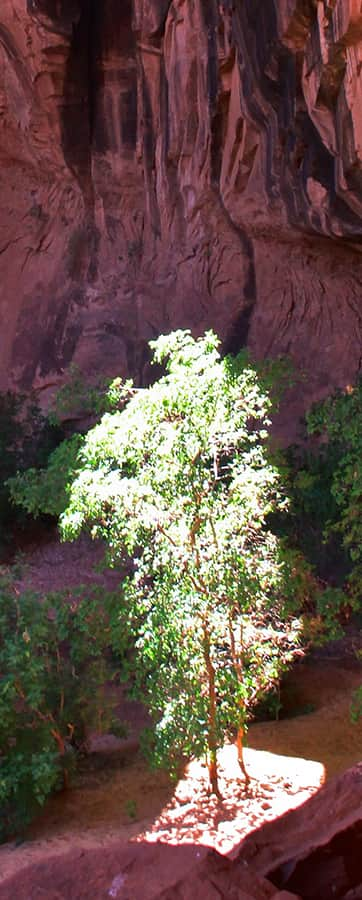 From the parking area on SR128, follow the trail on the left side of the stream into the canyon. You will soon find yourself wandering through dense stands of willows, and may even catch glimpses of frogs sunbathing near the stream. After 1.5 miles, the trail crosses the stream and leads up a short climb into the second side canyon of Grandstaff's. Here you will walk into a sandstone amphitheater/grotto where you will find many mature cottonwoods, though watch out for poison ivy. If you aren't sure what it looks like, the information board at the trailhead has a detailed description of this plant.
Half a mile from where you crossed the stream is the sixth longest natural rock span in the United States, Morning Glory Natural Bridge. The bridge's 243-foot span is set close against this rocky amphitheater, and you will get the best view of the bridge by going underneath it.
On your way back, take a break beneath the cottonwoods in the shade of the canyon. It's the perfect place for a picnic, or to simply stop and listen to the frogs singing, the water trickling, and the dry desert wind. You may even see people rappelling down from the top of Morning Glory Natural Bridge.
A trip into Grandstaff Canyon is a moderate half-day outing with very little vertical gain, which makes it an excellent option for anyone with a base level of fitness, endurance, and agility. On your next visit to Moab be sure to take a few hours to find yourself in this quiet little oasis in the desert.
The trailhead is located three miles east of Highway 191 on Utah Scenic Byway 128. You will see a parking lot. The canyon is open year-round, but spring and fall are most popular. Summer days can be hot, and during the winter months, snow and ice may be present.
GPS Coordinates:
38.6098979,-109.536048