Sunrise Over Monument Valley
Set an alarm to wake up before dawn and get on the road early, whether you're leaving from a gateway community or staying within the tribal park. It will be worth it. The stillness of the desert in the early morning is magical. The long shadows of early light bring out the sinuous curves of a canyon landscape sculpted over tens of thousands of years by forces largely invisible to us as we pass through. On drives like these, it's easy to let your mind wander and imagine what it must have been like traversing these lands a hundred and fifty years ago. No cars, no blacktop highway, no cell phones. Just the steady hoof beat of your horse on the dusty earth, the creaking of the leather in the saddle and the sound of the wind beneath the wide brim of your hat.
Stop the car by the side of the road, turn off the engine and step out into the vast expanse of desert; you'll find the stillness and the solitude of the mesas and the canyons remains just as it has for centuries. Pondering timelessness, the frontier and the mythology of the West is perfect for framing your visit to Monument Valley, Utah.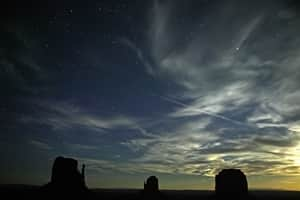 Goulding's Lodge and Guided Tours
When you arrive in Monument Valley, your first stop should be at the Goulding Film and Cultural History museum at Goulding's Lodge. It's the perfect introduction and educational resource for what you'll see in the valley.
The best way to experience Monument Valley is to take a half-day or full-day Jeep tour. You can certainly tour limited parts of the park independently (a 17-mile scenic drive with several pullouts and great views), but a Jeep tour saves your vehicle from the abuses of the rough roads, provides access to a much larger section of the park and introduces you to the park's cultural heritage. The tour guides are key to unlocking the rich history, archeology and traditions of the Navajo people who continue to live in traditional hogans, herd sheep and weave rugs as they've done for millennia.
Trail of the Ancients Scenic Byway
Monument Valley is also a cornerstone of a trip along the Trail of the Ancients Scenic Byway. Packed with scenic vistas in all directions and both archaeological and cultural intrigue, the byway encounters numerous examples of Ancestral Puebloan history in the Four Corners area. A tour of the Utah portion of the Trail of the Ancients includes Four Corners Monument, Edge of the Cedars State Park & Museum, Natural Bridges National Monument, Hovenweep National Monument and many other areas of interest across the map. A more circular route hits the steep and spectacular Moki Dugway, comprised of white-knuckle inducing gravel switchbacks. (The narrow 11 percent grade is not recommended for trailers or larger RVs.)