Capitol Reef National Park
Things To Do
Camping

As one of Utah's less crowded national parks, there is plenty of camping to choose from. Start your day nestled beside the Fremont River in the lovely Fruita Campground, or explore the two free primitive campgrounds further into the park.

Canyoneering

Utah is known around the world for its spectacular slot canyons, many of which are found in Capitol Reef National Park. Explore the park's most popular routes, learn about the required permits, and prepare for your trip here.

Hiking

For travelers who find serenity in seclusion, Capitol Reef's sprawling red rock hiking may be tough to beat. There are plenty of hiking trails out of the Fruita area and along the scenic drive to spread out and experience the varied environments of Capitol Reef. Or spend the day winding through the park's awe-inspiring slot canyons.

Scenic Drive

In many parks the most beautiful destinations can't be seen from the road. That's not the case at Capitol Reef. Ramble down the 8-mile Capitol Reef Scenic Drive for breathtaking viewpoints and more likely than not, some great conversation. The Scenic Drive is a paved road, suitable to passenger vehicles. Beyond the paved road are two dirt spur roads, Grand Wash and Capitol Gorge. These dirt spur roads enter canyons and lead to trailheads, and are usually suitable for passenger cars and RVs up to 27 feet in length.

Slow Down

Capitol Reef isn't the type of place that calls for a packed itinerary. Slow down a bit while you're here — visit the Pioneer Register site to see the names of historic miners and settlers, or visit the historic district of Fruita to pick fruit from its orchards.

Winter Activities

Towering red rocks dusted in snow, often set against bright blue skies, welcome winter visitors to Capitol Reef National Park. Skip the summer crowds and bundle up for an unforgettable winter adventure. Soak up incredible views along the park's scenic drive or gear up and head out on a wintry hike. After the sun sets, watch dazzling stars shimmer against a brilliant and crisp night sky.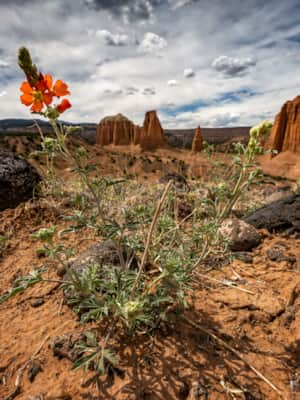 Serenity Found in Torrey and Capitol Reef's Cathedral Valley District
Taking Southern Utah's remote, less-traveled path in Capitol Reef's Cathedral Valley District to nurture your body, mind and spirit.
Travel Tips
The visitor center is open year-round. Several easy hiking trails and the park's scenic drive are found near the visitor center. In only a couple hours, you can try a hike like Hickman Bridge or the Grand Wash and examine petroglyph panels left by the Fremont culture along S.R. 24.

With a half-day, add the 8-mile scenic drive past the visitor center and Fruita Historic District.

With a full day, and a high-clearance vehicle, you can explore the bulging uplift of rainbow-hued sandstone "reefs" and canyons of the Waterpocket Fold, or tour the Temples of the Sun and Moon and the rest of Cathedral Valley's sculptured sandstone monoliths.

During harvest season (June–October, varies based on the fruit) pick your own fruit from the park's orchards for free. You can take a bag of fruit to go for a nominal fee. After, definitely stop at the Gifford Homestead for a fresh, local pie.

With even more time, and the right supplies, request a free backcountry permit and discover yourself amid pristine wilderness.

Start hikes early, protect your skin, and take breaks to enjoy the scenery.

Capitol Reef is a certified International Dark Sky Park. Fit some stargazing into your itinerary.

Connect your visit with Bryce Canyon National Park by driving on the All-American Road: Scenic Byway 12, one of the most beautiful roads in the United States.

Read these resources to learn how to travel thoughtfully and experience Capitol Reef National Park most fully.
More travel tips for visiting Capitol Reef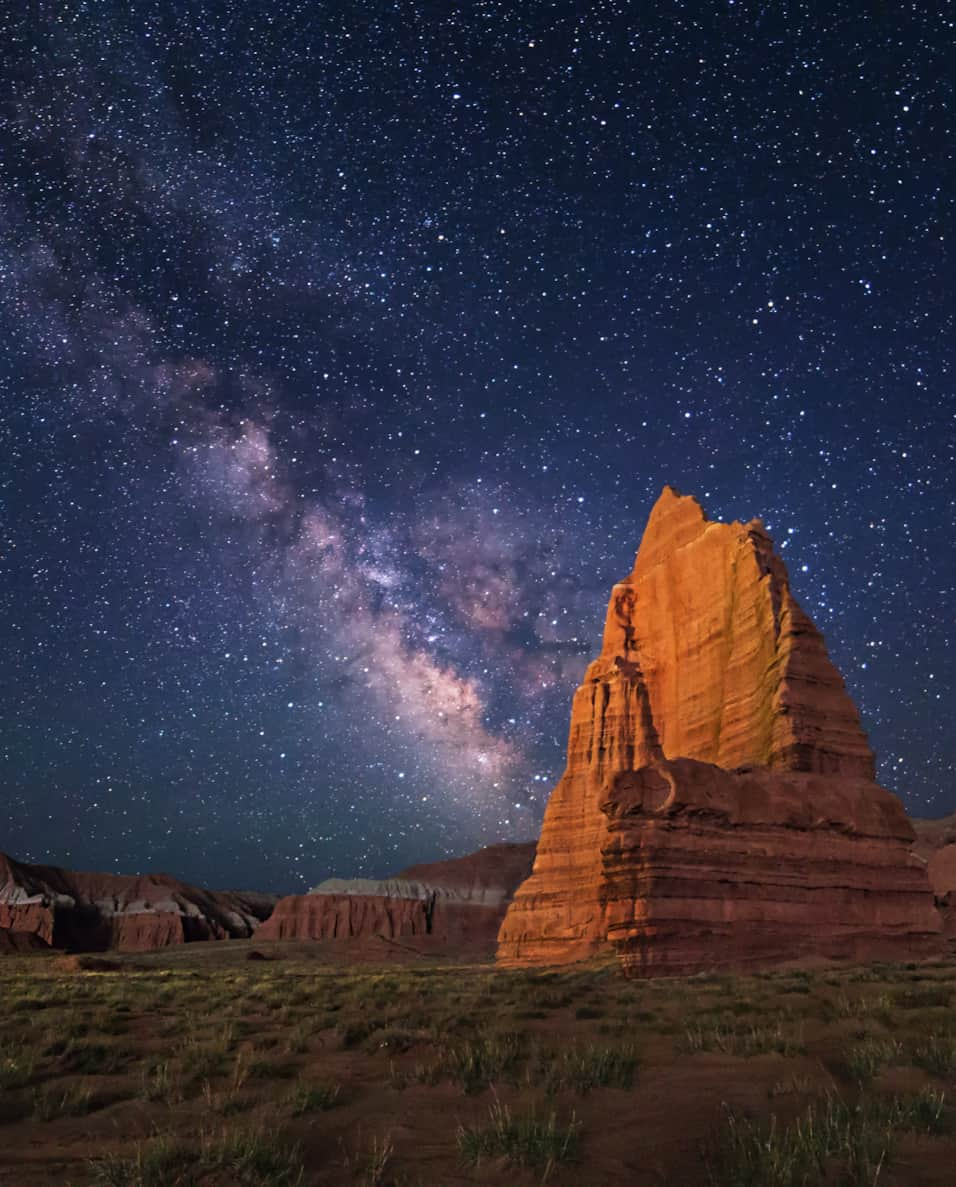 Red Rock & Dark Skies: Stargazing the National Parks
This road trip through southwest Utah takes you to four of Utah's best places to see the Milky Way — Capitol Reef National Park, Kodachrome Basin State Park, Bryce Canyon National Park and Cedar Breaks National Monument.
Highlights
Hell's Backbone Grill
Bryce Canyon Lodge
Ranger-led Star Programs