Wheeling It: An RV Primer for Utah Family Trips
With 28-feet of vehicle space, one traveling family discovers the RV community.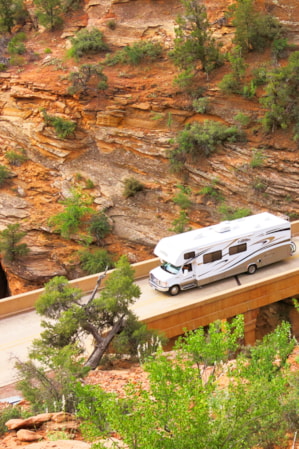 As our RV bounced along US-89, I looked out the window, at the whimsical shapes formed by red rock spiraling out of the sand. My 9-year-old son napped next to me on the bench behind the driver's seat. At a table further back, my older son was on the laptop, quickly filling out some university paperwork he needed to file before orientation.
My reverie was broken with a happy yelp from my husband and daughter up front. We had just passed the "Welcome to Utah" sign, which meant we were close to our final destination, Zion National Park.
Our family of five lives in Texas, but we vacation in Utah frequently, enjoying the state's abundance of parks and outdoor activities, set amongst beautiful and varied landscapes. Despite our previous trips, this was our first time visiting both Zion and traveling in an RV.
We've contemplated RV travel a number of times before. My youngest had been asking us for a few years. Our 18-year-old son, the eldest, would be starting college in the fall. We felt that a RV trip would be a great way to make lasting family memories.
We aren't the only families to come to that decision. In fact, traveling close to national and state parks is among one of the most important factors when choosing an RV vacation destination. And Utah's Zion National Park is one of the most popular national park destinations, according to RVshare.com, a peer-to-peer RV rental platform.
"Our family of five lives in Texas, but we vacation in Utah frequently, enjoying the state's abundance of parks and outdoor activities, set amongst beautiful and varied landscapes."
RVing in a Pandemic
The pandemic also played a part in our decision to rent an RV. We reserved our RV in early March, before any of us were vaccinated. We decided that an outdoor vacation and traveling by RV would be the safest option for our family. By the time we left for Zion, my husband, myself and my 18-year-old son were fully vaccinated. My 14-year-old daughter had received her first shot of the vaccine, but our 9-year-old was still unvaccinated.
We kept that in mind as we made plans. While we ate a number of meals in our RV, we were also able to enjoy carryout options as well as outdoor dining options throughout our trip.
Once in the park, National Park Service rules mandated every passenger wear masks on the shuttle. Ranger programs and the information table were also set up outside. Zion National Park is the most visited park in Utah, so outdoor gatherings helped prevent overcrowding indoors. We also hit the trails as early as possible. This helped us snag RV parking at the visitor center and beat crowds on the trails.
With the pandemic, we also found that rules and restrictions were changing daily. For example, when planning the trip, shuttle rides were restricted to passengers with tickets only, and I reserved shuttle tickets online ahead of time. When we arrived at the park, that restriction was lifted, but our timed tickets allowed us to skip the regular line.
"Whether your landscape of choice is the mountains and trees, or red rocks and sand, Utah has it all. "
– Devan Chavez, Public Affairs Manager, Utah Division of Parks and Recreation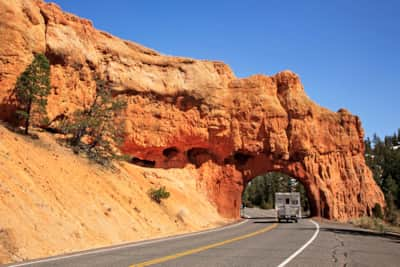 Plan Ahead: Tips for Finding the Right Park
When planning an RV trip, there are two important decisions to make — where to go, and which RV to select. The choices for both can impact each other. When it comes to parks, there are myriad choices but make sure the amenities you need will be available.
Research what amenities each state park and campsite offer before choosing to visit with an RV or camper, said Devan Chavez, public affairs manager at Utah Division of Parks and Recreation. The Utah State Parks Field Guide offers a table that lists which park has primitive, partial or full-hookup sites available.
"Whether your landscape of choice is the mountains and trees, or red rocks and sand, Utah has it all," Chavez said. "Ranging from full hookup RV and trailer sites all the way to primitive camping, the majority of our parks across the state have a place to meet your style."
When booking a specific site, be sure to check the hookup information to learn what's available, such as maximum vehicle length, electric hook-up information, water availability, nearby restrooms and showers, Chavez said. Most state park campsites allow up to eight people and one vehicle. A vehicle and attached in-tow equipment is considered one vehicle.
Reservations for state park campsites may be made up to four months in advance, and no fewer than two days before the arrival date, through Reserve America. National Park campsite reservations can be made at recreation.gov – check each park website to find reservation availability, as it can vary by park.
For example, at Bryce Canyon National Park, the North campground has first-come, first-served camping year-round for both RVs and tents. The park's other campground, Sunset, is first-come, first-served from April 15 to May 19 and Oct. 16 to Oct. 31. From May 20 to Oct 15, all sites are by reservation only.
Arches National Park's popular Devils Garden campground doesn't require a reservation. But from March 1 through October 31, the campgrounds fill up nightly, so reservations are recommended, said Angela Richman, chief of interpretation, education and visitor services at Arches and Canyonlands National Parks.
For new travelers to the Needles Campground (Read: "The Freedom of Wild Places.") in Canyonlands National Park, it's highly recommended that RV travelers arrive at the campsite before dark, Richman said.
Renting an RV
When selecting an RV, it's important to rent one that provides enough room for your family, but make sure you research the route and planned destinations for size limitations. For example, at the Zion-Mount Carmel Tunnel, large vehicles such as RVs can only travel through the tunnel at specified times and must pay a fee, but vehicles over 13 feet, 1-inch are prohibited.
At Bryce, vehicles of all lengths can travel the park's southern viewpoints throughout the year, but there are parking-lot restrictions for vehicles over 20 feet during the shuttle season, said Peter Densmore, visual information specialist at Bryce Canyon.
Our family settled on a RV that was 28-feet long, which gave the five of us enough room to sit and sleep throughout our trip. It was small enough for us to maneuver on the highway and park roads, and met size restrictions for all the places we camped at.
We reserved our RV through a website that connects renters with private RV owners. Booking early is recommended so that you can find a vehicle that fits your needs and is available during your travel dates.
"Ranging from full hookup RV and trailer sites all the way to primitive camping, the majority of parks across Utah have a place to meet your style."
Joining the RV Community
As in any outdoor activity, it's important to follow Leave No Trace principles with RV camping, which includes parking in designated areas and being mindful of excessive noise.
"We sometimes see RVs (and other vehicles) parked on the shoulder of the road," said Bryce's Densmore. "These vehicles are ticketed, but still cause damage to plants and can risk fires starting with their hot undercarriages." (Read: "Fire Safety in Utah")
All vehicles should park only in designated areas and only camp overnight at campsites. RVs parked overnight in parking lots will be asked to move to a designated camping area, Densmore said.
Enjoying the outdoors involves all the senses, including the natural soundscape. Running RV generators outside designated campsites and during quiet hours negatively impacts the park's soundscape and other visitors' experience.
As a family that takes a lot of car camping trips, the RV provided extra comforts that I appreciated. Our RV came stocked with supplies, so we only needed to plan and purchase groceries for meals. Not having to worry about finding restrooms on the drive was also a great perk. (Read: "Coming to Terms With the Poop Problem")
But there was also a steep learning curve on our first RV trip. It took us a couple of times before we were able to dump and fill up water with efficiency at the dump station, which caused some delays in our schedule. Since our only form of transportation was the RV, that caused some logistical challenges finding parking.
But we also discovered a community of other RV park lovers, often eager to give advice and tips when we had questions. Most importantly, we were able to gather those family memories.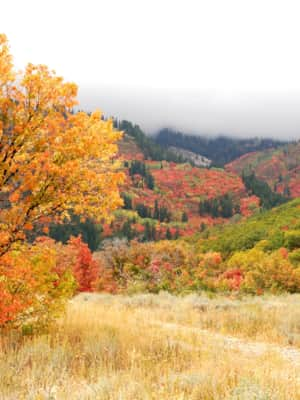 Top 10 Undiscovered Utah Roads
Whether you scour Utah's All-American Road or check out the scenic drives leading into our national parks and mountain canyons, the drive to your destination is typically just as beautiful as the destination.