Southern Utah
St. George to Littlefield, AZ Loop
A brilliant 100-mile loop tour that combines redrock canyon scenery and dry Mojave Desert landscapes. Highlights along the way include the Snow Canyon sandstone formations and volcanic cinder cones, excellent hiking opportunities, historic locations such as the site of the Mountain Meadows Massacre, and the beautiful Mojave Desert/Joshua Tree Scenic Backway.
Hanksville to Blanding
A 133-mile high-desert drive across some of the state's most rugged canyon country. Highlights along the way include the Glen Canyon crossing, views of the Henry Mountains, sight-seeing and excellent easy day hikes in Natural Bridges National Monument, and an abundance of ancient dwellings and prehistoric petroglyphs.
Fish Lake Loop
This picturesque 40-mile alpine and high-desert drive takes road trippers along the Fishlake Scenic Byway. The route takes you to beautiful Fish Lake, with abundant opportunities for fishing and boating. Many attractive side trips can be done along the way, including the Cove Mountain Road Scenic Backway, Gooseberry-Fremont Scenic Backway, Thousand Lake Mountain Road Scenic Backway, and Loa to Hanksville Scenic Byway.
Beaver to the Sevier Valley
This splendid 17-mile mountain canyon drive takes you from the town of Beaver to the Elk Meadows Ski Resort, then continues, unpaved, over the Tushar Mountains and down into the attractive Sevier River Valley corridor. Highlights along the way include the historic town of Beaver, abundant high mountain scenery, Fishlake National Forest, Puffer Lake, the scenic and historic Sevier River Valley, as well as great opportunities for hiking, fishing, and camping.
Central Utah
Eureka to Delta
This trip is a distinctive 50-mile basin and range drive across broad, dry valleys and past rough desert hills filled with mining history. Highlights along the way include the Tintic District mining towns, Great Basin desert views, rockhounding, the Little Sahara Recreation Area, the historic site of the Topaz internment camp used during World War II, and the mud-walled Fort Deseret built in 1866.
Huntington to Fairview and Scofield
The Wasatch Plateau is one of Utah's most important geographical features, marking the division between the vast Colorado Plateau and the Great Basin. This 55-75 mile road trip combines the Huntington Canyon and Eccles Canyon Scenic Byways and provides an excellent introduction to the spectacular Wasatch Plateau high country.
Duchesne to Price & North to Myton
This highly diverse 145-mile drive combines lovely forested canyons, the traverse of old Native American and settler trails, and many cultural and historical attractions in Helper and Price, as well as Nine Mile Canyon with its fascinating rock art sites.
Northern Utah
Fairfield to Tooele to Dugway to I-80
A 120-mile basin and range drive that reveals elements of Utah's mining, Pony Express, and Mormon history as well as the dramatic alpine terrain of the Deseret Peaks Wilderness Area and the forbidding desert wilderness of the Great Basin. This drive is a very good (and relatively easy) introduction to the Great Basin region as a day excursion from Salt Lake City.
Ogden to Monte Cristo
The Ogden River Scenic Byway follows a narrow canyon 30 miles from the urban center of Ogden and up into spectacular alpine landscapes. Along the way to its high point of nearly 9,000 feet at Monte Cristo Summit, it passes through a complex quartzite gorge, a beautiful high valley, and some of the finest mountain meadows and forest in northern Utah. Also along the way are significant man-made attractions that include a genuine monastery and prize-winning hamburgers.
Snowville to Grouse Creek to Golden Spike to Corinne
This long excursion into the desert and grasslands of Utah's undiscovered northwest corner features Great Basin views, remote ranching communities, the old Central Pacific rail line, the Golden Spike National Historic Site, a rocket display, and monumental outdoor art. Make sure you have a large-capacity gas tank or an extra gas can if you plan to drive the length of the old railroad grade.
Road trip information adapted from Scenic Driving Utah (Globe Pequot Press), which includes driving directions and maps for 28 of the best auto tours in the state.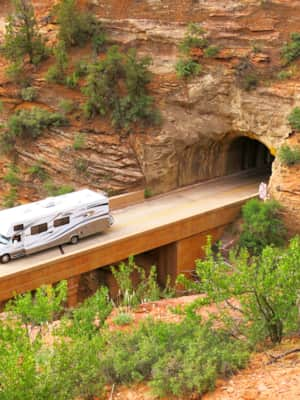 Wheeling It: An RV Primer for Utah Family Trips
With 28-feet of vehicle space, one traveling family discovers the RV community.