Best Guided Horseback Riding Experiences in Northern Utah
Take advantage of these four horseback riding experiences that give you an unforgettable way of seeing Utah at its finest.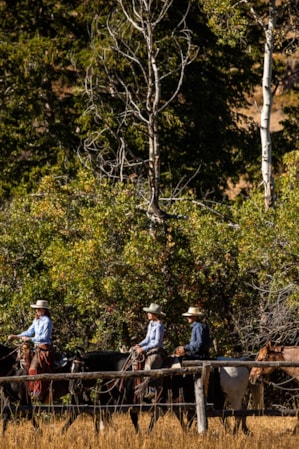 Utah is known for its outdoor adventure. From skiing in the winter to hiking in the summer, spending time outside in a beautiful setting is what draws so many people to the state. One of the best ways to explore the great outdoors is also one of the oldest — horseback riding. While it harkens back to Utah's pioneer heritage, horseback riding is still a fantastic way to enjoy time in nature. Not only do you get to bond with a beautiful creature, but you can slow down and see things from a different point of view.
You have several options for guided riding near both Salt Lake City and Park City (Read: Best Trails for Horseback Riding Within an Hour of Salt Lake City). You just need to show up, and the guides will take care of everything you need — including instruction for new riders. Take advantage of these four horseback riding experiences that give you an unforgettable way of seeing Utah at its finest.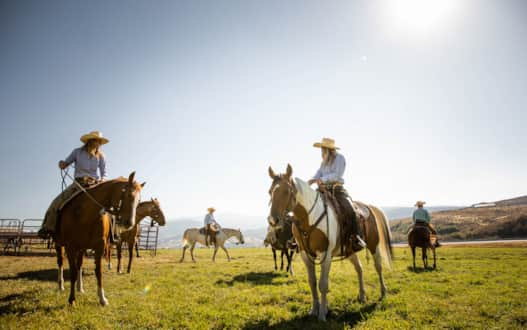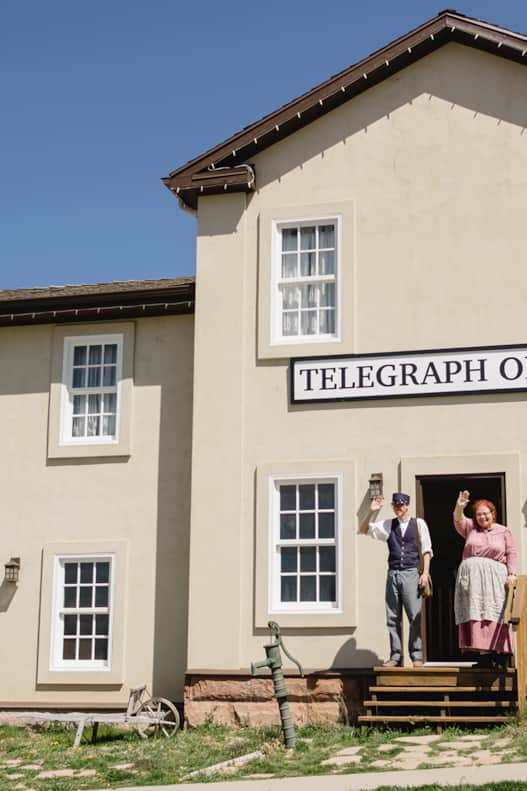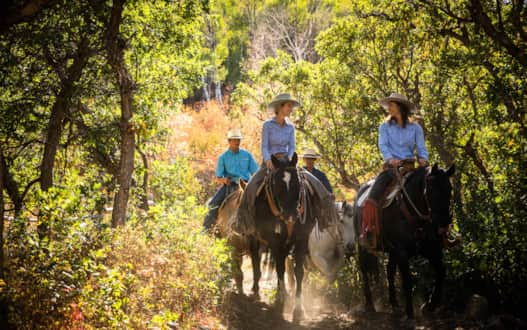 1. Blue Sky Ranch
High in the Wasatch-Uinta Mountains in the town of Wanship (about 20 minutes beyond Park City), you'll find the cowboy paradise of Blue Sky Ranch. This 3,5000-acre property offers authentic equestrian experiences set in the mountains, valleys and meadows of its expansive property. Western-style riding is the focus here, with a goal of helping you work with your horse as a teammate. During these equine adventures, you can enjoy the cool mountain mornings from your horse as you ride to a campfire breakfast. Or explore the ranch's foothills and meadows while spotting herds of deer — and occasionally a moose.
Blue Sky's horseback tours teach the natural Vaquero style of horsemanship, which means you'll learn the essence of non-verbally communicating with your horse through actions and perceptions. If you're looking to focus on skills, skip the trail ride and skill-build in the arena with the ranch's equine instructors.
2. This is the Place Heritage Park
Nestled in the foothills of Salt Lake City 15 minutes from downtown, This is the Place Heritage Park features 450 acres of ready-to-ride terrain. Experienced wranglers guide you to views of the city skyline and the surrounding valley as you ride through the foothills to the base of Emigration Canyon. Ages 8 and up are welcome to ride, but those under 14 require parental supervision for the duration of the tour.
After your ride, stick around to see pioneer-era cabins, pan for gold, visit the Native Village and explore monuments that tell the story behind the park's name. In addition to hour-long Western rides and sunset trots, you can sign up to assist in a cattle drive across the vast estate. And don't worry if you've never ridden before, even newbies can do a ride or cattle drive. There are horses for every age and skill level to ride. For anyone living in Salt Lake City, this is an easy outing to see the area in a whole new way. (Read: "Journey Through Utah's History at This Is the Place Heritage State Park.")
3. Rocky Mountain Outfitters
Go for an Old West-style ride through a 2002 Winter Olympic Games venue with a Rocky Mountain Outfitters guide. Located south of Park City in Midway, Utah, these guides will lead you into the woods on trails through Soldier Hollow to see views of Mount Timpanogos, Deer Creek Reservoir, and the Wasatch Mountains. The summer season brings grassy meadow and summer wildflower rides with uphill treks to the Crows Nest, where you'll take in wide-open views. Don't mind the cold? Winter rides are also offered at Soldier Hollow on a cross-country ski trail used during the Olympics.
Rides are suitable for all skill levels and available on a flexible schedule. Groups depart as early as 7 a.m. and as late as 6 p.m. in the summer season. During winter, options are more limited, with rides leaving at 10 a.m. and 2 p.m. daily.
Beyond the Western rides, Rocky Mountain Outfitters offers practices that pair horseback riding with yoga. The relaxing, rejuvenating adventure starts with a guided trail ride to a mountain meadow where you'll stop for a 45-minute outdoor Vinyasa yoga class. After you've stretched and relaxed in the woods, you'll hop back on your house and wranglers will guide you back to the start.
4. Red Pine Adventures
Park City becomes prime horseback riding terrain in the off-season, as the privately owned land next to Canyons Village is open for guided horseback riding through Red Pine Adventures. Since the property is private, crowds are nonexistent, making for a serene, peaceful riding experience, even during the busy summer season.
Giddy up and trot past alpine lakes, flower-filled meadows and spectacular mountain views. Rides are open to singles, couples, families, and corporate groups, but all little riders must be 8 years or older. Reservations are required and tours with daily rides are offered at 9 a.m., 11 a.m., 1 p.m., and 3 p.m.
No matter which outfitter you choose, you'll love saddling up and experiencing northern Utah the old-fashioned way.
For more horseback riding inspiration, read "Best Trails for Horseback Riding Within an Hour of Salt Lake City."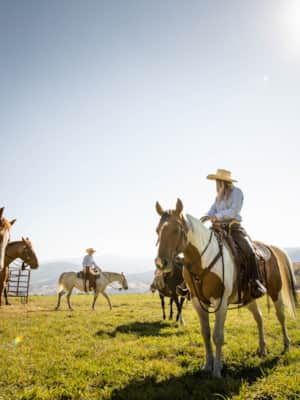 Best Dude Ranches in Utah
From the red rock of Moab to the mountains of Park City, Utah offers a handful of ranches that will bring out your inner cowboy or cowgirl. So dust off your boots, pack your bags, and book a stay at one of these seven dude ranches.