Cheap Luxury Ski Trip: Not An Oxymoron
"Cheap Luxury Ski Trip" is not an oxymoron in Utah, where world-class runs are minutes from our doors (and we've made it ridiculously easy for visitors). Here are five ways locals save a bundle without giving up a thing: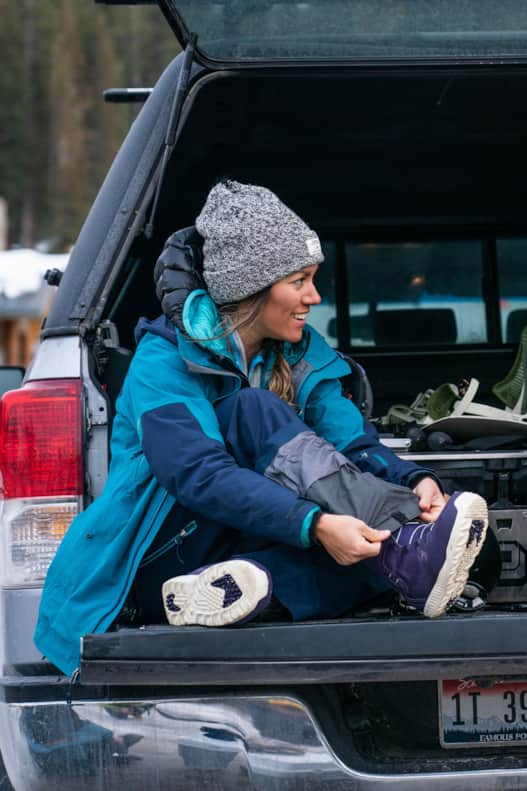 Tip No. 1: Clothing
Shopping for jackets, boots, gloves and more is the fun part until you go to the checkout at your ski shop in Texas and realize how much this week of clothing that you won't likely use the rest of the year will cost (yes, I know this firsthand). Think function first! Utah locals can pick out the tourists — they're wearing expensive, insulated jackets trimmed with faux fur (very pretty, not very functional). Every article written in the past 20 years about playing outdoors tells you that it's all about layering: base layer (long underwear), insulating layer (puffy), wind/waterproof layer (Gore-Tex). Translation: That cute faux fur feels wet and nasty next to your face if it snows, and the wind blows through that expensive insulated jacket that will sit in the back of your closet in Houston or San Diego.
Instead, wear a base layer, but not necessarily ski-specific. I've been known to use my workout tops and leggings which wick sweat just as well and are usable off the slopes (yes I just gave you permission to buy Lululemon). Heck, my kids prefer to wear long underwear-style pajamas under their ski gear (the littles seldom break a sweat skiing, which is what chills them).
The insulating layers are more important. Notice, I said layers. Most people own or received a fleece jacket from their aunt at some point (fleece is fleece, it's warm and it's underneath everything if your aunt has bad taste). However, unless you're spring skiing, you'll need another insulating layer like a puffy, down-type layer. Recently, these have magically become thinner and warmer simultaneously making them more functional (you can wear it back in Dallas during a February morning jog and brag about your amazing vacation).
The wind/waterproof layer is, typically, the pricey piece, but you'll be able to use it afterward in the rain or cold when the dog insists on going out or you're stuck at the soccer field. Layered with a base and puffy, the shell keeps you toasty on the worst day (or while plopped on the snow during your snowboard lesson). A "shell" is more than a simple raincoat, but there are choices for just about any budget (here's a deal on a combined shell/puffy). Find a cute color (hard to see white jacket in snow) that specifically indicates it's wind and waterproof. Bottom Line: Stay warm, save money, use at home. No faux fur, matchy-matchy optional. #shreddingskittles
Pants come in insulated and pricier, shell-type varieties. Either are fine, but definitely look for deals. Jeans and stretchy pants — even if they say they're ski pants — are not fine and not warm! Being conscious of your clothing budget is the first piece of planning a cheap ski trip. Bottom Line: Function first! (Read: "How to Pack for a Family Snow and Ski Trip in Utah")
Locals' tip on clothing:
Visit consignment shops and warehouse retailers in Utah for deals on ski clothes. From Salt Lake City International Airport, you can stop at Costco (doesn't sell wine, but has men's ski pants for $29), Kid2Kid, a children's consignment store on 700 South in Salt Lake City just off I-80, or shop the Millcreek Mile on 3300 South off I-215 at the mouth of Parley's Canyon, full of locals' favorite haunts: Level Nine Sports consignment (even my hubby likes this place); REI; Savers, locals' second-hand items; Milosport or Salty Peaks, retailers with great deals. If you're in Park City, the Columbia Factory Store has what you need for a fraction of your hometown ski store.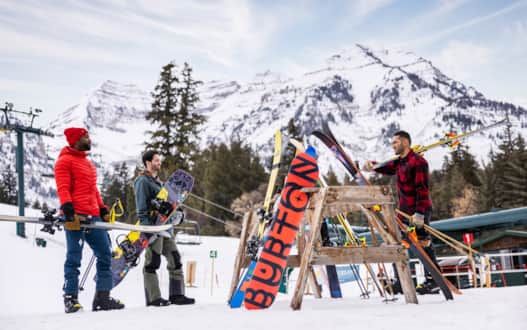 Tip No. 2: Ski and Snowboard Gear
Buy or rent? For most, renting is the cheaper option, but you can save even more if you know where and how to rent. Utah locals love the Ski 'N See Season Rental program. For a fixed price (starting at $80 youths, $140 adults, reserve early), you can rent skis or a snowboard, boots and a helmet for the entire season.This is often less than a three-day rental. You can also save by reserving daily rentals in advance. Bottom Line: Plan ahead, even 48 hours, to save big. (Read: "Ski Gear Expert Advice")
Locals' tip on gear:
If you're dying to buy boots or skis or anything else, locals love consignment stores (we buy great stuff and resell often), such as The Gear Room in Cottonwood Heights, Level Nine Sports in Salt Lake and Ogden and Switchback Sports in Park City. If you decide you don't want to take it home, then consign it all back before you leave and save more money (Cha-Ching!).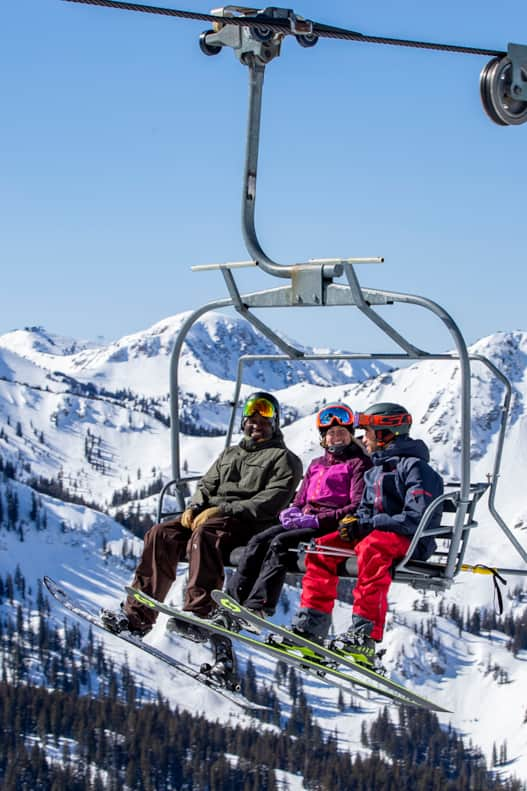 Tip No. 3: Lift Tickets
Daily Lift Tickets
Buying lift tickets at the resort window is pricey. Going on the resort website beforehand can be the best deal around. Locals typically stop at ski and recreation stores — even grocery stores — in the Salt Lake Valley for discount lift tix (and coffee) on their way up the mountain. If you are skiing with a large family, then remember that kids 10-and-under ski free at Brighton with a paying adult, and kids 12-and-under ski free at Brian Head and Nordic Valley with the Power Kids Pass.
Multi-Day Passes
There is a lot of competition between multi-day ski passes: IKON Pass, Epic Pass, Mountain Collective, SkiUtah's Yeti Pass and SkiCity SuperPass. Compare and pick the best prices and perks, such as discounts on gear, lessons and lodging, as well as blackout dates and deadlines. Bottom Line: Try to purchase tickets before getting to the resort. (Read: "Max Out Your Multi-Mountain Ski Pass")
Locals' tip on lift tickets:
Ski Utah's 5th/6th Grade Passport is still the best deal anywhere and available to non-Utah residents. For $45, 5th graders get three days of skiing or snowboarding at each of Utah's 15 resorts. Sixth graders get one day at each. Some blackout dates apply, such as Christmas at Deer Valley, but Park City next door isn't blacked out. Apply online at least two weeks before your trip. Lift tickets are one of the most expensive pieces of your vacation, so finding deals and discount programs will help you plan a cheap ski trip. The passport also includes other discounts on gear and lessons. Yes, it's that easy to save. (Read: "Family and Budget Guide to the One and Only Ski City: Salt Lake")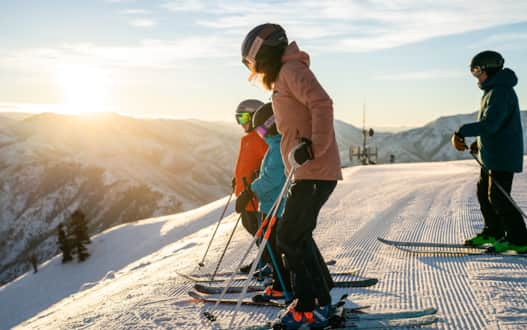 Tip No. 4: Lessons, Camps and Adaptive Sports
Education is expensive, but great instruction means a great experience. Utah is known for its large families — and
Olympians
— which means resorts cater to teaching skiing and snowboarding exceptionally and affordably.
Eagle Point Resort
has an early-bird special for those who like to book a private lesson with their morning coffee.
Snowbasin
offers beginners three lift tickets, three lessons, season-long rental equipment and a season pass upon completion of the program for $799. And at
Alta
, you can ride the beginner lifts, Sunnyside and Albion, from 3-4:30 p.m. starting at just $59 for four days. Specialty camps at
Snowbird
(teens, girls-only, women's, snowboarders) or multi-day clinics at
Deer Valley Resort
are often a great deal. For individuals with
adaptive
needs and their families,
Wasatch Adaptive Sports
,
National Ability Center
and
Ogden Valley Adaptive Sports
have partnered with Utah resorts to make skiing, snowboarding and just about every outdoor pursuit accessible and affordable (Read: "
Utah's Outdoors Are Wide-Open for All Abilities
"). Bottom line: Group lessons are less expensive than private lessons, but similarly-matched groups will progress more quickly.
Locals' tip on lessons:
Check out Snowbird's Adult Beginner Special. Designed for beginner or returning skiers and snowboarders, $140 will get you a 2.5-hour lesson, rentals and a beginner chairlift ticket. The deal is good through mid-April. Powder Mountain also has a first-timer package. Visit Ski Utah for more beginner deals available at Utah resorts.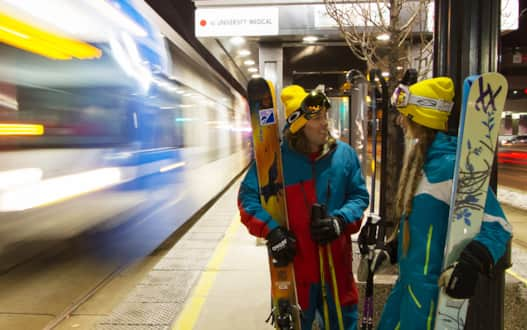 Tip No. 5: Transportation
Want to know how easy it is to get around Utah in winter? The fact that schools never close for snow days and SLC Airport has one of the best on-time records should be clues. The Beehive State is prepared. Hundreds of snowplows clear the highways and interstates as soon as even the biggest storms pass through making it efficient to get to and from anywhere in Utah (there's even an app that allows you to track them, like watching Pac-Man, as well as view real-time road conditions). (Read: "Utah Road Conditions and Safety")
Utah has also made it affordable to get from SLC Airport to the resorts. Private shuttles and taxis are plentiful but can sometimes be expensive, especially for groups. Consider Uber (or Uber Ski with ski racks) or Lyft which are priced per trip and might be more affordable.
If you're staying in Salt Lake City or Ogden, consider taking the popular Ski Bus from local park and ride stops. Similarly, the convenient, electric Park City transit bus is free and has multiple routes between Kimball Junction and Deer Valley. Bottom line: You really don't need a car and don't want to traipse out early to clear snow from the windshield. Enjoy your morning coffee instead.
Locals' tip on transportation:
If you want to rent a car (or a bigger and better one), reserve it in Salt Lake City. Many major companies have non-airport locations only minutes from the airport. Just take an Uber from the airport for a cheaper rental. Be sure to check closing times/days for pick-up/drop-off.