COVID-19 Travel
Please adhere to local guidelines for safe and responsible travel, including following the statewide mask mandate.
Read more
Filmed in Utah: 5 Itineraries Through Hollywood's Most Iconic Settings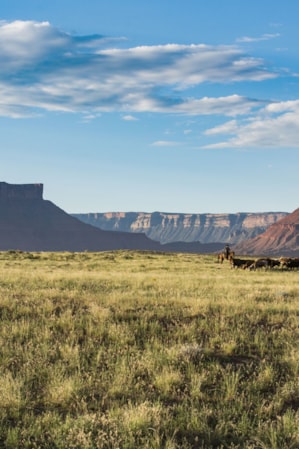 Cinephiles and explorers wandering some of Utah's iconic landscapes for the first time may get the feeling that they've been here before. Discover what Hollywood already has: unique backdrops for your outdoor adventures like nowhere else. Whether hitting the Sundance Film Festival in Park City and Salt Lake City in January or visiting Utah throughout the year, you'll find yourself near some Utah's most iconic and most filmed places.
Over the decades, the silver screen and television have featured Utah in more than 900 films for the silver screen and television. While Utah's striking, iconic and diverse landscapes make it a go-to destination for filmmakers, the state is also a must-visit for road-trippers and outdoor adventurers.
During Sundance
If you're an ambitious traveler, you can extend your stay in Utah and explore the cities and mountains of the Wasatch Front or hit the road and roam free through red rock country. Either way, you'll find big-screen settings and attractions near Park City, the center of this world-famous film arts festival.
Year-Round Ideas
Here are a few movie-themed trips and tips to consider for your Utah visit whether during your festival or on a return trip:
Cult-classic: "The Galaxy Quest" Itinerary
A visit to Goblin Valley State Park could be a quick day trip or an extended journey through the rugged and whimsical landscapes of Utah's San Rafael Swell. Fans of Dean Parisot's "Galaxy Quest" will immediately recognize the setting for Mars.
The Valley of Goblins, the park's main attraction, is located at its heart. Here there are three established trails, which are suitable for almost anyone. The trails lead hikers to overlooks, views of the surroundings, and deep within the maze of weird sandstone formations. But the best thing about the valley is that you are allowed to hike freely, off trail, to explore the hoodoos, mushrooms, or goblins on your own, offering up unlimited options for exploration.
Highlight: Valley of the Goblins
Travel: Park City or Salt Lake City to Goblin Valley: 225 miles | ~3.5 hours
Stops Along the Way: Happiness Within Coffee in Helper, San Rafael Swell
Related Itinerary: Southern Dinos and Goblins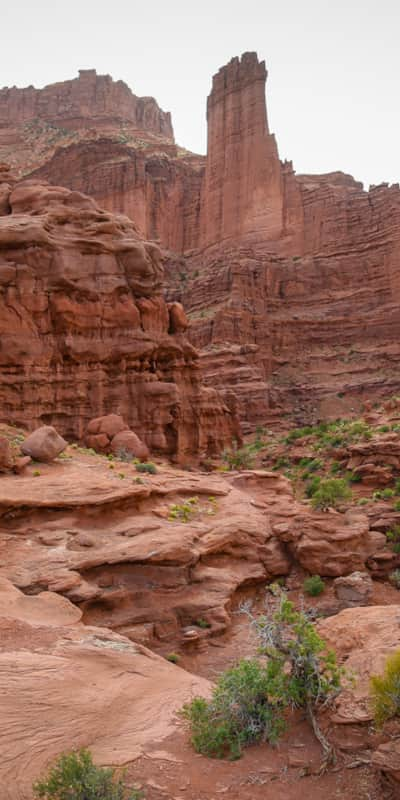 In the Know: "Westworld," the Western Fantasy Itinerary
When it came time to shoot the HBO futurist drama "Westworld," the production team had one clear vision of the West: Castle Valley. As The Salt Lake Tribune reports, "there's no way to mock up the vistas in Castle Valley. Shooting there wasn't just like stepping back into old-time Hollywood, it was like stepping back into the Old West." Your visit to Castle Valley can include a hike to Fisher Towers, a scenic drive up the Upper Colorado Scenic Byway (S.R. 128), rafting on the Colorado River and a wine tour and tasting at Castle Creek Winery. Of course, when in Castle Valley, you're not far from Moab, Dead Horse Point State Park and Canyonlands National Park — also featured in West World. (Season two filming locations added Coral Pink Sand Dunes State Park and Glen Canyon National Recreation Area)
Highlight: Standing beneath Fisher Towers
Travel: Salt Lake City to Castle Valley: 250 miles | ~4.5 hours
Stops Along the Way: Happiness Within Coffee in Helper, Prehistoric Museum in Price, John Wesley Powell Museum in Green River
Related Itinerary: Iconic Classics Southeast and Footsteps of Explorers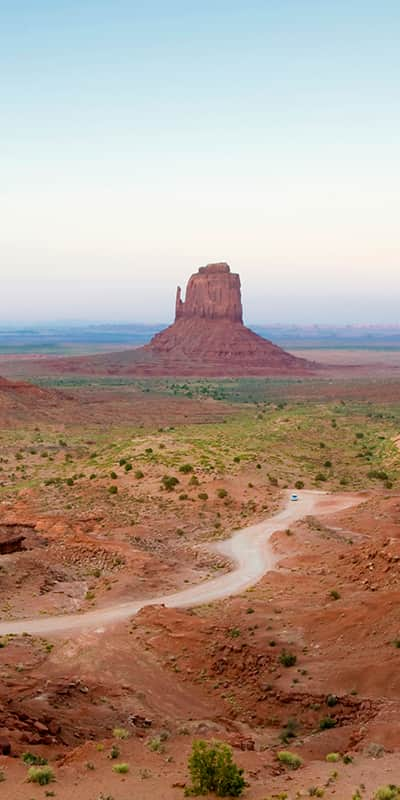 Time-tested Classic: "The Searchers" Itinerary
This is the destination that put Utah on the Hollywood map. John Ford fell in love with Monument Valley Navajo Tribal Park but the big screen doesn't do it full justice. In some ways, Monument Valley is the definitive West. Ancestral spirits infuse the rugged, disruptive landscapes that feel foreign, yet distinctly familiar thanks to Hollywood's long love affair with this land. Enjoy hiking, jeep tours, horseback riding and stargazing in Monument Valley, some on your own, some escorted and narrated by local Navajo guides. Forrest Gump Point is another popular visitor stop. Add this area to your itinerary if you love westerns, but please be aware this iconic photo-op is located along a highly-trafficked road. Due to the road's traffic leading to past injuries and fatalities, we urge you to take your safety seriously and refrain from taking photos from the middle of the road. Visitors are welcome to pull off safely on the side of the road and take photos from the shoulder only.
Highlight: John Ford Point.
Travel: Park City or Salt Lake City to Monument Valley: 375 miles | ~6 hours.
Stops Along the Way: Dead Horse Point State Park, Arches National Park, Moab
Related Itinerary: Native Spirit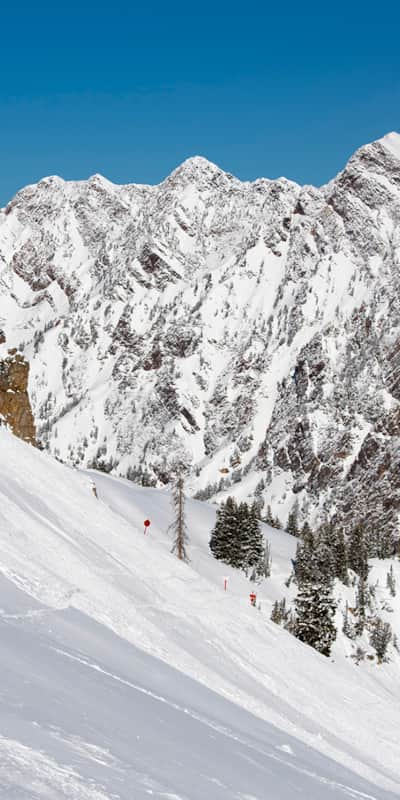 Worth Your Two Dollars: "Better Off Dead" — The Skiing On One Ski Itinerary
You know what the street value of these mountains is? It's tough to put a number on The Greatest Snow on Earth®, but it's just part of what makes skiing in Utah so special for the people who ski here — whether on one ski, or two. See, Salt Lake City isn't your regular ski town. It's the only Ski City. With big city, world-class amenities galore and 10 different resorts within an hour of Salt Lake City International Airport, Salt Lake City, Utah ski trips can satiate any skier's or snowboarder's lust for powder, quest for groomers, or race down the slope to determine who will be the captain of the ski team.
Follow the film's tracks at Alta Ski Area (skiers only) and Snowbird Ski and Summer Resort in Little Cottonwood Canyon or Brighton Ski Resort in Big Cottonwood Canyon.
Highlight: The view from the Snowbird Tram and Hidden Peak
Travel: Salt Lake City to Alta/Snowbird: 30 miles | 45 minutes; From Park City: 1 hour.
Stops Along the Way: Downtown Salt Lake City
Related Itineraries: Powder Dreams and Downhill to Downtown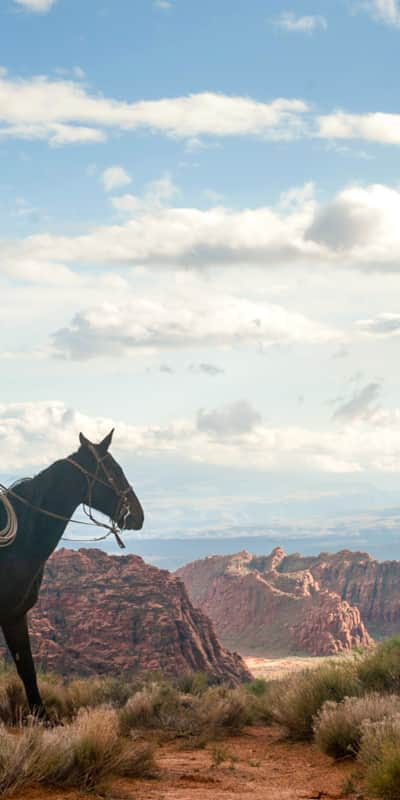 The Western Outlaw — The "Butch Cassidy and the Sundance Kid" Itinerary
Many travelers visit southwestern Utah to see the soaring cliffs of Zion National Park and to hike, climb and mountain bike the incredible red rock landscapes. For movie buffs, this scenic corner of the state of Utah comes alive with nostalgia for Robert Redford's iconic film, "Butch Cassidy and the Sundance Kid." The complete list of filming locations includes the ghost town of Grafton, Snow Canyon State Park, the city of St. George and Zion National Park. (Read:"Utah's Unexpected Pit Stops".)
Highlight: Snow Canyon State Park
Travel: Salt Lake City or Park City to Zion National Park: 310 miles | ~4.75 hours
Stops Along the Way: Kolob Canyons, Parowan Gap, Kanarraville Falls, Circleville
Related Itineraries: Family Frontier and Unexpected Southwest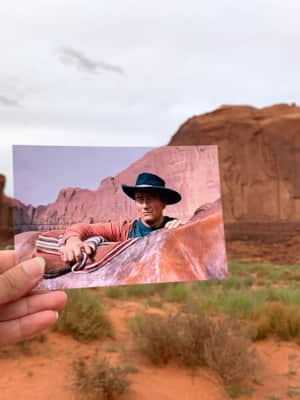 Movies Filmed in Utah: Plotting a Cinematic Drive-Through
Follow a Germany-based film enthusiast on an extended road trip to discover the rich history of Utah cinematography.