U.S. Federal Shutdown Information
At this time, all of Utah's national parks, monuments and recreation areas remain open.
Learn more.
Slickrock Adventure
Discover how close Salt Lake City is to Arches and Canyonlands national parks in this three-day weekend filled with adventure options.
Exhilaration is that moment you remember Moab is roughly four hours from the Salt Lake City metropolitan area. Visitors to Salt Lake, take note: Utah's red rock mecca is a quick addition to any visit to the region, or a destination unto itself.
Leave at breakfast and be ready for lunch in Moab, Utah, where two national parks (Arches and Canyonlands), an eye-popping state park (Dead Horse Point) and infinite wild places — including the famous Slickrock mountain biking trail (see "Off the Beaten Path") — await your next move.
This three-day itinerary gives you the option to devote your whole weekend to one extended adventure like the White Rim Trail of Canyonlands National Park or to take in the best hikes of the two parks. Even if the White Rim isn't for you, consider bringing along or renting a mountain bike for the trails and views of Dead Horse Point State Park or other area trails.
No matter how much slickrock ground you cover, save some time for Moab's best dining and culture. See the Planning Tools at the bottom for some of our favorite options.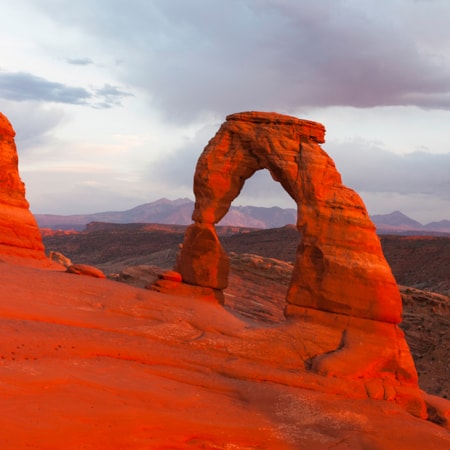 Salt Lake City to Arches National Park
230 Miles
Linger for breakfast or brunch in Utah's vibrant capital city or get right to this adventure through The Mighty 5® national parks. 300 million years of erosion carved unbelievably dramatic landscapes that look like they were sculpted by giant mythological beings rather than the processes of time. Arches contains about 2,000 windowed arches, towering spires, harrowing hoodoos, and precarious pinnacles on display, including Delicate Arch, perhaps Utah's most iconic feature, which is a must-hike destination in the park. A paved 36-mile scenic drive from the park entrance provides numerous parking areas for trail access and scenic overlooks. Overnight in Devils Garden Campground or Moab. (Read: "How to Visit Arches")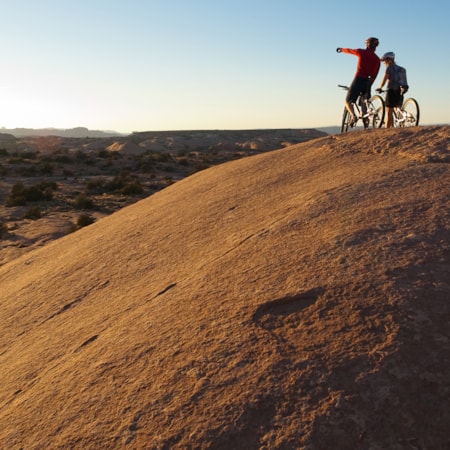 Slickrock and Singletrack
100 Miles
This day is about options — options to continue your tour of this incredible area at a more leisurely pace, or pick up the pace. Depending on what time you arrived yesterday, a return trip to Arches National Park offers more angles of this iconic landscape. There are gentle hikes like Park Avenue and the Windows Section or day hikes into remote places like Devil's Garden Primitive Loop. For mountain bikers, your adventure starts right here. Why? One word: slickrock. Test your skills on the Practice Loop at the Sand Flats Recreation Area's famous Slickrock area, where the full loop is also available for advanced riders. For mountain bikers looking for a near rite of passage, the The White Rim in Island in the Sky is a 100-mile trail that you can sample in segments, or work with park service to get permits and plan a multiday trip with a "sag wagon" support vehicle. Finally, Dead Horse Point State Park's rolling singletrack is a great introduction to the area's legendary mountain biking.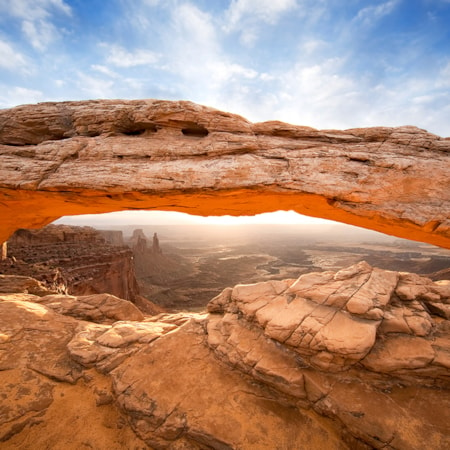 Canyonlands National Park
300 Miles
Imagine wave after wave of deep canyons, formed by the currents and tributaries of Utah's Green and Colorado rivers, divided with towering mesas, pinnacles, cliffs and spires, and spread out over tens of thousands of acres of some of the world's most breathtaking red rock country. Though Canyonlands National Park is made up of three distinct land districts, today focuses on the photogenic Island in the Sky. Stick to the overlooks along the 20+-mile scenic drive and short hike to Mesa Arch, or plan time for a longer hike. There are several day hikes off the mesa, but one of the most interesting is the Gooseberry Trail, whose steep switchbacks down the face of the mesa offer continuous views and a continuous workout. From here, it's about four hours back to Salt Lake. It goes quickly while you mentally plan your next visit.