Mountain Chocolate Calling
A 100-year-old craft chocolate method to make the perfect bar is right at home in Park City.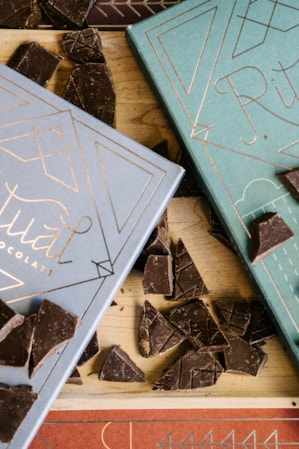 Late-afternoon sunrays shoot through the windows of Ritual Chocolate, located minutes from the base of Utah ski resort, Park City Mountain.
The buzz and hum of a barista making a cappuccino and a frothy hot chocolate in the cafe stand in juxtaposition to the whirling machinery seen through a window into the adjoining chocolate factory. The smell of cacao beans roasting and the sight of a stream of chocolate pouring off the rolling mill make the experience of stepping through Ritual's doors sensuous and exciting.
Two customers chit-chat while they wait for drinks — one in ski pants, the other in road biking spandex. Both are finishing their day of recreating with a pit stop at Ritual.
Park City is an ideal place for a chocolate factory, says Anna Davies, Ritual Chocolate co-owner. "We're inspired by the old, legendary chocolate factories of Switzerland — like Suchard — and they're located right in the mountains."
Just imagine hitting the slopes and warming up with a chocolaty beverage afterwards or taking a break from your bike ride on a spring day and grabbing a hand-crafted chocolate bar. Oh, that mountain town life.
"The smell of cacao beans roasting and the sight of a stream of chocolate pouring off the rolling mill make the experience of stepping through Ritual's doors sensuous and exciting."
The Journey to 7,000'
Creating small-batch fine chocolate while nestled in the mountains at 7,000 feet above sea level wasn't necessarily the end goal for Davies and co-owner Robbie Stout, but it sure is sweet. In fact, Stout and Davies relocated their factory from Denver when they were won over by Park City with grant money allocated for small businesses and, of course, with the trails, ski runs and lifestyle.
"We loved the idea [of moving to Park City] from a quality-of-life perspective," Davies says. Add to that the fact that Stout is a Park City native, and they had the makings of an easy transition.
The duo began building out the new factory and cafe, located on Iron Horse Drive, in 2014. They closed their Denver factory in February 2015, and opened doors to Park City, Utah chocolate factory in March 2015.
The focus for Ritual has always been on handcrafting ethically sourced, single-origin cacao beans into chocolate bars with a focus on tasting "terroir." As many wine connoisseurs will be familiar, terroir is the unique character and taste imparted from a growing region — soil, weather, topography, etc.
For instance, Ritual's Madagascar 75 percent is delightfully acidic, with notes of raspberry and citrus. Ritual calls the Madagascar bar the "gateway chocolate for non-believers." Continuing on, Ecuador 75 percent has tasting notes of graham cracker, honey and fudge, while Peru 75 percent has tasting notes of floral, herbal, toasted peanuts and stone fruit. Oh, and by the way, the percentages indicate the amount of actual chocolate found in the bar. (By comparison, a Hershey's milk chocolate bar is about 11 percent.)
The process of making chocolate starts with picking the right beans. Cacao trees, from which the bean is harvested, grow in tropical areas within 20° of latitude from the equator. But not all beans are created equal. "We want to make the best chocolate, period," says Stout, the chief chocolate maker at Ritual. "That means we only buy 1 percent of the top 1 percent of the cacao that's out there, based on quality and ethics. We only buy exceptional cacao, period."
"Our brand is very modern, but the way we make chocolate goes back 100 years," Davies says
Stout and Davies devoured several century-old books written about the process of crafting when they first started making chocolate in their home in Denver in 2009. With passion but an empty bank account, they went about winnowing beans with a hair dryer and drying beans in an old electric oven. But as luck would have it, they met one of the foremost chocolate makers in the world, Steve DeVries, who leased his lab in Denver to the couple.
DeVries was always around, and although he wasn't their official teacher, the couple "learned through osmosis and exposure," Stout says. "That's what put us at the forefront of quality, pretty much immediately." Back when Ritual started in 2011, they were one of only a handful of companies in the country using proper, 100-year-old equipment — and those thanks to DeVries.
Drawing inspiration from iconic chocolate factories in Switzerland, Stout and Davies knew they wanted to do everything by hand, with the proper machinery. For instance, at their factory, there's a massive white machine — a conche machine — which comes from Switzerland, circa 1915. The chocolate is placed in the conche machine for three days, where it's heated, mixed, aerated and ground, all in an effort to create more delicate, less harsh flavors.
"We are a chocolate maker's chocolate company," Stout says. "From how we select the beans, to the machinery we use, to our final product. That's important to us."
After the beans are selected, the next steps in making chocolate, to oversimplify the process, are: sorting, roasting, winnowing, refining, conching, tempering, molding and packaging. "This is a very hands-on process," Stout says. "For every pound of chocolate we sell, we lift it 25 times."
There's Chocolate on the Menu
All of the effort has paid off. While the two owners don't put much stock in the awards they receive, Ritual has raked in an impressive amount. These include awards from the Academy of Chocolate, the International Chocolate Awards, the Good Food Awards and a Speciality Food Association sofi Award.
But being more concerned about connoisseurs appreciating their product, Davies says they're most proud to see their chocolate on menus of local and national restaurants than to win an award. The likes of Handle, Zoom!, Tupelo and Firewood, just to name Park City-based restaurants, have utilized Ritual Chocolate in a dish or tasting plate.
Stout says that Ritual was in the second wave of small-batch producers. With a third generation afoot, there are literally hundreds of small companies dotting the chocolate map. Utah is lucky to call many of the best bean-to-bar makers its own. In fact, in 2016, Saveur called Utah "the craft chocolate capital of America."
Perhaps, Stout wonders, it is because chocolate is a how members of the Church of Jesus Christ of Latter-day Saints can enjoy terroir. But what's more, the leading distributor of chocolate in the industry, A Priori, a sister company of Caputo's Market & Deli, is based in Salt Lake City.
Specialty, rare and award-winning chocolate from Oregon, Iceland, England and beyond, comes through Salt Lake City, via A Priori, before being shipped again throughout the country and world. Go to many a local, neighborhood grocery store in Park City and Salt Lake City, and you'll find a selection of fine chocolate unrivaled in many other American cities.
Either way, Stout and Davies are just doing what they do best: trying to create the best of chocolate in the country, while also living that mountain town dream. This includes going for a bike ride after our interview, and possibly, heading to the mountain to powder hound tomorrow morning before the weekend crowds.
Ritual Chocolate
1105 Iron Horse Dr., Park City
435-200-8475