COVID-19 Travel
Please adhere to local guidelines for safe and responsible travel, including following the statewide mask mandate.
Read more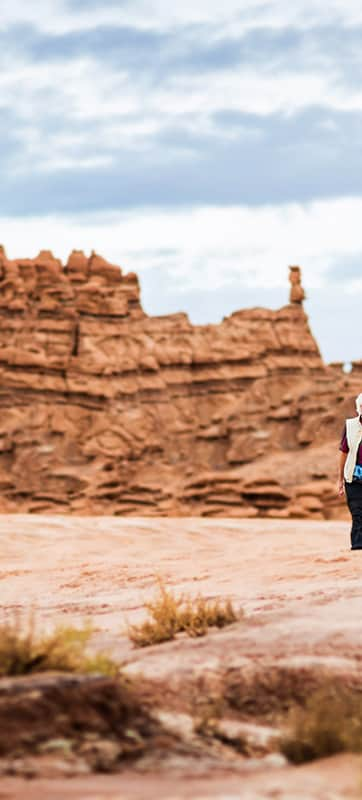 What Makes It Great
The Valley of Goblins, the park's main attraction, is located at its heart. Here there are three established trails, which are suitable for most anyone. They lead hikers to overlooks, views of the surroundings, and deep within the maze of sandstone formations. But the best thing about the valley is that you are allowed to hike freely, off trail, to explore the hoodoos, mushrooms, or goblins on your own, offering up unlimited options for exploration.

If you brought mountain bikes be sure to check out the Wild Horse Mesa Mountain Bike Trail. It's a non-technical, non-strenuous out-and-back 21 miles of graded dirt road. It goes through drainages and washes and the highlight is a 360-degree view that includes Capitol Reef, Thousand Lake Mountain, Boulder Top, Factory Butte, and the Henry Mountains.

Outside the park, hidden in the sandstone dome called the San Rafael Reef, there are a couple of half-day canyon adventures to be had. Little Wild Horse Canyon is a well-known classic and is a perfect intro to canyoneering for most ages and anyone in reasonable shape. Its trailhead is located five miles west of the Goblin Valley visitor center along an improved dirt road (Little Wild Horse Road). The canyon begins the width of a one-lane road and gradually narrows to less than a couple of feet at points, leaving only a slice of open sky visible above. Pools of water may be encountered as you wind your way through the sculpted and featured sandstone ramparts and you might get wet, but for the most part water won't be more than ankle deep. Little Wild Horse can be done as an out-and-back or as an eight-mile loop by connecting to Bell Canyon from the Behind the Reef Road.

If you are looking for more of a challenge Ding and Dang Canyons are a fun five-mile loop whose trailhead is located 1.5 miles beyond the Little Wild Horse parking area. Usually done in counterclockwise direction this hike takes you up the cliff along the rose-lined Ding slot and down Dang. There are a few technical 5th-class sections that may require a bit of short roping depending on your climbing abilities.
In 2016, Goblin Valley was formally designated an International Dark Sky Park. Park rangers hold regular dark sky events such as moonlit hikes and telescope tours.
What You'll Remember
Hiking off-trail and discovering your own goblins; unforgettable views of the surrounding mountains and buttes seen from the seat of your bike; peering up at only a slice of sky while on your first canyoneering adventure.
Who's Going to Love It
People of all ages and abilities will enjoy the offerings of Goblin Valley, Utah. The sights can't be beat, and the trails have a nice range of difficulty, with some of them accessible for non-hikers and others challenging for the more experienced.
GPS Coordinates, Parking, and Regulations
GPS Coordinates:
(38.573932, -110.7136506)

Park Hours are daily from 6am-10pm. There is a fee of $13 for a day use pass. The visitor center offers maps and information.

Goblin Valley State Park has a campground suitable for tents and RVs and has restrooms, water, and showers. There are also two heated/cooled yurts that are reservable year-round. Outside the park, seven miles north, near the junction of Temple Mountain Road primitive Bureau of Land Management camping is available with pit toilets. Additional primitive camping is found west of the park along the Little Wild Horse Road.

Find Goblin Valley State Park or contact with more questions by calling 435-275-4584.