When Ski School's in Session, Parents Head for the Powder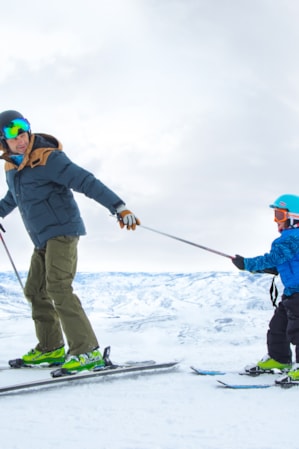 There's a moment that comes with dropping off my daughter at ski school. It's a mixture of joy at suddenly having a block of adult-only ski time, guilt at admitting that I have any amount of joy in handing her off to someone else and a little anxiety. The anxiety results from trying to mentally run through a list of anything I might have forgotten to arm her with (reviewing this list, helps) for her day of skiing without parents at one of Utah's best ski resorts for kids. (Read: "Locals Know Why Ski School is Cool")
It's healthy, I know, for her to spend this time with ski professionals and other kids — and I'm certainly no helicopter parent. Truly, the moment is just that. After we've had our hugs and best wishes for the ski day, I feel better.
And then, I'm off to have fun. Joy wins the day.
My family has enjoyed a handful of Utah ski trips, and each time, it's a great experience for us all to discover a new mountain and find things to do together for our own type of après celebration. Our typical end of ski day goes like this: First, we spend time downloading: who went where, what were our favorite moments, what do we want to remember for tomorrow.
Then, after snowball wars, it's time for cocktails, juice and snacks; snowball wars will take it out of you.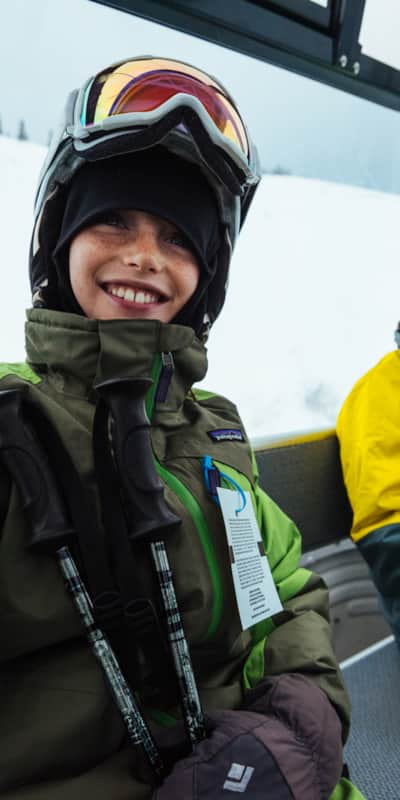 Best Ski Resorts for Kids in Ogden
"I'm going to fall a million times!" Veya joyfully claims on the short drive from downtown Ogden to Snowbasin Resort. It's her first-ever ski day, and she's bundled in a hot pink powder suit, orange hand-me-down jacket and petal pink beanie — looking a bit like an animated Skittle.
At Snowbasin, we navigate the process of gear rental and school sign-ups. Boots are guided over ankles. Mittens are put on, taken off and put on again. Pockets are stuffed with lip balm, tissues and snacks (Read: "How to Pack for a Family Snow and Ski Trip in Utah"). We hand Veya over to her instructor, both relieved to be able to ski on our own, and wondering how long our brand-new ski grom will last without melting down or quitting altogether.
The day passes without my phone lighting up, and even though she spent part of the time playing, part coloring and part skiing, Veya is game to do it all again tomorrow. It's a good thing, too, since we're headed nearby, to Powder Mountain.
While both Snowbasin and Powder Mountain are among the best of Northern Utah's ski resorts, they couldn't be farther apart in style. Snowbasin's wealth of amenities includes majestic lodges with stunning views and marble bathrooms. Powder Mountain reminds me of a cozy 1970s family ski resort frozen in time. These destinations can easily be considered among the best winter vacation for families. (Read: "Cheap Luxury Ski Trip: Not An Oxymoron")
Even on the busiest day, Powder Mountain — known lovingly as Pow Mow — isn't crowded. It's only about an hour's drive from Salt Lake City, but because there are ski resorts closer to the city, fewer people venture farther away. The family-friendly resort also limits its daily ticket cap to 1,500, and with 7,900 acres of skiable terrain between traditional lift-served runs and cat-accessible powder country, that means there's about three acres per skier.
Veya's ski school at Pow Mow consists of a semi-private lesson, and she introduces herself to her instructor by listing her acquired skills from the day before. We begin the morning by skiing along on her first runs — close enough to see what she's doing, but far enough away to avoid distracting her.
Great, uncrowded skiing is king here, but so are all-day snowcat adventures and guided backcountry tours at affordable prices. And beginner ski groms aren't invited, so it's the perfect thing for two parents to tackle when school is in session.
Our family ski-school après at Pow Mow consists of hearty ramen (not the instant kind) at the Powder Keg in Timberline Lodge — a no-frills bar and grill where you sit among lifties, locals and day skiers. It looks exactly like the lodge at my little ski mountain resort when I was a kid. Veya slurps noodles with a spray of broth, in between telling us of her skiing exploits. (Ogden Valley's third resort, Nordic Valley, is a terrific boutique ski hill with some overall gentler terrain for a great family experience that can be less overwhelming.)
"My family has enjoyed a handful of Utah ski trips, and each time, it's a great experience for us all to discover a new mountain and find things to do together for our own type of après celebration."
Salt Lake's Big and Little Cottonwood Canyons
Alta is for skiers. The motto is on bumper stickers, ball caps and T-shirts. For new visitors, it may show the resort's dedication to no-frills skiing, but it's also a serious statement. Leave your snowboards behind because Alta Ski Area is one of three remaining ski resorts in the country that is for skiers only. In the Wasatch Mountains' Little Cottonwood Canyon, Alta is characteristically a local hub, with legendary powder, less expensive lift tickets and close proximity to Salt Lake City.
One of the two oldest ski resorts in Utah (the other is Brighton Ski Resort), Alta has held onto its true identity since the beginning (Read: "Ski In, Never Leave"). The five 70s-style lodges that are built into the mountain are all individually owned and offer an old-school style of ski lodging that's quite communal — with breakfast buffets, community-style dining, living-room space and game rooms.

In the morning, we hit the Alta Transfer Tow from Rustler Lodge to the Albion base, home to the Alf Engen Ski School. It takes less than 10 minutes to sign Veya up for ski school, ensure her pockets are packed with the requisite necessities and arrange the appropriate pick-up time. Five minutes later, we're on our way up the Supreme chair to dedicate the morning to powdery trails between Point Supreme and Sugarloaf.
After an afternoon of family skiing and snowball throwing, we head back to the Rustler to relax by the fire before dinner time. A huge Scrabble game sits on the corner table, and it's soon scattered with easy kid words: bear, bugs, snow, hero, ski, lift, trip, free, hill, ride and moose. Other visitors wander by, glance at the board and nod, before settling in with their family card games by the fireplace. Family time — a huge component to the best winter vacations for families. Of course, if your family is more advanced, don't neglect Snowbird Ski and Summer Resort, which shares a ridge with Alta and can be accessed with a single pass called the AltaSnowbird Connect.
The next day, we move over one canyon to Big Cottonwood Canyon. Known as "the place where Utah learns to ski and ride," Brighton Ski Resort is part of the winter history of many locals (and as in Little Cottonwood above, it shares a ridge with a neighboring resort, Solitude, that can be accessed with a combined pass). My unofficial survey (that consists of asking instructors and resort staff when I remember to) results in a little more than half of the people I've talked with have a deep history with Brighton. Even kids of past instructors are teaching ski school basics. And when children 10 and under can ski for free with a paying adult, you know why it's popular with parents.
After an adult-only ski day, my husband and I decide to enjoy an adult beverage in the A-frame at Molly Green's before ski school pickup time. The funky vibe is all throwback, with big windows, views of the mountains, taxidermy on the walls and a huge fireplace.
We wander over to where Veya is chatting away with a group of instructors, post-lesson.
"She knows how to turn," one of them says. "She just doesn't always do it. That's OK, I was like that when I learned to ski here." They take turns giving her high fives, encouragement for the next ski day, and turn her over to us.
When we leave the mountain with kid in tow, we're constantly stopping so she can say goodbye. She's already thanked her instructor and the gang of others who high-fived her, but has to stop where another group of instructors are chatting, so she can hug them. At an old-school resort, it's easy to find all your instructor pals. And they're nice enough to entertain your child just a little longer. It's a small thing, but one of many reasons why Utah ranks among the best winter vacations for families in our minds. (Read: "Utah's Kid Ski Culture")