A Night Out at the Rabbithole
A Taste of Salt Lake's Flourishing Jazz Scene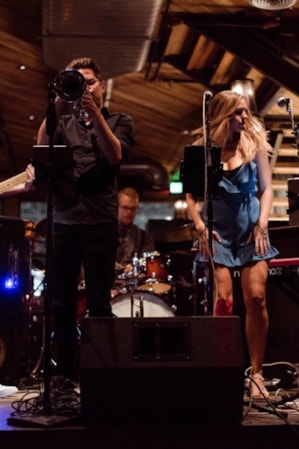 I think I'm on the wrong street again. The sign for my destination is small and unassuming, a lit marquee engulfed by an array of larger business signs. It isn't until I see the Victorian-era, round-a-bout conversation chairs peer behind the patio that I know I'm in the right place.
Lake Effect's modern take on 19th-century decor and alluring atmosphere wrapped in the diaphanous sounds of quality music drifting out onto the street set this bar apart from all others in Salt Lake City.
When I walk in, the long bar draping the entire right wall attracts my attention and a John Legend cover, my ears. A soulful singer-songwriter sitting behind his electric keyboard entices me to stay but this was not my destination. I was headed to the basement lounge to hear jazz.
Hidden bars and speakeasies are in vogue.
Recreations of Prohibition-era clubs (sans gangster violence) is enticing for mixologists and refined drinkers alike. This vogue is especially relevant for Utahns who might feel uncommon liquor laws echo those of the 1920s. But very few of these hidden bars offer live jazz — the sonic backdrop of the decade also known as The Jazz Age. Prohibition laws created jazz. The Rabbithole, a listening room hidden beneath Lake Effect, offers a premium version of this music in a rendition of its original historical setting every Wednesday.
When I entered the Rabbithole, I did not hear jazz. The band was on a break but I could see a guitar, saxophone, upright bass, and drum set resting under the spotlight in the dimly lit space.
The room is as long as the ceiling is low, giving it just the right amount of coziness. Victorian meets modern dictates the design. Canopy loveseats with dark velvet fabrics sit next to button tufted leather sofas straight out of a Restoration Hardware catalog. Leather booths line the exposed-brick walls, and a large wrought iron chandelier hangs above the audience. The disparate textures, patterns, and styles somehow feel cohesive and amuse the eye.
From the stairs, I walk straight into a smaller, more intimate bar featuring an elaborate cocktail menu and extensive beer and wine list (and by extensive, I mean over one hundred options).
"The success of the Rabbithole is a shining example of SLC's innovative approaches to jazz music in unlikely places: Utah."
This jazz ensemble mentors young musicians by giving them gigs and critical feedback. University of Utah undergraduate John Kim plays bass, and recent graduate of Snow College Angie Petty sings to round out the quintet.
They are about to start the second set, so Chris K. and I sit down at the band's table of empty plates with residue of courses from the Spanish-inspired dinner menu. We then hear an announcement; impresario Kelly Salmans asks the crowd to be silent when the band is playing. Then I remember the Rabbithole was created to be "a listening room" and the only jazz venue in Salt Lake where audience members are expected not to talk but rather intensely listen. I am little fazed by this request. I will chat when I want — in part, because silence is antithetical to the spirit of jazz.
This black American music has always drawn communities together over a shared interest in improvisation, dance, connection, and conversation. And hidden speakeasies in the days of Prohibition were anything but quiet. Of course, be polite, but chatting with friends (and dancing with them too) would simply honor jazz history and culture.
When the band starts I recall how effortlessly Halliday plays. He's the most reputable saxophone player in the state and for good reason. His timbre is warm and weighty but smooth, and his use of repeated riffs highlights a real blues sensibility. Corey is a masterful improviser. He knows the perfect balance between virtuosic passages and simple articulations of the melody. The group sticks to familiar standards including "Cheek to Cheek," "It Could Happen to You," "Misty," and "Stella by Starlight." Singer Angie Petty did not participate in all the songs but when she did, she absolutely stole the show. Her version of "Makin' Whoopie" was virtuosic. Her subtle vibrato is powerful, her timbre light and focused. There is a dearth of jazz singers in the city but her talent makes up for it. If you can't catch her singing with Halliday, go see her other group, Lounge 40.
I am buzzing after this set (and it's not the Rye). The Halliday/Christensen project has just taken me on a metaphysical journey guided by their deep knowledge of the language and culture of jazz and their brazen commitment to create something new in the moment. This creation is not theirs alone. Jazz is a communal art and our applause and shouts and energy and presence spur on new ideas. We create this music together. The pathway down the rabbithole, then, is not the set of stairs leading to the basement; it's jazz.
After the show, I walk around and say hello to some familiar faces, who are eager to chat after listening so intently. Having spent most of my life near and in Atlanta, Georgia, where cut-throat jam sessions and jazz clubs abound, I am regularly astonished by the sheer numbers of the jazz community in this unsuspecting Western state. In a conversation with lifetime jazz fan Steve Williams, we celebrate the flourishing jazz scene in Salt Lake City just as we mourn some recent losses—one club dedicated solely to jazz recently closed and another bar decided to stop featuring jazz as frequently. But the success of the Rabbithole is a shining example of SLC's innovative approaches to jazz music in unlikely places: Utah. The only drawback? It is only open on Wednesday evenings. Keep your fingers crossed this venue opens up more days of the week.
In the meantime, fill your other days with jazz at these locations: How to Hear Live Jazz Every Night of the Week in Salt Lake.
The Rabbithole @ Lake Effect
155 W 200 S (basement)
Salt Lake City, UT 84101
Lake Effect open 11 a.m. to 1 a.m. every day