How to Support Local On Your Utah Road Trip
Travel with a renewed sense of awareness and an eye for community impact.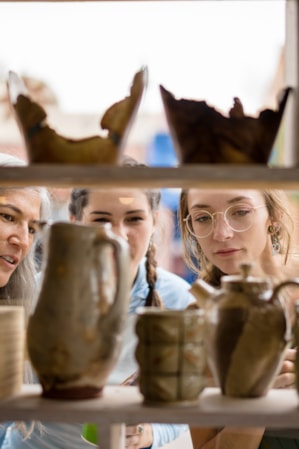 Utah is home to iconic national parks, state parks and national monuments. But it's the small towns and communities that weave a unique texture across the state.
I don't know about you, but when I go vacationing, I don't want things to look exactly the same from town to town, and I'm certainly not seeking a "chain experience" when I hit the road. Supporting smaller establishments on road trips does more than provide memorable experiences, it helps these communities survive economic ebbs and flows. But what about locals? Even though many small businesses and restaurants serve locals year-round and during the "off season," there isn't always enough mom and pop support to sustain them, so they rely heavily on visitors to keep their doors open. As such, it's common for smaller hotels and Main Street services in Utah to function because of tourism spending.
Why Your Trip Matters
Camille Johnson, former executive director of the Kane County Office of Tourism, says tourists are the lifeblood of their communities, including the charming town of Kanab, home to nationally-recognized Best Friends Animal Sanctuary. "We are one of the most tourism-dependent economies in the state. By supporting our local businesses, customers are protecting the heritage of many local families and the community." Helping these towns recover through visitation in the short-term secures the future of amenities and services, like Kanab's vegan-friendly pizzeria, Zagat-rated restaurant, artisanal bakery, and pet-friendly hotels perfect for visitors adopting a new family member during their visit. (Read: The Creature Comforts of Kanab)
Steve Kennedy is the owner of GearHeads in Moab where the big draws include Arches and Canyonlands national parks. Kennedy said that while they have a great following of locals, about 90 to 95 percent of his business comes from tourists, who are vital to Moab's economy.
Kennedy said that as much as you like to go on a vacation or adventure well-equipped, there's probably an upgrade or interesting item you can buy at your destination to make your trip more memorable, whether it's from a local gift or gear shop. Plus, stopping in a local shop gives you a perfect chance to pick-up some insider tips. "Interact with the people who live in the place you're visiting," says Kennedy. "You can always ask for advice on where to go, what to do, how to avoid crowds, and how to be prepared for desert conditions."
"Supporting smaller establishments on road trips does more than provide memorable experiences, it helps these communities survive economic ebbs and flows."
Why Support Local Tourism?
There are many reasons to support local — just ask Jennifer Leaver, a tourism research analyst at the University of Utah's Kem C. Gardner Policy Institute. She explained how a greater reliance on local supply chains raises the overall economic activity in a community. This means you're helping local families put food on the table and do things like pay for dance classes and buy soccer or football gear.
Leaver says local sales tax revenues are important because they support a community's public infrastructure and local government services. Thus, local businesses retain their profits and keep them circulating in the local economy while large chains typically centralize profits at their corporate headquarters. Additionally, research shows that local businesses usually donate more money to local charitable organizations than large chains due to their vested interest in the community.
Adam Ross, chef and owner of the Twisted Fern restaurant in Park City is on the same page as Leaver. "When you're supporting your local businesses, your dollar goes much further in the local economy," says Ross. The Twisted Fern keeps most of its revenues within a 25-mile radius of Park City. Ross said he obtains fresh ingredients from four local farms and a local bread and ice cream maker. Most of his meat comes from Utah or Idaho, and most of his beer and spirits are locally sourced. He also uses the services of local accountants, plumbers, and interior designers.
Here are seven expert tips for how to support local on your Utah road trip.
1. Hit the Sidewalk
"Enjoy a downtown sunset from a restaurant patio or a family take-out picnic in a public park. Call for current hours for any business or attraction you may be visiting." Web listings may not be current as operating hours can change depending on the season. — Dee Brewer, executive vice president of the Salt Lake Chamber of Commerce and executive director of the Downtown Salt Lake City Alliance
2. Take Advantage of Online Reviews
"Read and give positive reviews on TripAdvisor and Yelp. When you write reviews, add ratings, and leave comments on Google Maps or TripAdvisor this really helps small businesses. You're doing a service to the local business and you're helping the next traveler coming around looking for something unique and fun." — Flint Timmins, destination development specialist at the Utah Office of Tourism
3. Go on an Adventure with a Guide
"When you go with a guide, you can try a new activity like canyoneering, rafting or mountain biking. Even if it's an activity you know how to do well, the guide will tell you the history and geology of the place. Many of Utah's guide and outfitters services can book you a private trip so you're not worried about going in a van with people you don't know.
Also, a lot of guides are now tailoring something specific to individual families. They will take you to the backcountry safely, so you don't have to plan as much. They'll pack a lunch for you, make sure you have enough water and proper gear. It puts your mind at ease. Local guides are passionate about their natural landscapes and cultural amenities. They're treasured in the community and have a wealth of knowledge." — Monique Beeley, founder and owner of Discover Utah Kids Magazine
4. Spend and Focus on the Intangibles
"Eat, purchase art, recreate on the river, support local festivals — all of those actions support our businesses. What is less obvious are the intangible things such as sharing positive experiences about visiting our community, publishing positive posts on social media and speaking well of the experience to family and friends. Those intangibles are as important as the actual expenditure as it positions new travelers to find and explore a small town like Helper."— Lenise Peterman, mayor of Helper, Utah (Read: A Walking Tour of Helper, Utah)
5. Get Off the Interstate & Ask Around
"Set your GPS to choose a back way option. Take the long way whenever possible that takes you off the interstate and through towns and along main streets (Read: Scenic Byways). Be friendly and ask for recommendations from the people around you. If you're getting gas, ask them where they like to eat lunch. When you're eating lunch, ask them where they like to eat dinner. Ask locals, 'Where should I go? What hike should I take that's off the beaten path?'" — Kristen Lavelett, executive director of Local First Utah
6. Shop Away from Home
"If you take a road trip, instead of hitting Walmart or Costco on the way out of town, perhaps save a few things to purchase when you arrive at your basecamp town. I have discovered many unique mom and pop grocery stores on trips outside of the city by saving my grocery shopping until I arrive in my host town. Although local stores might not have your favorite brand of bread or peanut butter, they may have something even better, like the most delicious raw honey or locally-grown raspberries you've ever tasted.
The same goes for sporting outdoor recreation retailers that are small, local, one-of-a-kind stores. My favorite pair of flip flops hail from a tiny retail shop in Kanab, and I adore the sun hat I bought in a little shop in Moab. Always travel with a few desired items in mind — you may find exactly what you need while at the same time supporting your host community's economy.
"Small, local businesses not only add character to a marketplace, but also have greater ability to provide products and services custom-tailored for their consumer base. Catering to local consumers is often more difficult for large chains because they often rely on corporate marketing plans. Whereas chains tend to homogenize, small local businesses tend to diversity, enhancing the unique qualities of a marketplace and generating a sense of community pride." — Jennifer Leaver, senior research analyst at the Kem C. Gardner Policy Institute
7. Local Staycations Matter, Too
"When you travel to Mexico, you're willing to pay for tourism excursions, but when you do it in your own backyard, you may not. If you do, your experience will be totally worth it. Take the opportunity to use those funds that would be appropriated for something else and apply them to being a thoughtful visitor in your own backyard. Why not put those travel dollars into your own economy?" — Cody Adent, executive director of the Utah Tourism Industry Association
Want more ways to support local? Take a mini adventure on your Utah road trip
Read more on how to support Utah's local artists.