Get a Closer Look: The Wildcat Trail of Monument Valley
The Wildcat Trail is the only self-guided trail in Monument Valley Navajo Tribal Park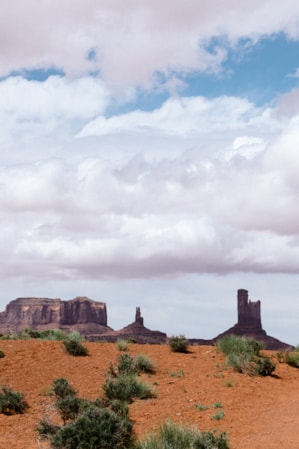 From the parking overlooking the scenic drive at Monument Valley Navajo Tribal Park, you'll see a handful of towering buttes rise from the desert floor and reach for the expansive sky. Two buttes in particular, East Mitten and West Mitten, are among the most recognizable formations in the American West. You may know them from Western cinema. Now is your chance to get a closer look.
Unfortunately, many tourists only experience a quick viewing of the area's famous mittens and buttes from a designated viewing platform in the visitor's center. It usually goes like this: point and shoot...get in the car and head to the next destination. Others take the scenic drive. But hold on! There's some great hiking to be had here.
Monument Valley Navajo Tribal Park is located on the Navajo Nation Reservation, along the state line of southeast Utah and northeast Arizona. While most backcountry and off-road travel is prohibited unless you're with a licensed Navajo guide, the 3.2 Wildcat Loop Trail is a self-guided hike that allows you to truly see and feel the beauty of your surroundings.
"The Navajo people have a custom that has endured. Whenever visitors come they are always treated as honored guests. They are offered shelter, warmth and nourishment so they can continue on with their journey. The same hospitality we offer to you, and we hope that you have a safe and pleasant visit to our land."
– Navajo Nation Parks & Recreation
What to Expect on the Trail
If you take this lasso loop trail around the West Mitten you can catch views of the nearby East Mitten Butte and Merrick Butte, along with the rest of the north end of Monument Valley. Once you set foot on the trail, you'll be surprised to leave the hordes of tourists from all over the world behind — likely, you'll see very few other people on Wildcat.

Wildcat is great for hikers of all ages, including families with children old enough to walk three-plus miles, appreciators of beautiful buttes and seekers of relative isolation in a Bucket List Utah destination.
Be a Part of Western Film Lore
Wildcat lets hikers feel like they stepped back in time into film history. This iconic place has been on the silver screen and on landscape posters around the world. In fact the stagecoach in John Wayne's "Ringo" drove through 80 years ago, followed by countless other westerns. Monument Valley is one of the most-visited attractions in the west with tourists coming in from around the world. Whether or not you have this starkly beautiful landscape all to yourself, you'll likely have extended moments of solitude during which you can stop and absorb this landscape's majesty — just plan to carry lots of water, snacks, sunscreen and good protection from the sun, especially if hiking in summer. Double the majesty with hikes during the "magic" hour around sunrise and sunset.
This hike is a 3.2-mile lasso loop (4 miles total including return) hike that takes about three hours to complete. You will hike around the West Mitten Butte on a flat, sandy trail. As you continue along the self-guided trip, you'll meander through cactus and sage as you look upon world-famous buttes, including East Mitten Butte and Merrick Butte.
Hikers will travel around some of the most famous rock buttes in the park, and will at one point find themselves standing in a spot where three towering buttes surround them.
Trail Guide
Difficulty: Moderate due to sandy sections
Start: Wildcat Trail trailhead sign at the northwest corner of the visitor center parking area
Distance: 3.2 miles to end of the loop with return trip totaling nearly 4 miles
Hiking time: 2 to 3 hours
Trail type: Sand, dirt, and rock trail
Multi-use: Horseback riders
Dogs: Leashed dogs permitted
Seasonality: Spring and fall
Fees and permits: Park entry fee required
GPS Coordinates, Parking and Regulations
GPS Coordinates (36.985333, -110.113350)
Park at the visitor center and walk to the trailhead across from the cabin/campsite check-in. The best and most comfortable time to visit is March through early-June and October through September; summer months, due to the excessive heat and lack of shade, can be too hot. And with proper preparation, winter in Monument Valley can be a unique opportunity. Hike the Wildcat Loop Trail any time of day for spectacular views, but try to catch it at sunset if you can; the long shadows and brilliant red hues will not disappoint.
The is an entrance fee into Monument Valley Navajo Tribal Park per vehicle up to four people with an additional fee per person over that allowance. There is no permit or additional fee required to hike the Wildcat Loop Trail. Dogs are allowed in the park, but must be leashed at all times.