U.S. Federal Shutdown Information
At this time, all of Utah's national parks, monuments and recreation areas remain open.
Learn more.
Winter Weather in Canyonlands
Since the four different park districts span over 337,000 acres, winter weather can vary quite a bit throughout Canyonlands. Prepare for cold weather, icy conditions and even snow, and check the forecast specific to the area you plan to visit. Generally, daily winter highs are between 30 to 50 degrees Fahrenheit, with lows dropping between 0 and 20 degrees Fahrenheit. While Canyonlands doesn't frequently see large amounts of snow, any amount of snow or ice can make driving and hiking difficult or impossible, so be prepared.
Average Daily High and Low Temperature
Oct.

Nov.

Dec.

Jan.

Feb.

74/42 F
23/5 C

56/30 F
13/-1 C
45/23 F
7/-5 C
44/22 F
6/-5 C
52/28 F
11/-2 C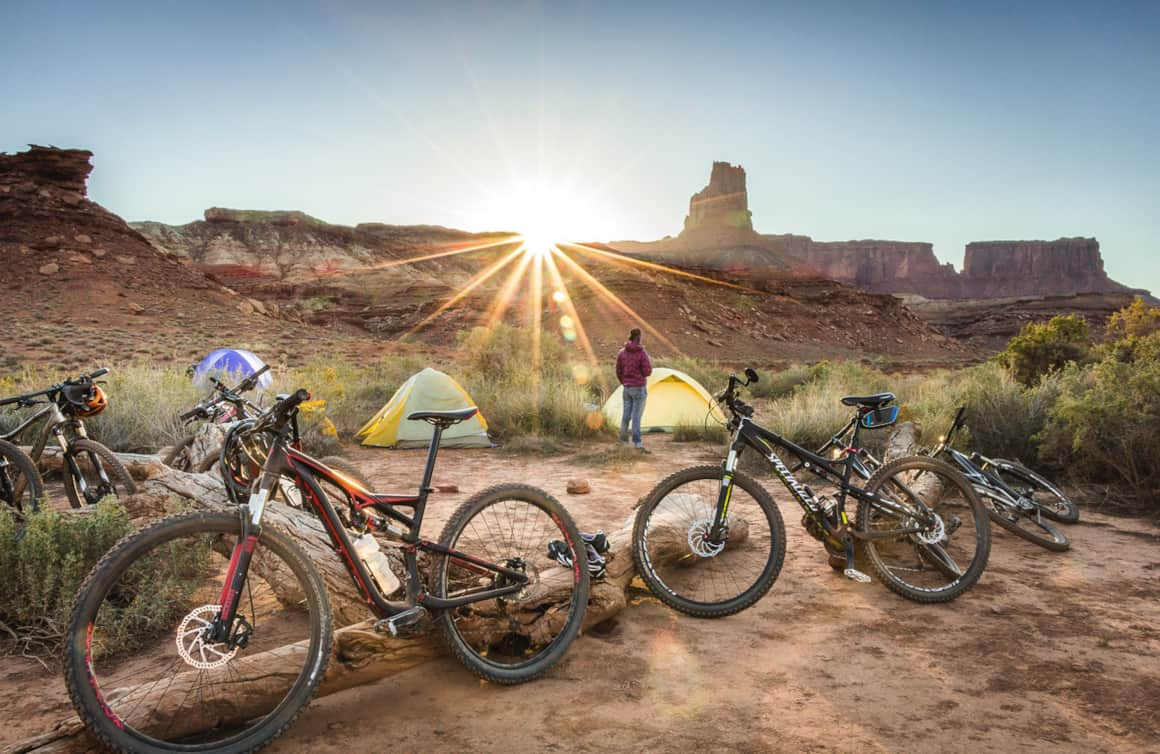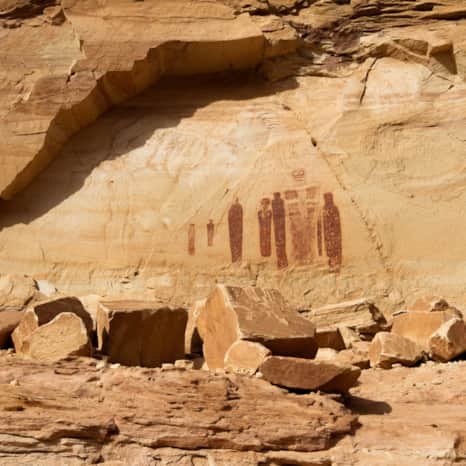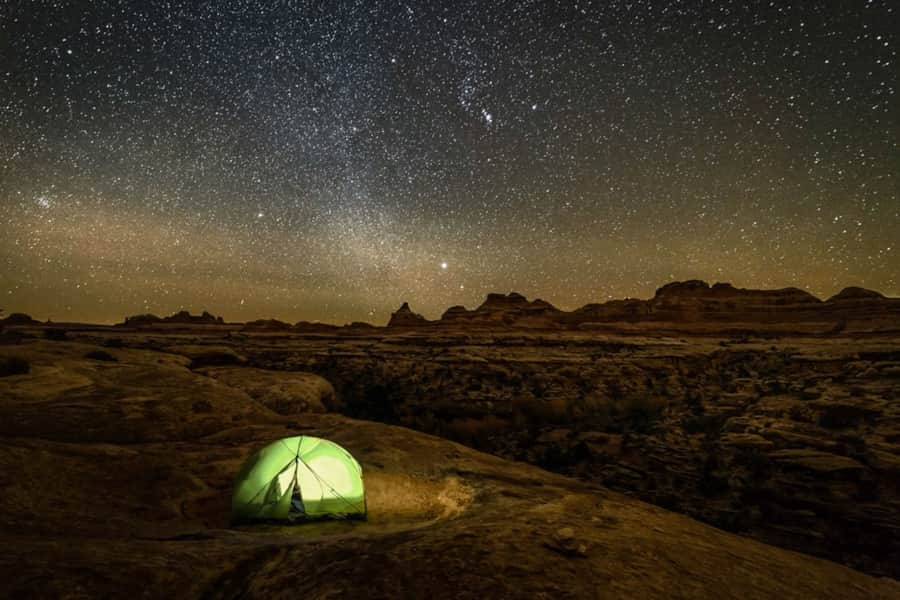 Winter Activities in Canyonlands
Winter Hiking
Since you may have the trails largely to yourself, it's important to be self-reliant and well-prepared. Sandstone covered with snow and ice can be dangerous to navigate, and cairns covered with snow make wayfinding difficult. Wear sturdy boots and consider adding traction devices for a better grip. Be sure to always bring a flashlight, map, survival supplies, warm layers and first aid equipment, and leave your trip plan with an emergency contact.
Island in the Sky
Enjoy stunning views while hiking along the mesa that's wedged between the Colorado and Green rivers, with several short hiking options available. More challenging trails are available, but keep in mind that the trails venturing below the mesa top are all considered strenuous and can be treacherous with icy conditions.
The Needles
The Needles district has 60 miles of trails, including a handful of shorter routes along with many more challenging ones. Be aware that many of these trails have steep sections and drop-offs and some may require climbing or descending ladders, so keep these possibilities in mind when planning.
The Maze
The Maze is remote and only for experienced and self-reliant visitors. Check with park rangers before planning a winter visit to the Maze to obtain the most up-to-date information. Home to one of the best preserved pictograph and petroglyph panels in the United States, Horseshoe Canyon is an enjoyable hike for a well-prepared visitor. Just be sure to bring plenty of water, as none is available there.
Stargazing
With some of the darkest skies in the country, Canyonlands is designated as a Gold-Tier International Dark Sky Park. On a clear night, visitors may be able to see thousands of stars, so spend some time stargazing and prepare to be mesmerized by the night sky.
For an optimal stargazing experience, plan your trip for a new moon when the sky will be the darkest. Be patient and wait for your eyes to adjust to darkness — this can take up to 30 minutes. If you need light, use the red light setting available on many headlamps and flashlights to preserve your night vision. Consider bringing a star chart or downloading an app that will teach you about the celestial features that catch your eye.
Photography
Explore Canyonlands in winter and capture the scene with landscape photography. Visitors will enjoy the softer winter light and opportunities to capture golden light in morning and evening. Please make sure you practice mindful photography.
Night photography is also popular and a great way to capture images of the incredible night sky. The park encourages people not to use any artificial light sources for nighttime photography (other than light for personal route-finding) in order to preserve the dark sky for others.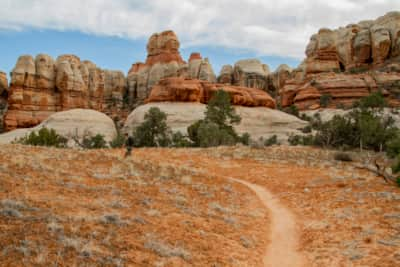 Winter Camping Near Canyonlands
Winter campgrounds are available in Island in the Sky and The Needles districts, but campers should be prepared for cold, wintry conditions and have all the equipment, supplies, skills and knowledge they need for a safe and fun winter camping trip. The Willow Flat Campground in Island in the Sky is open first-come, first-served and sites cost $15 per night. Individual sites in The Needles Campground are first-come, first-served, and cost $20 per night. No water is available in either campground during the winter, and RV hookups are also not available. Other lodging options such as hotels, motels, resorts, B&Bs and more are available in the towns of Moab and Monticello.
Winter Travel Tips
Take the steps you need to plan a safe and incredible winter visit to Canyonlands National Park.
The park is open year-round. In the winter months, the visitor centers in Island in the Sky and The Needles have limited hours and seasonal closures, so check before you go. There are pay phones by the visitor centers in case of emergency. The remote Hans Flat Ranger Station in The Maze district is open daily year-round.
Check the park website or call to get the most up-to-date information on current conditions. Areas and roads can be closed or restricted with little notice, and some areas can become hazardous in certain conditions.
Know what supplies you need to bring with you. Campgrounds in The Needles and Island in the Sky don't have water, and while water may be available at the visitor center when it's open, that isn't a guarantee. The Maze has no water, gas, food, or lodging year-round. And there is no gas, food, or lodging in The Needles or Island in the Sky districts during the winter, but both districts do have toilets available. The park encourages visitors to carefully plan their trip and leave a trip plan with an emergency contact.
Be flexible with your plans. Check the forecast the day of the trip and be prepared to switch to Plan B (which could be staying indoors) depending on conditions.
Always bring appropriate winter gear, including plenty of warm clothes for layering along with extras in case your clothes get wet, as well as sunglasses and sunscreen. Be sure to properly prepare for a winter visit.
Make sure you and your car are prepared for winter driving, with chains or snow tires, and a full winter emergency kit.