Canyonlands Campgrounds
Island in the Sky (Willow Flat) Campground

Island in the Sky is a modest campground with 12 first-come, first-served campsites and is open year-round. There are vault toilets, picnic tables and fire pits, though there are no water sources (water can be obtained at the visitor center). RVs are welcome but there are no hookups available. Camping is $15 per night. Note that the campground fills up quickly in the prime spring and fall.

The Needles Campground

The Needles Campground is the largest developed campground in the park with 29 sites. It allows reservations at 12 sites in the spring and fall (March 15-June 30, September 1-October 31) with a cost of $20 per night. Otherwise, it's first-come, first-served. Many campsites have juniper trees that provide welcome shade.
"Views from the high rims surrounding the various canyons look down into the mysterious and inviting depths while exploring the canyon floor can reveal a hidden world of defiant forests."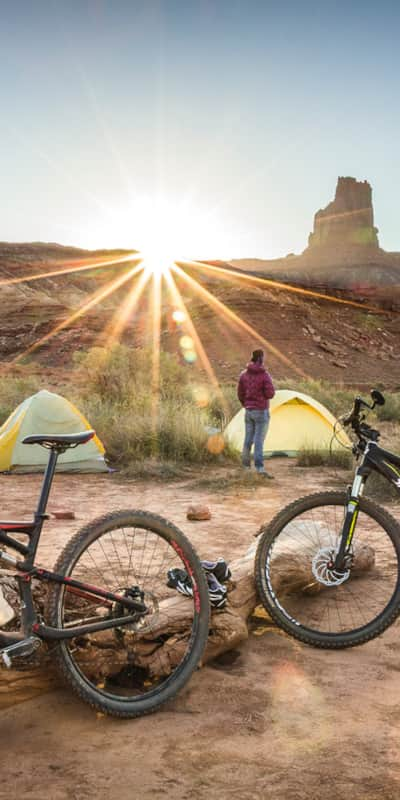 Backcountry Camping in Canyonlands
Backcountry camping is an elevated experience in Canyonlands, but please note that the area can be extremely difficult to navigate. Even experienced backpackers should be well-versed in desert navigation before setting out. Park rangers are extremely knowledgeable and can help you develop your itinerary.

Four districts make up the backcountry zones: Island in the Sky, The Needles, The Maze and the rivers within the park boundaries. Permits are required for all overnight backcountry travel, with special permits for each mode of transportation. Permits should be acquired at least six months in advance for the more popular destinations, such as the amazing White Rim Campgrounds and Cataract Canyon. The National Park Service wesbite has more details on permits. Fees vary depending on the location and modes of travel.
The best way to reach backcountry sites is by mountain bike, 4x4 vehicle, dirt bike, boat or horseback, though backpacking is also an option. Traveling by foot in Canyonlands is generally not beginner-friendly due to the lack of water sources, challenging navigation and hot climate. For those with established backpacking skills, however, the adventure potential is nearly endless.
BLM Camping Near Canyonlands
Both Moab and Monticello offer dozens of campsites hosted on Bureau of Land Management (BLM) land. Note that these semi-developed campgrounds often have vault toilets and picnic tables, and cost a modest fee ($15-$20 per night). Discover Moab offers an extensive list of the Moab area BLM lands. The Monticello field office also has information on BLM campgrounds in the area, including the famous Superbowl campground.
RV Camping and Glamping
Most RV campers stay in the Moab area, about a 30-40-minute drive from Canyonlands. There are plentiful options in town as well as many BLM options for RVs (noted above). (Read: "Wheeling It: An RV Primer for Utah Family Trips")
There are also several hotels, resorts and even a glamping option in Moab, for those looking for a few more amenities.