U.S. Federal Shutdown Information
At this time, all of Utah's national parks, monuments and recreation areas remain open.
Learn more.

Outdoor Adventures

A town whose name means "big fish" surely will deliver on a promise of great angling. Indeed, four Blue Ribbon Fisheries, so called for their combination of exquisite settings and sustainable, healthy fish populations, are within about a half-hour of Panguitch: Paragonah Reservoir, Panguitch Lake, Panguitch Creek and Asay Creek. Scenic Byway 143 leads to Brian Head Resort, one of Utah's most unique resort experiences thanks to the high elevation of its base and proximity to Utah's iconic red rock (Watch: Red Rock, Rock n' Roll & Ribs). In addition to exploring the nearby national parks (Zion, Bryce Canyon and Capitol Reef), this area has vast expanses of distinct national forests (Fishlake and Dixie), two national monuments (Cedar Breaks and Grand Staircase-Escalante) and several state parks, including Kodachrome Basin and Escalante Petrified Forest.

Quilt Walk Festival

In 1864, so the story is told, a group of pioneers were sent eastward from Parowan, Utah, along a stretch of the Old Spanish Trail to establish a settlement. At more than 6,600 feet, that early settlement, which became known as Panguitch, was surprised with a particularly short growing season, cutting off the settlers' harvest. With the situation growing dire, a group set out over the snowy 8,000 foot pass, heavily wrapped in quilts, back to Parowan for supplies to save the settlement. The challenges of walking through deep snow eventually led the team to discovering the surface area of their quilts would make the difficult journey easier. Every year, this historic town now hosts the three-day Quilt Walk Festival commemorating the famous quilt walk that saved this early settlement (watch the video). Learn more about Panguitch and Utah's pioneer heritage through its enduring arts and storytelling.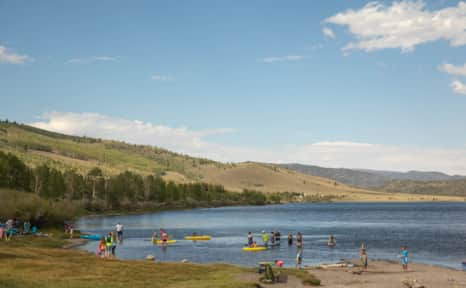 Local Highlights
Dixie National Forest

The Dixie National Forest is Utah's largest national forest, stretching for 170-miles across Southern Utah. Red Canyon, one of the most spectacular colored cliff canyons in southern Utah is located in the heart of the Dixie National Forest.

Events

A great example of classic "small town USA," Panguitch is just 25 miles northwest of Bryce Canyon National Park. In addition to June's Quilt Festival, watch for The Sky's the Limit Bike Rally & Panguitch Valley Balloon Rally, held annually during the last FULL weekend in June and the Bryce ATV/UTV Rally, held annually in August.

Scenic Byway 143

Steeped in history and painted with some of Southern Utah's most stunning and unexpected scenic beauty, Utah's state Route 143, the Patchwork Parkway, is a designated National Scenic Byway. Travel 48 spectacular miles from Parowan to Panguitch with multiple interpretive sites, an essential side trip down S.R. 148 to Cedar Breaks National Monument, and access to resort skiing or boarding on The Greatest Snow on Earth®.