The Return to Robbers Roost
Following up on a first attempt, writer and explorer Lindy Callahan goes back to Central Utah to find the elusive remains of the cabin at Robbers Roost. The site proves to be just as hard to find as it was over one hundred years ago, but the reward of getting there after a long search makes for the perfect desert adventure.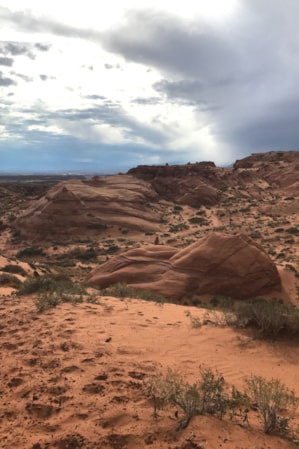 In August of 1896, in the small town of St. Charles, Idaho, a young boy was taking his family's sheep in for the night. In the distance he saw the outline of a man riding towards him. As the man got closer, the boy became afraid, recognizing him from stories as the outlaw Butch Cassidy.
"Which way to Montpelier?" was all the man said as he approached.
Not wanting any problems, the boy pointed and the man rode on.
A few days later, on August 13, 1896, Butch Cassidy and his associates robbed the Bank of Montpelier.
I don't know if this story is true. It is an old family story that a woman I met at a concert in Salt Lake City told me the night before I left, for the second time, to find what still remains of a famed hideout in the red rock of Southern Utah called Robbers Roost. It is stories like this that helped make Cassidy into the legendary outlaw he is today, cementing his status in the wild history of the old American West.
Another thing isn't known for sure: where the outlaws headed after holding up the Bank of Montpelier. But, Robbers Roost is just as likely as any of the other hideouts along Utah's outlaw trail. One thing is certain: hearing this story evoked the intrigue surrounding this place in a way that made it feel truly real to me. Previously, it had felt a lot more like I was searching for a myth of the old American West. Now I felt its tangibility, and the idea of seeing it myself lit the fire of anticipation all over again.
Contrasting Landscapes
It was not so long ago that I wandered the dusty backcountry roads on my original search for Robbers Roost. And after a half-day traveling, my husband, Mike, and I stood, once again, in the barren desert, miles from a main road. This time, instead of merely looking for the Roost as we had on our first trip, we were standing in it.
I stood next to the old stone fireplace at Robbers Roost, exhausted and thrilled to be where outlaws once took refuge more than a hundred years before – in the old American West.
"I stood next to the old stone fireplace at Robbers Roost, exhausted and thrilled to be where outlaws once took refuge more than a hundred years before."
The stone fireplace is one of the only remnants of what was once a cabin in the rugged area where Butch Cassidy and The Wild Bunch would hide out for months at a time. Recently burnt logs were also left inside, with a few fresh pieces next to it. Someone had taken the time to place sun-bleached animal skulls along the top of the hearth. It was clear that this was a place people do visit, though not many. There are no marked trails from the road. Not even tracks leading in
Butch Cassidy lived a colorful life and was infamous in his lifetime. But, there is some debate over where and when he died. Many believe that he died in South America in 1908. His sister, Lula Parker Betenson, says differently. She claimed in a memoir she wrote in 1975 that Cassidy visited her in 1925 — nearly 17 years after he was supposedly killed in Bolivia. Betenson also said before she died that she knew where Robert Leroy Parker (Cassidy's real name) did die, saying that he " … died in the Northwest in the fall of 1937. Where he is buried and under what name is still our secret. All his life he was chased. Now he has a chance to rest in peace and that's the way it must be."
In this way, Cassidy himself is as mysterious and allusive as the Roost itself. We may never know for sure, but that gap in our knowledge allows the legend to live on.
The Persistent Elusiveness of Legend
I should really back the story up a bit.
Mike and I left Salt Lake City early in the morning. We had spent the night at the eclectic Hotel Monaco in downtown Salt Lake City, and spent the morning enjoying a decadent breakfast of fresh coffee and pastries at Eva's Bakery. I recognized in the moment I was having a very specific experience that contrasted to the desert adventure I was about to head out on.
Just like the first time we set out on this adventure, we made a stop in Hanksville for gas and a snack. We were once again in a Jeep, knowing from our first experience that a high-clearance vehicle equipped for off-roading is essential in the desert backways we needed to take.
This trip was different in that we had a working GPS with us, as well as the coordinates to Robbers Roost from a Capitol Reef National Park website. Previously, we had only our own sense of direction and the hope of relying on signs and tips from locals.
Wanting to see if I might get some local direction this time, I went to the clerk at the gas station counter again and asked the woman working if she happened to have any tips for getting to the Roost.
"Honey, my family has lived here for decades and Butch Cassidy wasn't anywhere near here and there is no Robbers Roost aside from the Robber's Roost Ranch," she said.
"How do we balance the desire to keep the wild and remote uniqueness of these places intact, while still allowing people to enjoy them?"
The woman's reply prompted several thoughts. Small outposts in wild and rural places of sublime natural beauty face an interesting challenge when the destination grows in popularity and an influx of people arrive seeking to explore ever-more remote and less-traveled areas. I perceive a desire to protect some of these places that are not yet mapped, signed and directly accessed by paved roads. It also protects unprepared visitors from endangering themselves. It can create tension between tourists and some locals or debates within the communities themselves. The debate has me asking myself as a travel writer and someone who likes to explore new areas, how do we balance the desire to keep the wild and remote uniqueness of these places intact, while still allowing people to enjoy them?
It occurred to me that I might do the same thing as the cashier. So, I smiled, thanked her and went on my way. To me, secrecy and difficulty only add to the allure. Keeping some of these special places in Utah obscured is no bad thing. It makes getting there all the more rewarding.
Hot on the Trail
We started out by going to the same place we began on our first attempt: We drove north from Hanksville following the map on our GPS closely. After turning off the main road we drove for approximately 25 miles. At a three-way fork in the road, we once again followed our directions to the right. At another fork, we turned down a new road. Soon, we were as close to the point on our GPS as possible. From there, we had to hike in.
The hike started with a steep decline from the road into what looked like a giant bowl with sporadic outcroppings of large cone-shaped sandstone formations. The place felt as foreign and unreal as the set of a 1960s sci-fi film. The red sand sank beneath my feet causing me to slide a bit down the hill. I caught my balance only enough to ward off panic.
Remnants of river beds criss-crossed through the area, and we followed them down for about three-quarters of a mile. We remembered to look around every now and then to make sure we weren't missing anything.
Finally, to my left, backed up inside its own little outcropping of rocks, were the remnants of the Robbers Roost hearth. With the rocks behind it and the odd rock formations everywhere throughout the wilderness, it was very clear why the Roost was so difficult for anyone to find. Then and now.
In silence, we soaked up our victory of finally locating the Roost. I took a moment to imagine the place decades ago, when the cabin still stood and outlaws regularly came and went. But with a storm blowing in and the daylight fading we couldn't stay long. We headed back to the Jeep and out to the main road with plans to camp in Capitol Reef National Park for the night.
First we stopped one last time at the gas station in Hanksville for more gas. This time I found a man at the counter. He asked if we were heading back from Lake Powell.
"No, I'm just coming back from Robbers Roost."
"So you found it, huh?" he said with a smile. "It's a pretty cool place."
He seemed happy that we had been successful. It occurred to me the woman's reluctance to provide directions helped preserved the experience of the hunt for Robbers Roost.
Following the Tracks From the Old American West
We drove into Fruita Rural Historic District in Capitol Reef National Park and got there just as the sun was beginning to set. Luckily, one walk-in campsite was left. Our campfire dinner and sleeping bags were a luxurious treat after all of the hiking and off-roading.
The next morning we walked around our camp area for about an hour, taking in the area's pioneer heritage, including fruit orchards, an old barn and pioneer homes. The Fruita Rural Historic District was once a thriving community in the old American West settled by pioneers in the 1800s. The way the park has restored and maintained the area is magical. Like the environment of Robbers Roost, it almost didn't seem real: Picture grassy pastures and fruit trees surrounded by red rock cliffs and swaths of desert landscape. Even the deer here were different, meandering down the road in front of us, acting more like neighborhood cats than wild bucks.
We wanted to stay, but we had big plans for the final stop on this trip — a rewarding soak at Mystic Hot Springs in Monroe, Utah. Along the way (although rather out of the way) we passed the childhood home of Butch Cassidy in the small Central Utah town of Circleville, a place where he was still Robert Leroy Parker. The state of Utah recently set aside funds to restore the cabin. The effort will harden over the site, making it a signed and official travel destination. It's another tangible artifact left behind in a story that still leaves us with so much left unknown.
After driving through Circleville, we reached the hot springs in under an hour. For generations of Native American tribes camped here until Euro-American settlers homesteaded the area in 1886. The hot springs have gone through many changes over the years, but currently embody the ambiance of a 1960s hippy retreat. Painted buses and restored pioneer cabins are available for overnight stays, and eclectic artwork and ducks and geese decorate the main yard. Up a set of stairs we find two main soaking areas. Up even higher, hot mineral water emerges directly from the earth, cooling off as it runs down a set of rocks and filling several porcelain tubs.
After testing a few, I find one that is the right temperature and settle in. I take some time to think back through our adventure the day before. Places like Robbers Roost offer a glimpse into the way Southern Utah's beautiful landscapes once looked, and they have a cultural and historical importance that is worth acknowledging. But by allowing some of these places to remain remote and hard to find — and by adhering to respectful backcountry ethics — we can also maintain the original integrity of the place for generations to come.
Robbers Roost started out as a hideout. Some mystery surrounding it should remain intact.
If You Go
To find Robbers Roost, head north from Hanksville on S.R. 24 for 16 miles. Turn right when you see the brown sign for the Hans Flat Ranger Station. If you see the Goblin Valley State Park sign on the left you have gone too far. Use the GPS coordinates on the Capitol Reef website to locate the specific site for the Robbers Roost fireplace.
Drive something that can adequately handle dirt roads. Typically high-clearance, 4WD only. There are areas here where dirt piles up in large mounds or the dirt will get loose after a day or two of wind.
Plan on spending several hours driving the backways and hiking in. It is best to start in the morning or early afternoon. This way you can just enjoy the entire experience without feeling rushed to get somewhere.
Take plenty of water and food to last everyone in your party a day or two, just in case. Carrying extra gas and a spare tire isn't a bad idea either. These roads are remote, and being prepared for anything brings peace of mind.