Where to taste, tour and take home Utah's world-renowned chocolate
A look inside the Beehive State's cacao boom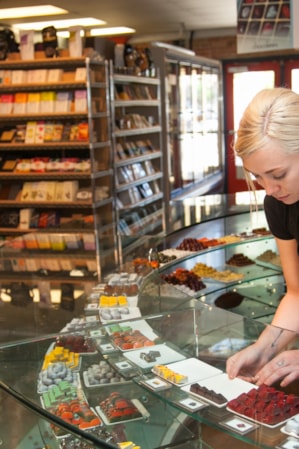 "Utah chocolate is the bomb," says award-winning pastry chef Alexa Norlin, "I'll always use it first." Between Handle in Park City, HSL in Salt Lake City and her bespoke soft-serve ice cream company Normal, Norlin uses local chocolates from Durci, Ritual, Solstice and Amano, to name a few: "They're all really different; Utah chocolate-makers definitely bring something unique to the mix."

Getting to the source of the full cacao story, however, can be a bit tricky. Chocolate makers are notoriously tight-lipped regarding their proprietary methods, and due to very strict food handling environments few offer facility tours on a regular basis. Want to see it for yourself? Make sure to call ahead or check company websites to see if pre-registration is required for a tour or tasting.

Here's a brimming handful highlighting the diversity of Utah's homegrown chocolate companies. Check out where locals, chefs and visitors go to find some of the best chocolate bars in the world, right here in the Wasatch Range.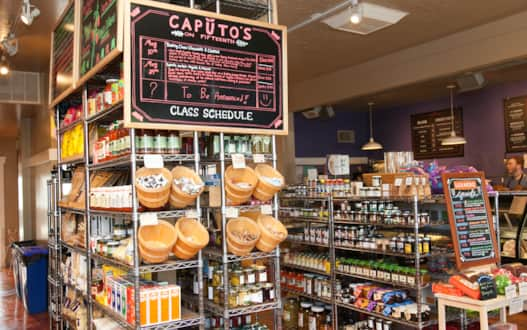 If You Only Have Time for One Stop
Caputo's Market & Deli
314 West 300 South, Salt Lake City
(801) 531-8669
caputos.com
Head directly to Caputo's Market flagship store in downtown Salt Lake City, fondly referred to as "the chocolate mothership" by local chocoholics. With over 400 bars on rotation on the store's shelves, Caputo's crew members are some of the most knowledgeable cacao connoisseurs in the country. Can't decide on a perfect bar? Look for the tasting counter between the cash register and deli and a Caputo's expert will gladly walk you through a sampling of some of the world's best single-origin bars, including most of the ones made right here in the Beehive state. Each November, Caputo's hosts the Chocolate Festival, an international gathering of chocolate makers and consumers; it's an event that should be on every cacao geek's bucket list.
Utah's Chocolate Makers
Amano Artisan Chocolate
amanochocolate.com
Amour Café
1329 South 500 East, Salt Lake City
(801) 467-2947
amourslc.com
The go-to chocolate for internationally acclaimed restaurants like Berkeley, California's Chez Panisse is made in an unmarked warehouse in Orem, Utah. As maker of one of America's most highly acclaimed bean-to-bar chocolates, Amano Artisan Chocolate's Art Pollard likes to keep his trade secrets a bit of a mystery in the competitive community of cacao, even while being acknowledged as one of the region's most generous cacao mentors. One thing you can count on with Amano? Pollard's cheerfully defiant resistance to rest on his laurels: "Chocolate is uncontrollable; I can spend a lifetime working with cacao and still be surprised," he says. Salt Lake's Amour Café pastry chef Amber Billingsley can't get enough of Amano: "He makes a great bar of chocolate on it's own, but it's a dream to work with in desserts, too," as she deliciously demonstrated with a stunning Amano Morobe and elderberry orange marmalade gelato created for the Utah Chocolate Festival (held annually in November: for more info visit caputos.com).
The Cacao Bean Project
For farmers market dates and locations visit thecacaobeanproject.com.
Liberty Heights Fresh
1290 South 1100 East, Salt Lake City
(801) 583-7374
libertyheightsfresh.com
Urban Farm & Feed Store
8767 S. 700 East, Sandy UT
(801) 910-4459
urbanfarmandfeed.com
New kid on the chocolate block, The Cacao Bean Project wood-smokes some of their cacao beans instead of the traditional route of roasting. Says chocolate maker and Utah native Lance Brown, "using different woods to complement the natural cacao provides an additional flavor experience." Like hickory smoked 74 percent cacao bar from Madagascar and cherry wood smoked cacao from Tanzania. Brown is also looking forward to releasing a bar made with beans from India to further expand the Utah chocolate world, which he believes will be the first India-sourced bar available in the United States. The Cacao Bean Project celebrates the bean in other forms than bars, too, including cacao spice rubs, mole base, granola and cookie mixes. As a small-batch cottage producer, Brown encourages people to find their products at summer farmers markets in Provo and Orem, and also at the Urban Farm & Feed Store in Sandy or Liberty Heights Fresh in Salt Lake City.
Chocolate Conspiracy
Chocolate Conspiracy
774 S. 300 West, Salt Lake City
(385) 212-4474
eatchocolateconspiracy.com

A.Fisher Brewing Co. (a 21+ establishment)
320 W. 800 South, Salt Lake City
(801) 487-BEER
fisherbeer.com
At The Chocolate Conspiracy, AJ Wentworth makes un-roasted raw chocolate bars, truffles, smoothies, sauces and other products influenced by his nutrition background in raw food cuisine and vegetarian practices. "I wanted to make a chocolate with ethics and standards," says Wentworth, who eschews dairy, soy, refined sugar and artificial ingredients in his recipes. While The Chocolate Conspiracy bars are sweetened with raw honey, Wentworth also makes completely vegan truffles. The cozy café and chocolate store near downtown Salt Lake City is open three days a week, and is conveniently (for this intrepid imbiber) located around the corner from A. Fisher Brewing Company, which uses The Chocolate Conspiracy cacao nibs to make a rich chocolate stout. For the cacao-curious, Wentworth and/or company owner Steve Ohlson teach an "Intro to Fine Chocolate" class once a month, featuring a tour of their small production facility and tastes of 10–15 chocolates from around the world (register through their website).
Durci Chocolate
durci.com

HSL (Handle, Salt Lake)
418 E. 200 South, Salt Lake City
(801) 539-9999
hslrestaurant.com
Durci Chocolate has a passionate and loyal fan base in cacao-crazy chocolate scene of Utah and beyond, known for being a "chocolate geek's chocolate." Owners Eric and Cassandra Durtschi started Durci Chocolate following the success of their line of roasted cacao beans blended as a coffee alternative, Crio Bru. In addition to a core six-bar offering sourced directly from South and Central America, Eric Durtschi told me that they've got more products in the pipeline: "Drinking chocolate, chocolate-covered nuts, new cacao origins... It is an exciting time for us." Find Durci Chocolate at all Caputo's Market locations, and it's frequently featured on the dessert menu at HSL. During a recent visit, pastry chef Alexa Norlin concocted a delightful Durci Chocolate mousse plated with handmade caramel and toasted molasses buttermilk meringue.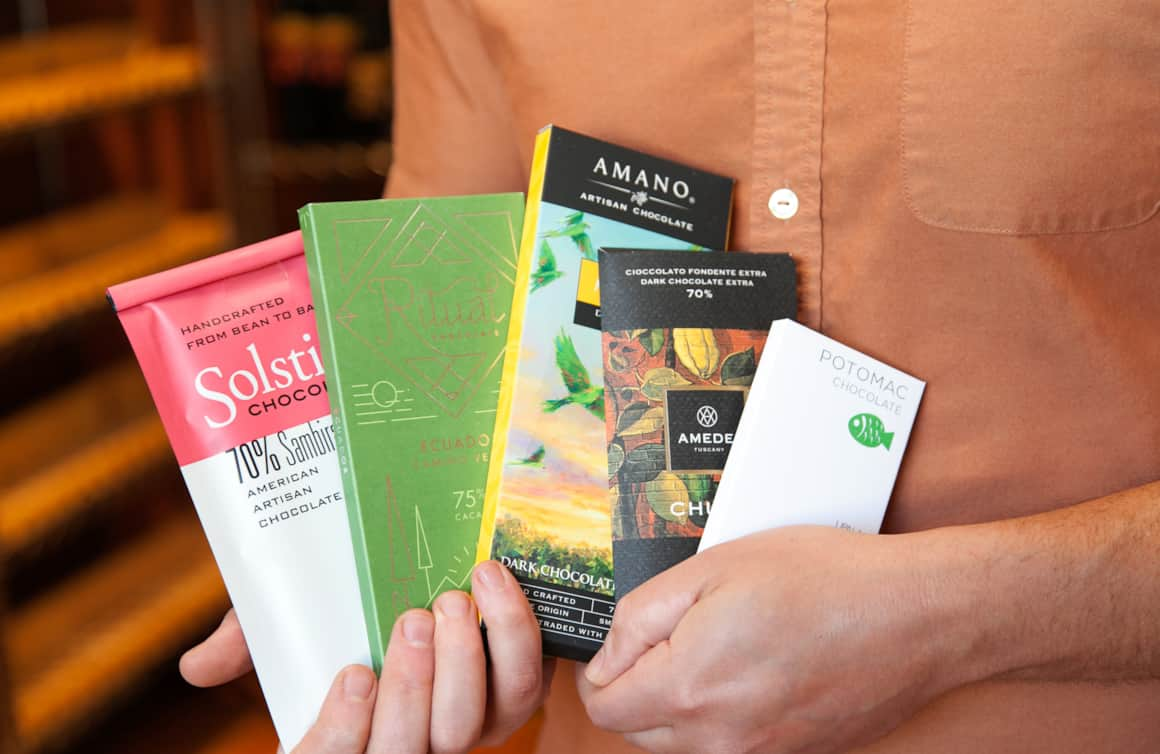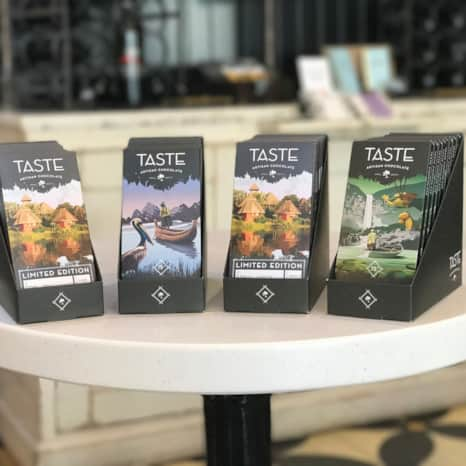 Millcreek Cacao Roasters
Millcreek Cacao Roasters
Tours available by appointment only: sales@MillcreekCacao.com
(435) 513-1769
millcreekcacao.com

High West Saloon
703 Park Ave, Park City
(435) 649-8300
highwest.com/saloon
Owners Dana Brewster and Mark DelVecchio call Millcreek Cacao Roasters a "farm-to-bar" chocolate company, working directly with cacao farmers in Ecuador and Nicaragua dedicated to using sustainable practices. In addition to making small-batch single-origin bars, Millcreek Cacao is also unique in the industry for their infused chocolate bars, which have a subtle aroma and flavor without added ingredients or inclusions. Think raspberry, blackberry, tart cherry, ginger, mint and orange. They also sell direct to consumers nibs and roasted cacao beans, a rarity in the industry. One of Millcreek's most popular bars features 70 percent Chuno cacao from Nicaragua infused with High West Distillery's Double Rye! Whiskey. It's an amazing bar on its own, but I took Brewster's suggestion and agree it's equally delightful when layered in decadent S'more fashion as served at the High West Saloon in Park City.
Ritual Chocolate
Park City Cafe
1105 Iron Horse Drive, Park City
(435) 200-8475
Heber Factory & Cafe
2175 W 3000 S Suite 100, Heber
(435) 657-6920
Tours of factory available through pre-registration on their website.
Ritual Chocolate's Robbie Stout and Anna Davies moved their operation from Denver to Park City to have quicker access to the outdoors, with the bonus of hopping on a mountain bike or making a few ski runs within minutes of their shop. Park City is also a great location for chocolate production, says Davies. "We don't have to worry about triple-digit temperatures and there is no humidity," crucial for achieving that distinctive Ritual Chocolate "snap" and spectacular gloss. "I almost exclusively use Ritual for desserts," says Tupelo restaurant pastry chef Shirley Butler. "The flavor is amazing. Their Madagascar makes a spectacular bold ganache. It's an animal." At Ritual Café, try house-made chocolate served as hot or cold drinks and watch ongoing production through the large paned window separating the café and factory. You'll carry the delicious fragrance of cacao with you for the rest of the day. Food educator and chocolate expert Vanessa Chang says of Ritual, "It's one of the best in the world. Trust me: get the Belize sipping chocolate." (I did. She's right.) And if you're in the Heber City area, you can take a tour of the Ritual factory — a 30-minute, behind-the-scenes look at the production process from cacao bean to chocolate bar.
Solstice Chocolate
Solstice Chocolate
Tours available by appointment only: info@solsticechocolate.com
(801) 871-5935
solsticechocolate.com

Downtown SLC Farmer's Market
Saturdays 8:00 a.m.–2:00 p.m.
Summer Market (June–October): Pioneer Park, 350 W. 300 South
Winter Market (November–April): Rio Grande Depot, 300 S. Rio Grande
slcfarmersmarket.org
So many local chefs use consistently award-winning Solstice Chocolate that it's next to impossible to single out any one amongst the clambering fandom. Owner/chocolate maker DeAnn Wallin told me, "The problem is, there are so many that I can't possibly list them off the top of my head and would hate to leave anyone out." One of Solstice's biggest draws, according to pastry chefs Alexa Norlin and Amber Billingsley is Wallin's commitment to consistency across the board, with her white chocolate having as much depth of flavor as Solstice's darks are known for their brightness. One customer told Wallin that eating Solstice Chocolate was "like a party in her mouth," a sentiment that I'm in vehemently nodding agreement. Many chocolatiers use Solstice, as well, including local favorite Cache Toffee, made exclusively using Solstice Chocolate and Utah cream and butter. Sample their unique white chocolate blondie toffee or dark chocolate "Tango" (with a bit of sea salt, lime zest and a spritz of tequila) at the Downtown Farmers Market in Salt Lake City's Pioneer Park.
Taste Artisan Chocolate
Taste Artisan Chocolate
117 N. University Ave. Provo
(801) 900-4061
havetaste.com/collections/tastings
Visiting Provo? Taste Artisan Chocolate's European-style storefront and tasting room offers a comprehensive chocolate experience, with full tasting menus and classes available by pre-registration on Thursday through Saturday evenings. Check out their afternoon tea spread, or experience a walk-in "mini-tasting" Monday through Saturday, which highlights chocolates from all over the world. Guests can also view the chocolate-making production room in action.
The Utah chocolate world has something to offer every chocolate lover. With the diversity in taste, location and makers, you are sure to find the perfect cacao treat in one of our many chocolate stores.