Flood Safety
Due to record snowpack and high amounts of spring runoff, please be advised of potential flooding that could impact travel plans.
Learn more
An Insider's Guide to Torrey
For a taste of Southern Utah without the crowds and searing heat, head to Capitol Reef National Park and Torrey, its super-cute gateway town.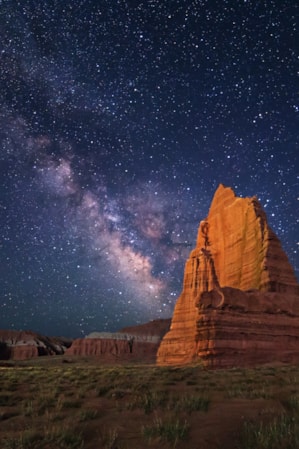 We scrambled up the rocky last few feet and then there it was: A dizzying, panoramic view of the Henry Mountains, the Waterpocket Fold, Cathedral Valley and Boulder Mountain, all contrasted against a seemingly electric blue sky. Giddy with endorphins from climbing almost 2,400 vertical feet, my husband and I took a few selfies and then sat down for a well-deserved rest and snack before making the long hike down to the trailhead.
Hiking the long-but-completely-worth-it trail to the Navajo Knobs is just one of the many things to do in Capitol Reef National Park and its adorable gateway town, Torrey. Here visitation is a fraction of what you'll find in Utah's more popular Southern Utah destinations and, thanks to its 6,800-foot elevation, typically about 10 to 15 degrees cooler as well. What you will find are dozens of hiking trails, both inside and outside the park; ample dining options; a thriving arts community; and a view of the night sky as our ancestors knew it.
"What you will find are dozens of hiking trails, both inside and outside the park; ample dining options; a thriving arts community; and a view of the night sky as our ancestors knew it."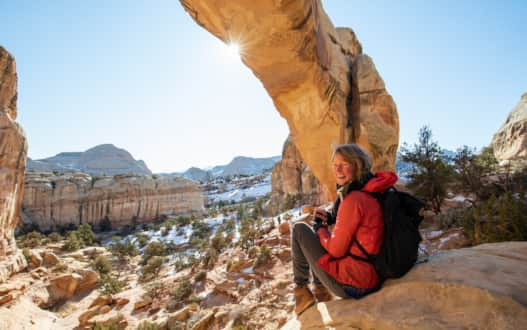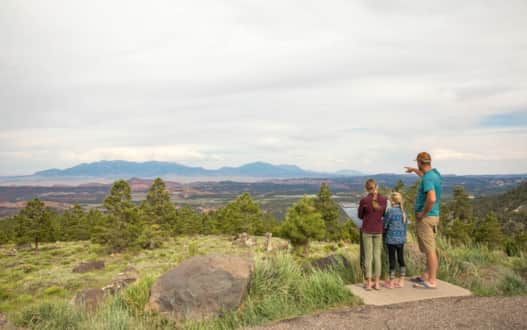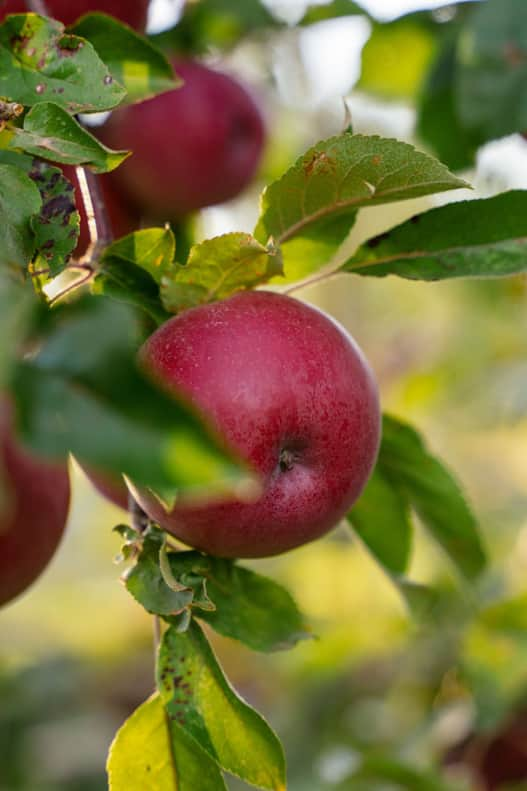 Hit the Trail
Six trailheads along State Road 24 and the scenic drive through Capitol Reef's Waterpocket Fold District access more than 15 hiking routes. Access the aforementioned Navajo Knobs Trail, a strenuous 9.9-mile, out-and-back route from the Hickman Bridge Trailhead (12 miles from Torrey, named after Joe Hickman who helped establish the park in 1937). From the same trailhead, you can walk the easy 2-mile, out-and-back trail to the Hickman Bridge, a huge natural sandstone arch. For a rugged adventure, travel into the park's Cathedral Valley District to the Jailhouse and Temple Rock Trail (36.5 miles from Torrey).
Or pass through a narrow slot canyon to a surreal cathedral on the Burro Wash Slot Canyon Trail, located off the Notom-Bullfrog Road (27 miles from Torrey). For many more options, check out the Capitol Reef National Park Trail Guide or the guidebooks "Capitol Reef National Park" and "Beyond Capitol Reef," both by Lynne and Rick Stinchfield. (Read: "Capitol Reef Hikes").
Gazing Above
In 2015, Capitol Reef National Park became one of the world's 65 Dark Sky Parks which, as sanctioned by the International Dark-Sky Association, is an area "possessing an exceptional or distinguished quality of starry nights." Torrey followed suit in 2018 when it was named the state's first International Dark Sky Community.
Take just one glance up after the sun goes down there and you'll be treated to a display of multiple glowing planets and the Milky Way spiraling away into the universe. The night skies above Capitol Reef and Torrey are so clear, in fact, that part-time local resident and amatuer astronomer Mark Bailey claims that Andromeda, the next galaxy over from ours — "located more than two million light years away" — is visible with the naked eye. The area's lack of light pollution is celebrated every September with the Heritage Starfest, a weekend of telescope-aided stargazing, astronomy talks and kids activities, presented by Capitol Reef National Park and the Torrey-based Entrada Institute. (Read: "How to Stargaze in Utah.")
Art and Events
Not only is the Entrada Institute responsible in part for Torrey's Dark Sky designation, the organization has been keeping art alive in Torrey and across the Colorado Plateau for the past 25 years. The Torrey Chamber Music Festival, poetry and book readings, gallery strolls and the Wayne County Fair are just a few of the programs Entrada supports or presents at its Torrey headquarters (formerly Robber's Roost Bookstore). Another much-anticipated Torrey event is Wayne County Farmers' Market, held Saturdays in the center of Torrey, 4 to 6 p.m. from May to October.
Stay and Eat
The 71-site Fruita Campground, (open March 1 to October 31), is the only developed campground in Capitol Reef, located in the park's charming and shady Fruita Historic District. Two no-fee, first-come, first-served, primitive campgrounds — Cathedral Valley (36 miles from the Visitors Center) and Cedar Mesa (23 miles south of Hwy 24 on the Notom-Bullfrog Road) — are located in more remote sections of the park.
"If you're looking for solitude that's a little less rugged, head just outside of Torrey to Teasdale where you'll find the Pine Shadows Cabins."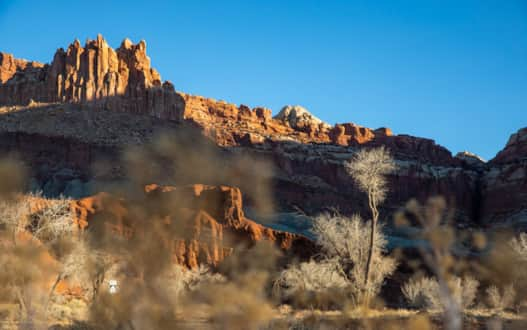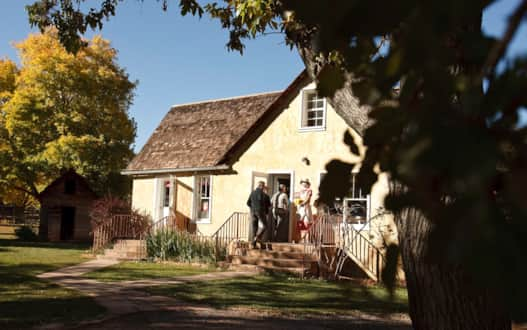 If you're looking for solitude that's a little less rugged, head just outside of Torrey to Teasdale where you'll find the Pine Shadows Cabins. The accommodations are basic, but economical and clean, with each including a kitchen. Back in Torrey, the recently renovated Red Sands Hotel offers sleek, modern rooms, on-site yoga and a pool and spa. The Cougar Ridge Lodge represents the highest-end lodging in Torrey, with hotel-style rooms in the main lodge, and luxurious and private two-bedroom casitas that sleep up to seven. (Read: Torrey Dining Guide).
Get your morning caffeine fix at Dark Sky Coffee or Wild Rabbit Cafe, both located on Torrey's east end. Or have your morning joe at Castle Rock Coffee, at the junction of State Roads 24 and 12 on your way to the park. Grab banana bread, a chicken salad sandwich, groceries and other provisions at the Chuck Wagon General Store, Bakery & Deli. Slurp a post-hike Oreo cookie shake (you earned it!) at Slacker's Burger Joint.
For dinner, sample Utah trout, ribs or house-made smoked turkey molé at the casual but still upscale Rim Rock Restaurant, which also serves great pizza and nachos on its family-friendly patio. Where once Café Diablo greeted visitors on Torrey's west end, now there's Hunt & Gather. The new owners but longtime locals, Chet and Nancy Saign, look forward to serving "slow-cooked meals from scratch."
Going Afield
While pretty special, Torrey and Capitol Reef do not corner the market on things to do, eat and see in this charming part of Utah. Take State Road 12 up onto Boulder Mountain, a 50,000-acre plateau covered with lush pine and aspen forests. (Read: "The All-American Road Trip: Scenic Highway 12.") Here, fishing is a popular pastime at the more than 80 lakes dotting the mountain, as is hiking, backpacking and camping.
Follow 12 over the mountain to the tiny town of Boulder, the home of the Zagat-rated Hell's Backbone Grill. Travel 8 miles northwest of Torrey and you'll be in Bicknell, home of the creative pizzas and satisfying Indian food purveyor, Curry Pizza; the Bicknell Theatre, the county's only movie theater; and a state-run liquor store — the closest place to Torrey to buy liquor and wine. A full-service supermarket, Royal's Food Town, is located 8 miles north of Bicknell in Loa. And 21 miles past Loa on the Fish Lake Scenic Byway, you'll come across the Pando, a giant colony of quaking aspens (one of the world's largest living organisms) and the stunning Fish Lake, Utah's largest natural lake.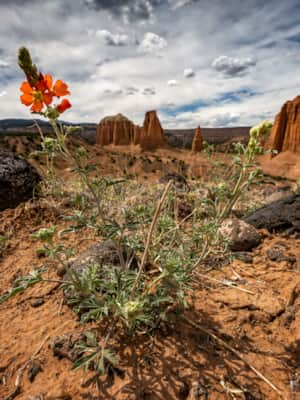 Serenity Found in Torrey and Capitol Reef's Cathedral Valley District
Taking Southern Utah's remote, less-traveled path in Capitol Reef's Cathedral Valley District to nurture your body, mind and spirit.