Flood Safety
Due to record snowpack and high amounts of spring runoff, please be advised of potential flooding that could impact travel plans.
Learn more
A Guided Ride on the Rolling Slickrock of Gooseberry Mesa
Utah resident and tour guide Katharina Merchant shares her "backyard" mountain biking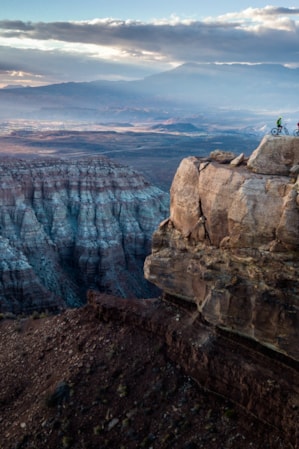 There's a sense of peace that comes from riding the flowing slickrock trails of Gooseberry Mesa. The trails are typically intermediate to advanced, but the rewards for the work at the end of the trail — and frequently along the trail — are panoramic views across the desert southwest, with a backdrop to the north of none other than Zion National Park.
Out here, the light is ever-changing. "Every time, it looks different," says local guide Katharina Merchant of Utah Mountain Bike Tours. She never takes those vistas or views for granted. "It never gets old. It always amazes me."
She readily shares her "backyard" trails with visitors, pointing out how guides can help first-time riders gauge the terrain and ride the trails with a lot more flow — which is not to mention that guests have access to some of the latest in mountain bike technology, quickly making a believer out of just about anyone.
"Guides can help first-time riders gauge the terrain and ride the trails with a lot more flow."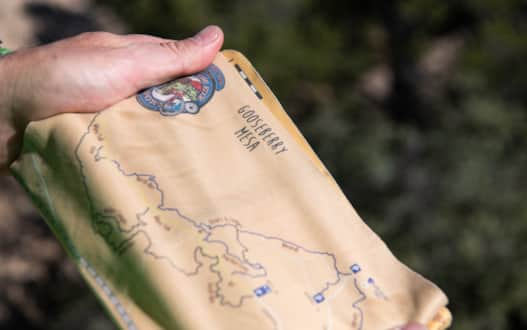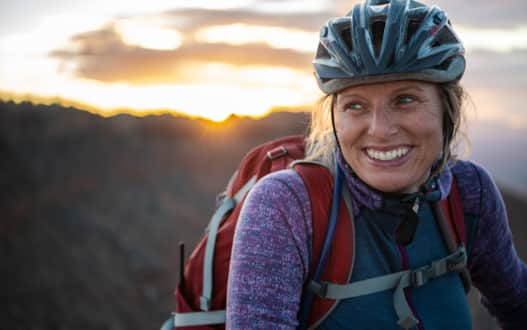 Utah-based writer and rider Melissa McGibbon also frequents Gooseberry Mesa. McGibbon describes her experience this way:
We may as well have been on Mars. Far away from any semblance of civilization and surrounded by a seemingly endless horizon of dramatic desert landscape, we had the place to ourselves. Is there anything so liberating as escaping the masses to quietly commune with nature in a vast expanse of stunningly beautiful desolate terrain?
Read her full story here: Mission to Mars: Riding Gooseberry Mesa.
Trail Highlights
30 miles of networked singletrack make it very appealing to riders who want to customize their mileage.
Rolling slickrock trails give way to epic panoramas of Zion National Park.
Most of the trail is ideal for moderate to advanced riders.
For advanced riders, there are some double-black-diamond sections on the South Rim Trail that provide well-earned vistas, but little room for error in the narrow spots.
Night riding is a good option on these trails if, say, you're there in mid-July and daytime temperatures are averaging above 100 degrees. Winter biking is also an option.
Bring more water than you think you'll need, snacks and a detailed trail map because you will be out of cellular coverage.
Getting to the Trail
Getting to Gooseberry Mesa's remote location could prove to be the most challenging part of your ride. There is a sign for the turnoff on S.R. 89 directing you to Gooseberry Mesa, which leads you to an unpaved, bumpy dirt road that you'll stay on for about 30 minutes until you get to the trailhead parking lot. Gooseberry Mesa can be accessed from southwestern Utah itineraries through St. George, Hurricane, La Verkin and Springdale on the west or Kanab from the east.