How To Bikepack Utah Like a Girl Boss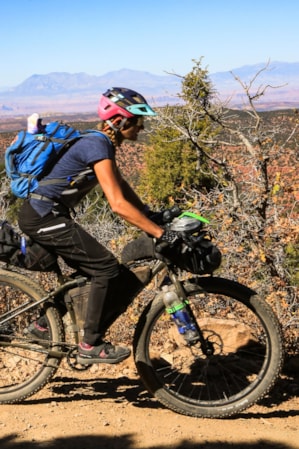 My girlfriends and I crushed our ride from Monticello to Boulder, biking more than 250 miles and 26,000 feet of climbing through national monuments, parks and a recreation area, all in seven days and six nights.
There's no way we could have done it without lots of planning — as in multiple Zoom meetings, studying maps and shared documents. We also appreciated a carefully thought-out menu full of nutrient-dense foods such as summer sausage, peanut butter packets, Babybel cheese and just the right amount of sugar (love you, licorice!). Every minute of the entire experience was worth it.
Here are the key things you need to know as you and your girls start planning your first bikepacking trip.
Go with a guide.
Whether you're placing a timid toe on the pedal for the very first time or you're a seasoned cyclist trying out a new route, one of the most rewarding ways to see Utah's parks and wilderness areas is by going with a guide. Guides and outfitters allow you to deeply experience the outdoors, without any planning or wayfinding stressors. They also know Utah's lands intimately, offer local perspectives and geological insights, and make sure your trip follows the responsible travel ethic of Forever Mighty.
A good bike, freshly tuned and accompanied by the tools to fix, is crucial.
Natalie rode a Revel Rascal, Emily rode a Surly ECR and Sandra and I were on Marin Pine Mountains. The last three are built for bikepacking, meaning they have less suspension than mountain bikes (and in Emily's case no suspension), their frames come equipped to carry a plethora of bikepacking bags (complete with pre-drilled places to secure them) and they have geometry equipped for comfort on long rides. There are many female-specific bikes gaining popularity, but a unisex bike might work just as well for you. Just be sure to test drive before you go all in.
Keep them running smoothly while being prepared for any mechanical issues by carrying the essentials — zip ties, lube and mini rag, Stan's tubeless tire sealant, a chain breaker, quick links, two tubes, a multi-tool, bacon strips (to plug holes in tires), hand pump, CO2 cartridge and CO2 dispenser, tire levers and a shock pump. Don't feel comfortable with a mid-trail fix? Consider a skills clinic where you can learn some mountain biking basics and maintenance. Women in the Mountains and WomenMTB are just a couple of the organizations offering women's mountain bike clinics in Park City and St. George.
Think weight over comfort — but don't forget comfort.
I can't tell a lie: When fully loaded, a bikepacking bike rides like a tank. That's because you have the bike's weight (usually roughly 30 pounds) plus pounds of food and gallons of water. With this in mind, go as ultralight in other areas as possible, and be ready to improvise in some places (like using your collapsible bowl for a wine glass, sunscreen as chain lube, a bike tire level as a spoon and a stuff sack for a pillow).
As Natalie says, "You can always get creative and use the bike you have," rather than prolonging the fun waiting for a bikepacking-specific bike.
To get great sleep, plan great sleep gear.
Big Agnes is currently killing it with their bikepacking-specific tents, sleeping pads and sleeping bags. Natalie said her one "non-essential" item was a Sea to Summit inflatable pillow. Several brands also make a down "quilt," which replaces a full sleeping bag and cuts a significant amount of weight.
"Make sure you're packing snacks with high nutrients, as well as enough protein and calories to keep you going through a day of riding. "
For energy, plan smart menus.
When planning our menu for the trip, it wasn't just about saving weight, but also finding food that tasted good. A mix of lightweight freeze-dried items (favorite brands are Peak Refuel and Heather's Choice); home comforts like Kodiak oats packed with protein, Justin's almond butter packets, Trader Joe's curry packets, plus frivolous items such as wax cheese and dry salami. Just make sure you're packing snacks with high nutrients, as well as enough protein and calories to keep you going through a day of riding.
For cooking, think light.
Choose a teeny tiny ultralight stove such as Outdoor Research's Pocket Rocket Deluxe and a small can of white gas or two. Sea to Summit's collapsible pots and kettle are the lightest on the market.
Dress for comfort.
The amount of clothing you bring is commensurate with how much of your own stink you can tolerate.
Here are the basics for a good-weather trip (not too cold, not too hot, no rain, no snow):
Merino wool base layers (top and bottom)
1-2 chamois (1 if you've planned a clean gear drop)
Wind jacket (I love Patagonia's Dirt Roamer)
Down jacket (Outdoor Research's Helium Down Hoodie has 800-fill down and a bomber lightweight Pertex Quantum shell fabric)
Bike shorts (Natalie wore Shredly, Tracy wore Patagonia, Sandra wore Dakine and Emily wore Fox)
A clean layer of clothes for sleeping (for me: underwear and a cotton t-shirt; Natalie wool sleeping socks)
Bike gloves
Sunglasses
Winter hat
Warm gloves
And, in Emily's case, super rad downhill mountain biking pants from Revel Rider. (Revel Rider, Kaden Apparel and Ride Force are three bike apparel brands founded by and for women mountain bikers.)
Extras. There will always be extras.
We all brought things we didn't need and then laughed about not using them later. Sandra: trucker hat and a stash of whiskey we didn't open. Emily: flip-flops and wine. Natalie: snacks she never touched and a spare battery charger that died after one use. Me: notebooks I never cracked open. (Yeah: writer.)
Find your route and follow it.
We used Natalie's past experience and Ride with GPS while planning our route and GAIA to stay on track. View our trip, and hundreds of other routes, in detail by going to bikepackingroots.com, where founder Kurt Refsnider shares information on all sections of the 2,700-mile Western Wildlands Route he and others created in 2016 and completed in March 2019 (Read: "Three Utah Bikepacking Routes for Beginners to Intermediates").
Don't forget the most important thing you never knew you needed.
When Tour de France champ Floyd Landis started his CBD company Floyd's of Leadville in 2016, he unknowingly channeled the needs of four ladies who would realize them years later. A friend gave us some of Landis's CBD-infused sports cream and we used it for sunburn (significantly reduced redness and inflammation), sore muscles (in my case a squeaky achilles tendon and in Natalie's a tight IT band) and the inevitable saddle sores that accompany any long bike trip (a dab on hot spots soothed them into submission).
Visions of Grandeur: Heaven and Hell on Two Wheels
The story of a women's bikepacking trip unspoils 250 miles of the majesty of Bear Ears country, including three national monuments, one national recreation area and a national park.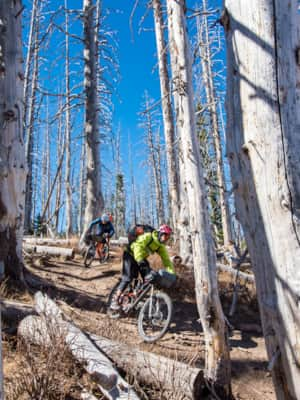 Mountain Biking Trails
High-altitude tracks run through alpine forests in Northern Utah, and southern trails wind through red cliffs to panoramic desert views. Riders at every level can find great riding across the entire state.