Mountain Biking the Wood Hill Trail System
A Classic Ride in Price's Backyard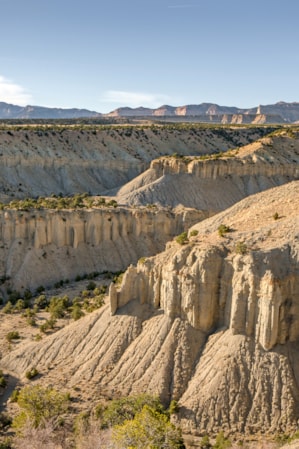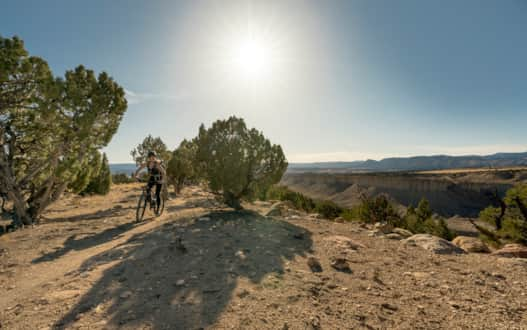 Trail Guide
Difficulty: Intermediate
Distance and elevation gain: 6.2 miles and 470 feet
Trail type: Soft dirt and sandstone, rocky singletrack
Multi-use: Yes — hiking, mountain biking, horseback riding
Dog: Yes — on-leash
Fees: Free
Seasonality: Best seasons are late spring and fall
Bathroom: Toilet at the trailhead
Where to park: There's a parking lot at the trailhead.
Trailhead GPS coordinates: 39.622783, -110.813517
Driving through downtown Price, I pick up hints that I'm bound for a distinctly local experience. I leave Main Street and continue to the edge of a quiet residential neighborhood, where my GPS prompts me to turn right onto an unsigned dirt road. A tiny metal signpost with a bike icon and the words "Trail System" assure me that my GPS isn't leading me astray. The road rises steeply onto the mesa and leads to a gravel parking area after about a mile. I spot one other truck and an information kiosk in the corner of the lot. This must be the place.
As I start unloading my bike and my dog from the van, I notice a woman walking toward the truck. She gives me a nod and a friendly wave.
"You just passing through?" she asks, glancing at my California license plate and probably wondering how I found this place. Passing through is right. The small town of Price marks a halfway point on my drive from Salt Lake City to Moab — the ideal spot to squeeze in a few miles of riding.
Terry, a Price local who regularly comes out here to ride bikes and walk her dog, is quick to offer me a rundown of the Wood Hill trail system and describe a few options for catching a singletrack called Luke's Trail and making a nice loop out of it.
"Is it fine to have my dog on the trail with me?" I ask.
"Yeah, just make sure he doesn't get in anyone's way. This is busy hour, you know," she says with a grin and not a hint of sarcasm as she scans the parking lot, empty aside from her truck, my van, and two more women now walking off the trail.
We shake hands and I pedal off, repeating her directions in my head to commit them to memory: head down Wood Hill Road the same way I came in for half a mile, turn right at the fork toward the old parking area, and from there I'll see the trailhead for Luke's Trail. Sure enough, Terry was spot on.
The Ride, Part 1: Luke's Trail to Kenilworth Road
The fact that the Wood Hill trail system is a local's spot with a scant quantity of visitors says nothing about the quality of this place. The 20 miles of trail wind through peaceful desert landscape atop a mesa, with views of steep canyons below, the Book Cliffs lining the horizon, and snow-capped mountains to the west.
Just as Terry had described, the first 1.5 miles of Luke's Trail offer mellow riding on soft dirt singletrack, suitable for any beginner. I'm all smiles as I flow through the gentle curves with the scent of juniper and sagebrush in the air, confirming that I am indeed in the desert. The only sounds filling the air are my tires rolling over the dirt and the jingling of my dog's tags as he trots behind me.
Once I reach the intersection with the Solis Trail, Terry's information yet again rings true: This is where the slightly more technical section begins. As a fairly new mountain biker, I walk my bike through short rocky sections whenever I misjudge the line. Luckily, Terry was also right about this being busy hour on the trail: My dog and I are joined only by a few jackrabbits darting through the sagebrush.
After about three miles, Luke's Trail intersects with Kenilworth Road (unsigned). Beginners and early-intermediate riders can call it a day here, choosing to reverse the route or take a right on this road for a straight shot back to the parking lot. Terry had recommended this option to me, but also mentioned the possibility of continuing on the singletrack to make a bigger loop.
The Ride, Part 2: Luke's Trail to IMBAtween, Therapy and SmoJoe's
At the trailhead, I planned to go for the shorter, 6-mile loop option, but after a fun time practicing my skills on the tougher sections of Luke's Trail, I opt to make a longer loop by linking up a few more intermediate runs. After crossing Kenilworth Road, Luke's Trail continues for 0.3 mile, where it leads straight into IMBAtween Trail. IMBAtween features intermediate riding through the pinyon pine and juniper trees on moderately technical, rocky singletrack.
After 0.7 mile, IMBAtween leads directly into the next intermediate trail, Therapy. This section rolls through less forested areas with some exciting dips that make for the steepest portions of this overall loop.
While I feel a little tired after walking the steep bits of IMBAtween and Therapy, I reach the SmoJoe's Trail, where views along the mesa's edge inspire me to keep savoring this ride for what it is: A chance to explore a seriously-impressive desert setting in central Utah without the crowds. SmoJoe's skirts the mesa rim for 1.1 miles before intersecting with an unmarked doubletrack road. I take a right onto the road and in about 0.3 mile, end up back at the parking lot — just in time to catch the golden hour light glossing over the mountains.
As I load my bike back into the van, a new truck joins me in the parking lot with three bikes on the back rack. Busy hour indeed.
Planning Tips and Logistics
Take a look at the map in the parking lot and make your own adventure out of Luke's Trail — there are several other options for loops and out-and-backs of varying length.

You can ride these routes clockwise or counter-clockwise.

The parking lot has a toilet, but no drinking water.

Make a pitstop at Sherald's Drive-In after hitting the singletrack. Unfussy diner eats and classic frosty cones are calling.