Cycling Scenic Byway 12: Escalante to Boulder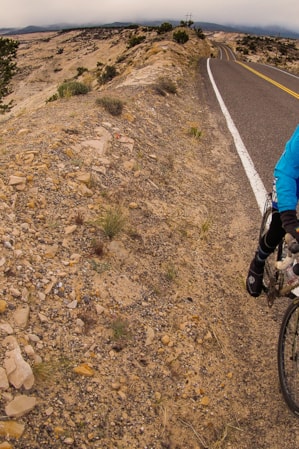 Ride Overview: 54 miles round trip or 27 miles one way, with approximately 4,000 feet of elevation gain.
If you are interested in a unique way to see a lot of beautiful Utah landscape, look no further than this ride down Utah's All-American Road, Scenic Byway 12. This famous state road is consistently found at the top of many travel magazine and internet sites "Most Beautiful Roads" lists. The pros in the Larry H. Miller Tour of Utah ride the entire 130 mile length of the route from Panguitch to Torrey, but we've selected this breathtaking slice of the route as one of our favorites. It's perfect for any type of ride; make it an all-day adventure with friends or head out for the most scenic training ride ever. Utah is legendary among mountain bikers for its slickrock singletrack, but the road cycling here is not to be missed either.
Escalante serves as the start of this 27-mile one-way adventure. The adventurous and quaint western town also stands as a gateway to the edge of Grand Staircase–Escalante National Monument.
If you are looking to fuel your ride, we recommend starting your day with a hearty breakfast at Escalante Outfitters.
Heading east on the asphalt out of Escalante on Highway 12, you'll find nearly the entire route is located within the national monument. This ride takes you over the stunning Head of the Rocks, where the serpentine road carves an almost natural path as it twists and turns through a geological timeline of rock and sandstone.
You'll encounter a false flat section that eventually evolves into a rolling descent. Watch for the pull-out at the summit — here you can take in vast views of the Grand Staircase–Escalante National Monument that sprawls to meet the Henry Mountains. As you continue, just as the road descends toward the Escalante River, the route passes by the Kiva Koffeehouse and descends toward the Escalante River. The Koffeehouse is a great place to grab a snack or just take in the views. It's worth the stop and provides a nice break before taking on the next steep climb.
The three-mile ascent from Calf Creek up to the famous Hogsback ridge is a brutal grade, but as you work your way up the spine of the Hogsback, you take in some of the most spectacular views you'll ever see. If you're afraid of heights or low on conditioning, this climb may not be for you — as riders follow the spine of the road which has steep drop-offs on both sides. If you can push through to the summit, you enjoy a fun two mile descent into the beautiful town of Boulder.
Once you arrive in Boulder, reward yourself with a delicious farm-to-table meal from the Hell's Backbone Grill or Burr Trail Grill. If you don't want to shuttle cars and your bicycle between the start and finish, you can cycle the route in reverse back to Escalante. For those of you looking to extend your stay in this beautiful area, be sure to explore the Burr Trail for an amazing canyon hiking adventure you won't soon forget.
Who's it For?
This is a strenuous ride for intermediate and advanced riders with steep climbs and twisting descents. Riders should be well-conditioned and technically seasoned — don't underestimate its difficulty. Other than the Kiva Koffeehouse, there are no services between Escalante and Boulder, so prepare your trips accordingly in regards to nutrition, hydration and equipment.
For the non-cyclists of the group who still want to get active, there is a great hike just off Highway 12 almost midpoint between Escalante and Boulder. Look for a sign for the Calf Creek Recreation Area. The Lower Calf Creek Falls trailhead is marked and the three-mile path (one way) is a well maintained surface that is appropriate for almost everyone. Plan for at least three hours round-trip. Let the beautiful desert waterfall and crystal clear water at the end be your motivation. This part of Utah is ripe with outdoor activities, so don't be afraid to try something new.
Parking
There is plenty of street parking along Hwy 12 in Escalante as well as the BLM Visitor Center on the west side of town