Spring City en Plein Air
There's a lot of interest in restoring the architecture and keeping the original look and feel of historic Spring City, Utah. Get to know local landscape artist Doug Fryer, who says the small town's large art community draws inspiration from the architecture and pastoral setting — and produces world-class art.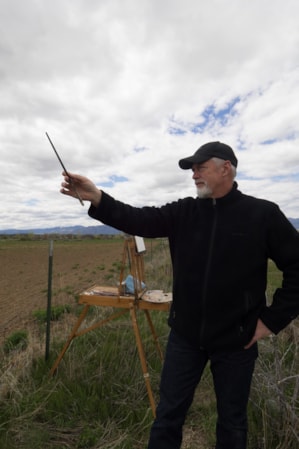 Look around Spring City. You will see beauty. It is a peaceful, pastoral place deeply rooted in its nineteenth-century heritage. For photographer Dean Krakel and me, our first glimpse of the area came from on high, after cresting the Wasatch Plateau via the Huntington/Eccles Canyons National Scenic Byway. The byway begins a rapid descent into the Sanpete Valley, which by the late spring splashes wide and vibrant color patches in heavy, Paul Cezannesque brush strokes.
We meet landscape painter Douglas Fryer in his home, where he lives with his wife Terresa and some of his younger children. It's one of the newer houses in the town. That fact is notable because Doug lives a few blocks from Main Street, which comprises the core of the Spring City Historic District, part of the National Register of Historic Places.
The historic architecture alone attracts us to Spring City. The Mormon pioneer architectural style drew on the settlers' existing skillset and the prevailing styles of their Scandinavian homeland. Today, dozens of beautiful stone buildings survive thanks to the skillful hands of Swedish and Danish masons. Each building soaks up the evening sun until saturated with golden hour light. But it's more than architecture. It's setting.
Says Doug, "I don't know if it's nostalgia, but it reminds people of how it was where they grew up — places that have changed now. It hasn't changed here. There's a real love of the place because they love their memory. Visiting Spring City is like visiting a memory."
Memory is important to Doug's work. Though today we're heading to work en plein air where intuition, speed and environment establish the picture and composition, Doug usually works from a combination of his photography and memory in his studio. There, he can contemplate the work over a longer period of time, adding and subtracting as the composition inspires him.
"There's a real love of the place because they love their memory. Visiting Spring City is like visiting a memory."
– Dean Krakel
"You're traveling down a highway, and all of these things are flashing in your peripheral vision. Fields, barns, houses, mountains, creeks, trees, sage. My paintings are seeing those passing moments in time in a direct way so they become concrete statements. It's a grouping of past memories. From that collection of moments in time, I can make a statement that will last forever."
In recent years, residents have restored a number of the old homes in Spring City. Doug says that there's a lot of interest in restoring the architecture and keeping the original look and feel. The art community draws inspiration from the architecture.
"There's sort of an energy that moves from one to the other. It might be a coincidence, but the people that are restoring the homes seem to have a real interest in the aesthetics of the architecture, especially when combined with the beauty of the environment."
Visual reminders all around are why there's such a strong artistic vibe in Spring City.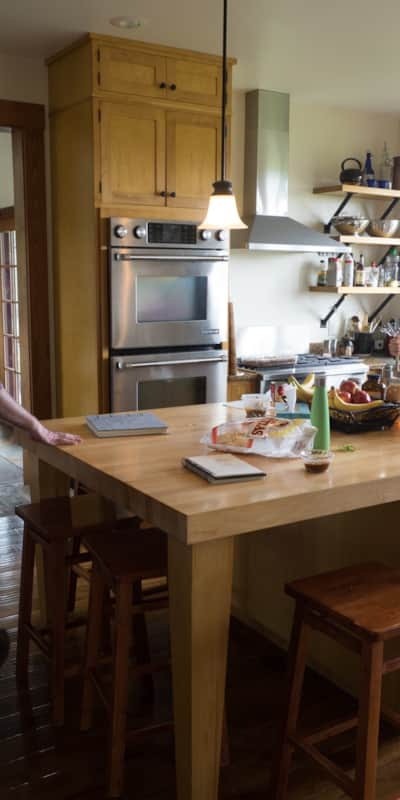 The distinctively curved ridgeline of Horseshoe Mountain remained heavily capped in snow during our visit. Steep chutes line up like ribs along its steep face.
Wave after wave of cumulus and cumulonimbus clouds crowd the sky of the wide valley. We are only two days after a late-season dusting of snow in the valley — and rain is likely on the way.
The dramatic cloudscape splashes amoeba-shaped patches of light across the plateau and hayfields as it slowly passes overhead.
Doug carries an antique French easel he found at a thrift store across the southeast stretch of his property to capture his chosen subject matter. I follow a few steps behind with a handful of old watercolor tubes and a homemade easel adapted from a design by plein air artist Frank LaLumia: essentially a flat surface with a tripod mount.
Doug's backyard abuts a large agricultural field, which Doug says his neighbor recently planted. Persistent bleating drifts from a nearby cluster of weathered sheds. It's near the end of lambing season. Doug has his easel prepared in moments, and true to the style, he immediately begins mixing and applying paint in broad, interpretive strokes. He sights the landscape with his brush, and applies a rust-colored wash of oil paint to a section of the canvas. These first gestural strokes are important to Doug.
"Some of these marks here that aren't exactly 'in' the painting and aren't out there, are just beautiful marks by themselves. They carry their own meaning, their own significance."
Those marks are part of the artist's skillset and toolbox, Doug explains. They are intuitive, deliberate choices, and become combined with little surprises that occur along the way.
"This wouldn't have happened unless you were very deliberately going about what you do. And then this other element comes in and, 'wow,' it made it live."
It occurs to me that there's a clear parallel in travel. When I go about the process of traveling, I prepare myself with the tools and mentality of a traveler, then deliberately put myself in a place. Once I'm there, comfortable being a little uncomfortable, I open my mind to possibility of surprise — to the serendipity of travel. Travel should lead to discovery, both planned and unplanned.
For Doug Fryer, art is fully intertwined in his other values, not separate.
"I make art because the world is a beautiful, meaningful place. I want to make some significant statements about those feelings, whether they're based on aesthetics or they're based on a story."
In my own humble watercolor en plein air, Doug picks out a few gestural strokes of pigment nicely interacting with the water. I don't paint as often as I'd like, but today was about deliberately getting out there, and letting serendipity lead the way in the picture-perfect landscape of Spring City.