Rediscovering A. Fisher Brewing Company
One of Utah's original breweries reopens after more than fifty years.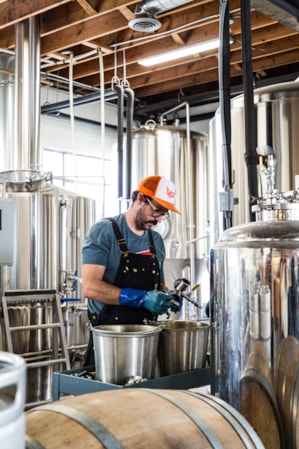 Whether you are visiting Utah for a week, or a local on the lookout for new places to explore, the craft beer scene is a great place to start planning your next adventure. Beer has a long history in the state and is also experiencing an exciting modern revival, making a trip to a local brewery both satisfying and interesting.
One brewery where you can find both a rich history and a fresh perspective is the newly reopened A. Fisher Brewing Company (also referred to simply as Fisher Brewing). After more than fifty years this Utah classic is back to stay, providing a wide variety brews to enjoy.
Looking Back
Despite a large portion of the population abstaining from alcohol in Utah's early days, there were two breweries founded in Salt Lake City just three years after the arrival of the pioneers in 1847. As the population continued to diversify following the completion of the first transcontinental railroad in 1869, many more breweries followed suit, opening their doors in cities all along the Wasatch Front.
Fisher Brewing was one of Utah's early breweries, opening in Salt Lake City in 1884. The brewery was founded by a German immigrant, Albert Fisher, who moved to the area and started working at a local brewery in the 1870s. After getting some experience, he was ambitious enough to break away and start his own company. For a time the business thrived, selling approximately 75,000 barrels of beer a year by 1905.
Unfortunately, Prohibition took a toll on Utah's early breweries halting business and production for a time. After the repeal of Prohibition, Fisher began selling again for another thirty years. In 1957 the brewery was sold to Lucky Lager, and became the largest brewery in the state. The end of Fisher Brewing eventually came, as it did for many of Utah's breweries, in 1967. This began a 19-year period in which no beer was bottled in Utah.
The Comeback Kids
In 2017, fifty years after the original Fisher Brewing sold its last beer, the business was brought back by Albert Fisher's great-great-grandson, Tom Riemondy and three other partners, Tim Dwyer, Steve Brown and Colby Frazier. The reopening was four years in the making and has been well worth the wait.
"To me, Fisher Brewing symbolizes something about the way the state is changing. Ways that the past is being celebrated and made new again with a fresh perspective."
Alongside a large and diverse menu and rotating food trucks and an up-and-coming block, the reemergence of Fisher Brewing is providing a new generation with a unique connection to the past and a look ahead at the future of beer in Utah. The beer is not bottled and sold, but you can enjoy a glass inside the brewery or take home a growler to enjoy later. Alongside the many other beers on tap, a nod to the company's flagship lager, Fisher Beer, can be found.
Experiencing Fisher Brewery
I was running errands on an early spring afternoon in downtown Salt Lake City when a craving set in for a cold beer and something to eat. That day, it had to be Fisher Brewing. Nowhere else would do. The rotating food trucks always offer a surprise, each providing a variety of fried and salty options.
I grew up in Utah, but after living for nearly a decade in Oregon, I've come to develop a deep appreciation for the nuances of craft beers and ciders. I wouldn't say I'm an expert on beer, but a passionate admirer. So, when I read for the first time about A. Fisher Brewing Company being revived, I knew I had to check it out for myself. This wasn't just any brewery opening up after all. Unsurprisingly, Fisher quickly became a favorite.
To me, Fisher Brewing symbolizes something about the way the state is changing. Ways that the past is being celebrated and made new again with a fresh perspective. The Granary District is really the perfect location for Fisher Brewing because of this. All around in this neighborhood, old buildings are being made new homes for a variety of creative businesses, many of which involve food and old practices.
Driving west down 800 South ("8th South" as the locals say), Fisher is hard to miss with its signage painted large and bold right onto the gray brick building. You can also just look for the single food truck that is always parked next to the curb during business hours. There are a few parking spots near the building, but often you have to look around the surrounding block, which I highly recommend because then you can get a look at the other intriguing businesses in the area.
Before heading inside the brewery, I ordered some tacos from the truck parked out front for the day. There has never been the same food truck when I have visited, but the food has consistently been amazing. The classic Fisher Beer is a staple on tap here, and always a smooth and balanced go-to pilsner. Today, I wanted to give something new a try. I like being surprised by unexpected flavors, so I went for the Citra Kolsch. The staples and revolving beers on tap here provide enough variety for any mood or palate a visitor might have on any particular day.
Taking a seat at one of the back tables, I settle in to take in my surroundings. The ambiance is casual, making it easy to relax and kick back for a few hours. The tables and chairs have an old school lunchroom refurbished look that makes me feel nostalgic and even more comfortable. Plenty of natural light comes in through the floor to ceiling windows. I like sitting back by the brew tanks and watching the brewing action if there is any while I am there. That is typically when it is colder out. When it is nice out, there is no better spot than the outdoor tables, where dogs are welcome on weeknights and on weekends before 6 p.m. I don't get to stay for long on this visit, but I'm happy to know that I can look forward to a familiar space and a cold glass of some of my favorite beer anytime I'm in town.
You can find out more about A. Fisher Brewing Company on their website: fisherbeer.com.
Business hours are 11 a.m. to 10 p.m. Sunday–Thursday and 11 a.m. to 1 a.m. Friday and Saturday.
Chic & Unique

Food in this area is abundant. If you are ready and interested in something else, this place is a must see. You can find a variety of upcycled vintage pieces and antiques to fit any interior design taste. I found a great retro cutting board for my new apartment on my last visit, and I always wish I had more room to invest in one of the many beautiful furniture pieces.

Ruby Snap

Stop by for gourmet cookies. Some flavors are classics, some are twists and many are completely unexpected and most of all always delicious. My favorite is the Vivianna, a dark chocolate chip cookie with citrus dough and chunks of dried mango. You can sample all you want before you commit to just one. Don't forget to try the seasonal options.

The Chocolate Conspiracy

The chocolates here are made to be a healthy treat. There are no artificial ingredients, soy, dairy or processed sugars. The cocoa beans they use are all certified fair trade, organic and kosher. My personal favorite is the Wild Spice Bar, and you cannot stop in without at least trying one of their amazing raw cacao truffles. The staff is incredibly knowledgeable and happy to answer questions about the (to me) formerly mysterious chocolate making process.