U.S. Federal Shutdown Information
At this time, all of Utah's national parks, monuments and recreation areas remain open.
Learn more.
Putting Provo on the Music Map
Provo boasts a rich music scene, noted for launching bands to national attention. Part of the secret sauce is the fan following nurtured by Corey Fox's Velour Live Music Gallery, in collaboration with the rest of the Provo music scene.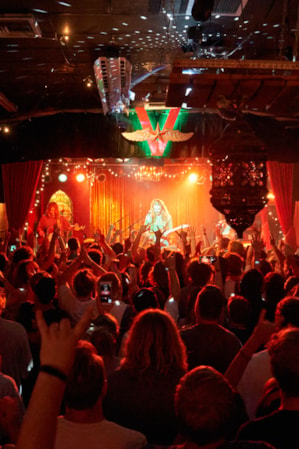 College students from Provo's Brigham Young University and Orem's Utah Valley University like to hear live music.
They especially like the music they hear at Corey Fox's Velour Live Music Gallery, which has served as a hometown launching pad for bands such as Grammy-winning Imagine Dragons, platinum-selling Neon Trees, The Aces, The Moth & The Flame, Joshua James, Fictionist, The Backseat Lovers, The National Parks and more. The music hall, in collaboration with neighboring Provo record shops and recording studios, has helped nurture a collaborative, close-knit music community.
Several other musicians, such as violinist, dancer and songwriter Lindsay Stirling, gained performing experience on the Velour stage, then went on to earn national attention on TV talent shows such as "America's Got Talent, "American Idol" and "The Voice."
Located in downtown Provo, Velour is dedicated to showcasing local musicians and touring acts. The all-ages venue, which doesn't serve alcohol, usually presents shows Wednesday through Saturday, starting at 8 p.m. and winding down around 11 p.m. (Read: "The Myth of Provo-bition: Where to Drink in Utah County")
Decorated with rich colors and textures, the venue offers an unusually cozy vibe for a music club. That's the aim of owner Corey Fox, who founded the venue as an engaging space to encounter a range of genres and sounds – from indie-rock and pop, to electronic, art rock and soul-pop. You'll find vintage art objects, curated by Fox, displayed on the walls.
Fox added "Live Music Gallery" to the venue's title because of what's displayed there, but also because he wants concert-goers to be reminded that live music is art. Great art is played on the stage nightly, and Fox wanted musicians, as well as the audience, to feel at home, he tells reporters.
"Velour doesn't have a built-in crowd like a bar does," Fox says. "It forces bands to work on their branding, marketing and promotion. This structure actually builds fans, which is a lot harder to do in a bar setting where a band is often background music."
"Velour is definitely the class of its league," says Karl Strange of the Provo-based indie-rock band The Love§trange. "When people go to Velour, they go there for an experience."
"Velour Live Music Gallery, in collaboration with neighboring Provo record shops and recording studios, has helped nurture a collaborative, close-knit music community."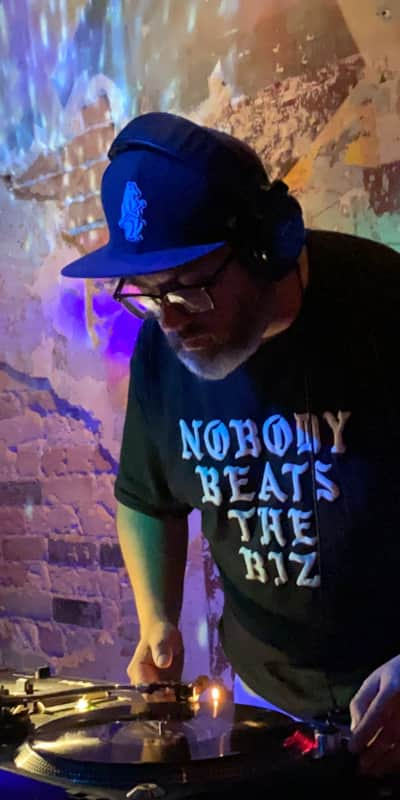 "A lot of what I attribute to the success of Velour, and the surrounding music and art scene, is there's all these young, creative, active students who want something to do, and want something to do together," says Sam Cannon, the owner of downtown Provo's 3hive Record Lounge, and Fox's longtime friend and music colleague.
Fox had worked in various music business jobs, and then says he got swept up in the excitement of Provo's local music explosion in the early 1990s. "A few bands emerged that were pulling 1,000-plus people to shows, which inspired new bands to pop up left and right," he says.
Fox managed bands and promoted concerts, and then, in 2003, he began managing Muse Music, a long-running Provo music venue. Drawing upon that experience, in 2006 he opened his own concert hall, Velour, aiming to bolster the local music scene and create a hub for bands to play.
On Velour's regular weekly schedule, Wednesdays are usually reserved for open mic nights, with a small entrance fee (usually $3 for performers, and $4 for the public). Open mics are first-come, first-served, and aim to allow up-and-coming acts to try out songs in front of interested audiences, while more well-known local musicians can showcase original, acoustic versions of their music.
COVID-19 restrictions caused Velour to halt public concerts for 16 months, until the music venue was reopened with a symbolic sage cleansing and three nearly sold-out shows in mid-July 2021. Its survival was based on "a continuous string of small miracles," as Fox tells it, including government grants, community fundraising campaigns and donations, as well as rental income from small parties and photography shoots. Several regulars also made unsolicited donations every month through the venue's long closure that helped pay the bills, Fox says.
Reopening prompted sensory overload, being around so many people after the music hall was dark for so long. Those feelings were paired with seeing the pure joy on the faces of music lovers, Fox says, as well hearing from audience members about how much the venue means to them. "Velour would not be alive without this amazing community's support," Fox said shortly after the successful re-opening weekend. "They rallied behind me when I had a kidney transplant 4 ½-years ago, and did the same for Velour during COVID." In a remarkable full-circle music community story, Fox received a kidney transplant from Brandon Robbins, frontman of The Moth & The Flame, who got his start as a musician at Velour. Imagine Dragons and Neon Trees joined forces to host a #FreeTheFox YouTube fundraiser in August 2021 to raise funds to help pay Velour's mortgage.
Turning the Spotlight on Provo's Music Scene
A score of notable acts have found success after playing at the Provo venue. Events such as Velour's Battle of the Bands competition, held every six months, spotlights emerging local bands, offering them the chance to earn prizes and recording time.

The pedigree of past winners is impressive, including Neon Trees, Imagine Dragons, The Aces and The Backseat Lovers. In the past 15 years, Fox says, six Utah bands have signed to major labels from the Velour stage, while other Provo-launched performers have gone on to achieve national and international fan bases. "I think most Battle of the Bands are often looked at as being kind of juvenile, but I think the structure of ours has proven to be very successful in both growing and launching new bands into the scene, along with building camaraderie over competition," he says.
Also significant to the local music community are recording studios, such as the recently refurbished June Audio, where bands can work with successful producers such as Scott Wiley or Nate Pyfer. June Audio records top local bands, as well as drawing industry icons, such as John Legend, to record in Utah, Fox says.
One attraction is the studio's state-of-the-art equipment, plus vintage gear that's familiar to engineers and producers from around the world, Wiley says. "We also have a very large selection of instruments and amplifiers — drums, guitars, keyboards — something not found in most studios."
Pyfer, the producer, has an impressive musical pedigree, as well. He helped start The Moth & The Flame, and worked with the DJ Kaskade — aka Ryan Gary Raddon — to create the Grammy-nominated single "Atmosphere," and they've continued to collaborate. "The overall experience I try to achieve with everyone I work with is basically to be surprised," Pyfer says. "I want both myself and the artist to be surprised by something that happens by accident or unexpectedly."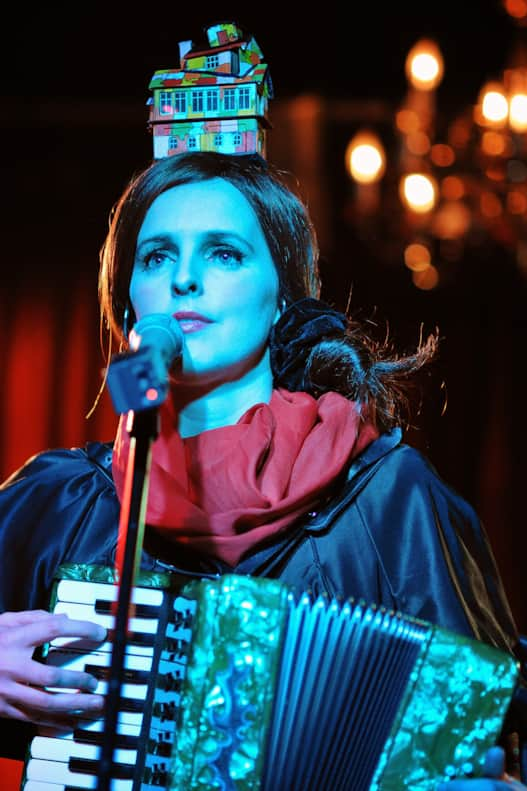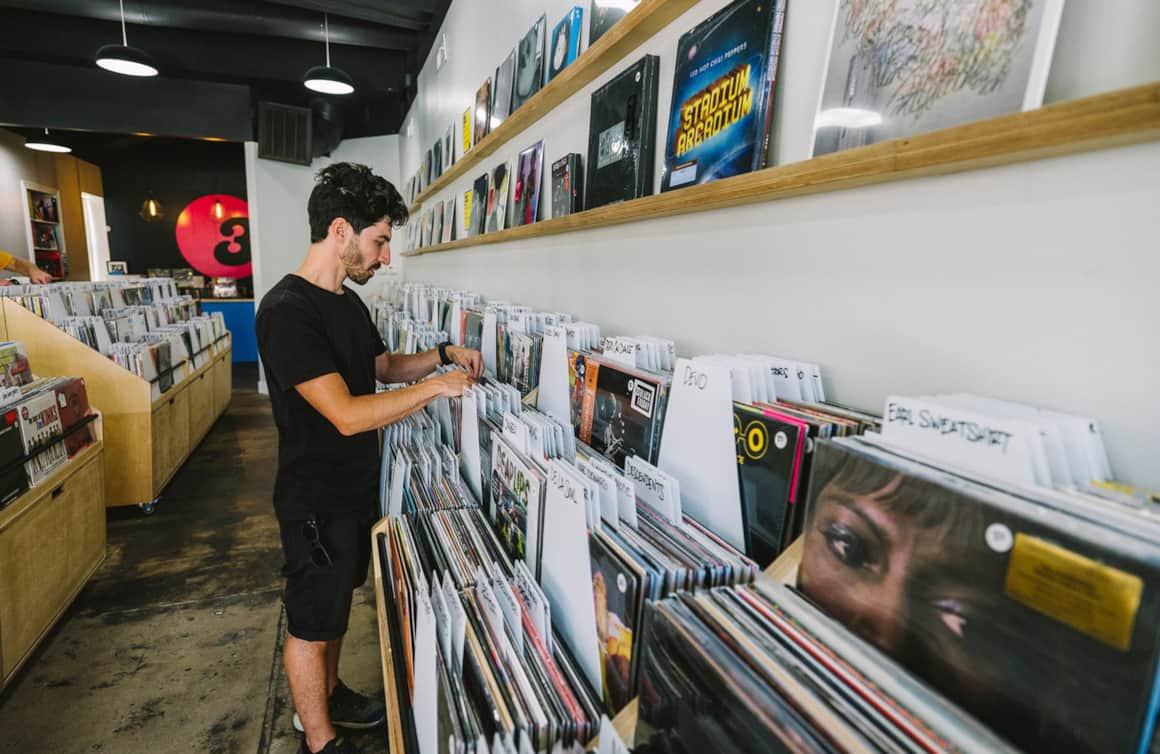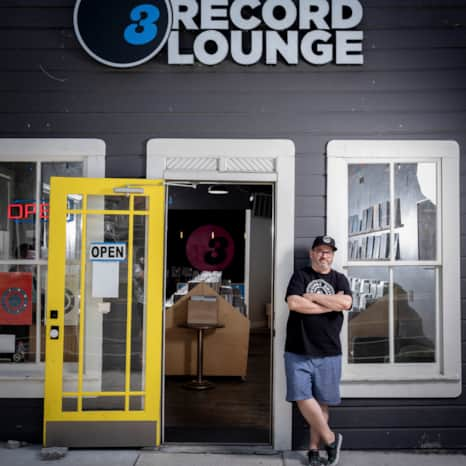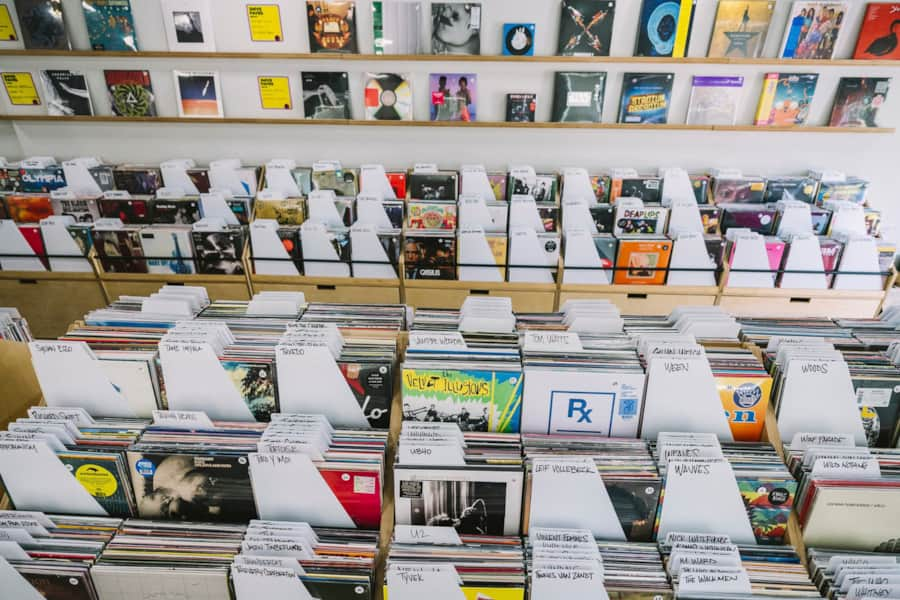 From Stage To Turntable
Also downtown, music-lovers have convenient access to Platinum Music and Sports Collectibles, which sells collectables as well as records, and Sam Cannon's 3hive Record Lounge, which stocks diverse and underground music-friendly inventory.
Cannon earned a degree at BYU and then worked as a music journalist. With friends, he launched the music blog 3hive.com in 2004 to discuss new releases. "As a music journalist, I got exposed to a wide variety of music," he says. "But most of all, I came to appreciate pop and rock of all eras more than I had before."
In 2016, they started selling records on the blog, which took on a life of its own. "We expanded our inventory and started doing pop-up events and fairs in Provo, where we met a lot of people who shared our enthusiasm for music and vinyl specifically," Cannon says. After hosting pop-up events at Velour, Corey Fox advised Cannon to open a store. "If Corey tells you to do it, you should do it," Cannon says.
In 2018, Cannon found a downtown location just blocks away from Velour to open a brick-and-mortar store, which aims to offer an inviting experience for music lovers. "I've certainly benefitted from instantly being part of the local music community from the minute we opened our doors," he says. "It's really an uncommon community, in the sense that everybody's so supportive of each other." The store's decor includes a coffee table and a sofa, where shoppers are encouraged to browse and linger.
Customers tell staffers they're impressed at the store's cleanliness, as well as its well-curated, well-organized selection. "If someone feels like they can drop into the store without prior vinyl shopping experience and still feel at home, that's good for them and good for us," he says. "We try really hard to reflect the tastes of our staff, and our tastes are pretty broad."
3hive Record Lounge offers a wide selection of genres, ranging from garage rock and pop to indie and punk. The shop also showcases releases produced by local acts, such as Sego, Mindy Gledhill and The Moth & The Flame. "If a local musician has music that they want to sell, even CD-Rs they burned themselves with hand-made art, we'll take it and sell it on consignment, no questions asked," Cannon says. "I feel like that's our responsibility."
"In a town like Provo, which boasts a lot of church buildings, music venues can attract another kind of congregation."
"We sell a lot of the classics from every era, including a lot of the 'modern classics' – Bon Iver, The National, Billie Eilish, Kendrick, Tame Impala," he says. "There are certain records I stock almost as Easter eggs. They're obscure or niche titles that may not sell for months on end, but when they do, I'll know we've made someone's day." The store also stocks a large selection of 45s, "probably more than any store needs to have," he adds. "But they're fun, and people like to buy them."
The store shut down for several months during the pandemic, but quickly pivoted to expand its online sales, offering delivery and curbside pickup. "When we went online, a lot of people started to discover us," including music lovers throughout Utah and across the country, Cannon says. "And I feel like they stuck around once we opened our doors again."
Music companies expanded limited-edition releases to independent record stores during the pandemic, which created more demand from homebound music fans. "The same way people got into crafts and cooking and trampolines, a lot of people were buying record players for the first time," Cannon says.
In a town like Provo, which boasts a lot of church buildings, music venues can attract another kind of congregation. "I have great conversations with people in the store of all different socio-economic backgrounds," Cannon says, before referring to his ongoing talks with a store regular who's also homeless. At 3hive, the unlikely pair are just two people who love The Cure.
After all, Cannon says, a record store can be like a church, a place where you find your people.
Pandemic updates and additional reporting contributed by Ellen Fagg Weist, contributing editor for visitutah.com.