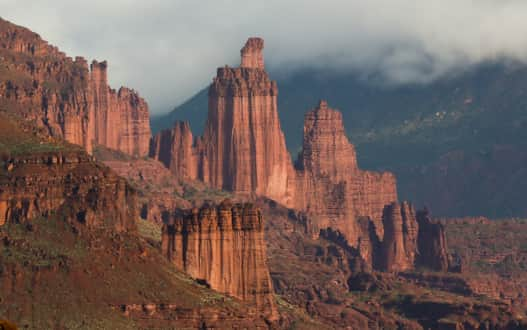 1. Fisher Towers
These formations are becoming as familiar to cinephiles as Monument Valley, thanks to Hollywood's ongoing love affair with them. The scenic drive up S.R. 128 along the Colorado River is your introduction to Fisher Towers, a cluster of soaring sandstone towers on BLM land northeast of Moab. After a short drive on a graded dirt road, you'll park at a trailhead and primitive campground among big-wall climbers. As you rise and descend along the rugged contours of the eroding landscape, you'll spot the climbers as tiny dots on their ascent up the jagged monoliths. Highlights along the hiking trail include Titan (the tallest of the towers), views to Castleton Tower and a culminating panorama that must be very near the end of the earth.
Travel Tips: Dogs are allowed on-leash. A metal ladder on the trail to navigate a cut in the trail will prohibit some hikers with limited mobility.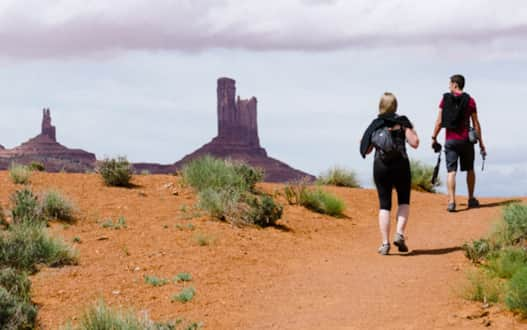 2. Wildcat Trail of Monument Valley
If you're looking for a trail to hike in Monument Valley Navajo Tribal Park — which is located along the border of Utah and Arizona — this is the one. While guided jeep tours are the most educational and in-depth way to see and understand the significance of the park, Wildcat Trail may be the most intimate.
Hiking these fascinating and arid lands gives a slow, shifting perspective on the monoliths that made this place famous. These are important lands for the Navajo Nation. The slow travel of hiking opens them up to a new level of appreciation.
Travel Tips: Summertime temperatures can exceed 100 degrees Fahrenheit. Large-reservoir Camelbaks are a great way to help ensure you have plenty of water. Respect tribal beliefs when visiting. Book accommodations at the View Hotel or nearby Goulding's Lodge well in advance.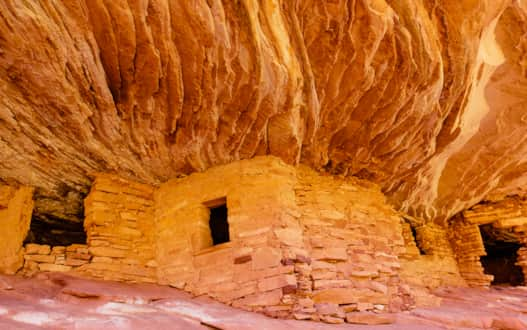 3. House on Fire
There are so many ancestral puebloan dwellings in the Four Corners region of southeastern Utah it's hard to know where to begin, especially with the boundaries of Bears Ears National Monument. A good place to start is S.R. 95, a rolling and scenic byway that from Blanding, Utah, on the east, rises up over the Comb Ridge of the Shash Jaa unit before approaching some of this remote and rugged area's most accessible hikes. A stop at the Butler Wash overlook is a good introduction (one mile, round-trip, with interpretive signage by the Friends of Cedar Mesa), but give yourself a couple of hours to hit the South Fork of Mule Canyon, on county road 263, east of the well-marked Mule Canyon turnoff and just before mile marker 102.
Drive this dirt road to the fee box then continue about a quarter mile to the trailhead for Mule Canyon. The mile to House on Fire trail is mostly flat, but it crisscrosses a sandy and rocky wash and is mostly exposed; hike with care and be sure to carry plenty of water. The ruin itself is not marked, so keep your head up and watch for the distinctive rock dwelling on the right. (Additional ruins exist further up the canyon.) When visiting ancient ruins, always practice Respect and Protect principles (Read: How to Visit Rock Imagery Sites Like an Archaeologist). Do not climb in or on ruins. Do not move rocks or anything else. While they have lasted for hundreds of years, they are fragile. Instead, notice the ancient thumb prints in the adobe mortar and the assembly of stones and imagine life in this remote territory in a sea of canyons in the heart of the Colorado Plateau.
Travel Tips: The House on Fire "effect" occurs late morning, and is best photographed from some very specific locations as the light bounces off the canyon wall. The wonder of the ruins, however, can be experienced any time of day. Bears Ears National Monument Day hiking passes are required year-round for day hiking in the Bears Ears National Monument, visit recreation.gov to obtain a pass.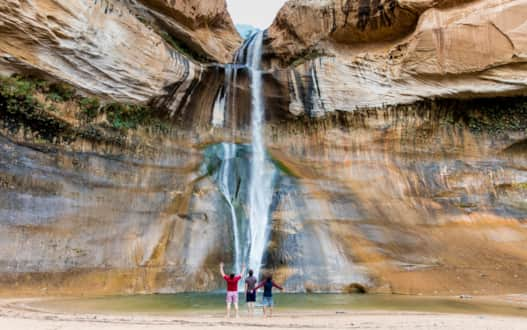 4. Lower Calf Creek Falls
Three miles of hiking in the desert of Southern Utah often culminates in imaginative formations and sweeping panoramas. The big reveal of the Lower Calf Creek Falls hike is so stunning and so unexpected, it has become one of the most-visited stops between The Mighty 5 national parks: It's a 126-foot waterfall and plunge pool oasis in the desert. But the pictures don't do it justice, nor do they reveal the lush, riparian trail of colorful sands, switchback slickrock and a well-marked interpretive trail experience.
Travel Tips: Parking is limited for this popular trail. Arrive early and carry water, snacks and, if it's a warm day, a towel to dry off after a cooling dip in the plunge pool of the waterfall.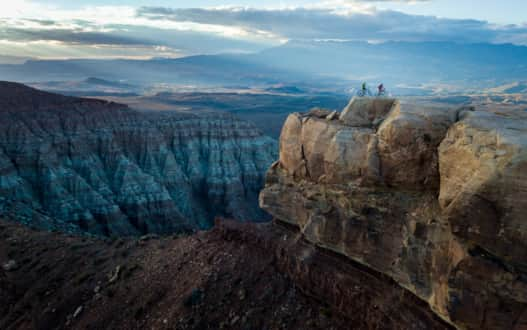 5. Gooseberry Mesa
The signs might as well read, "Welcome to Mars." Far away from any semblance of civilization and surrounded by a seemingly endless horizon of dramatic desert landscape, you might have the place to yourself. Gooseberry Mesa, a short drive from nearby Hurricane, Utah, is positioned to have vantage of it all, and the wind-sculpted rock surface atop this large plateau creates a world all its own. This gem of BLM land is most well known as a mountain biking destination and attracts riders from all over the world. (Area guides have the latest mountain bikes — it's probably easier than you think — and can lead virtually any skill level out on the mesa.) For hikers, it's a wide-open canvas of exploration.
Travel Tips: The mesa will get very hot in summer and water is not available anywhere on the mesa, so bring plenty, as well as sun protection during any time of year.
6. Kodachrome Basin State Park
The turn south from the All-American Road: Scenic Byway 12 feels...strange. The horizon is vast. Where am I going? After a few minutes and another turn, some formations begins to appear. At dusk, the sun saturates them and they turn to imposing silhouettes against a moon-lit sky or shadows beneath a pristine starry sky.
The trails of Kodachrome Basin State Park weave among 67 colorful monolithic stone spires, called sedimentary pipes, and every trail is spectacular. The park offers trails for virtually every ability, from the half-mile interpretive Nature Trail to the much longer 3- or 6-mile double loop of the Panorama Trail, which reveals much of the park's fascinating geology. Get a bird's-eye view from Angel's Palace.
Travel Tips: Keep dogs on-leash and always stay on the trails to protect fragile, protective communities of organisms known as cryptobiotic crust. Kodachrome Basin State Park is an IDA-accredited International Dark Sky Park.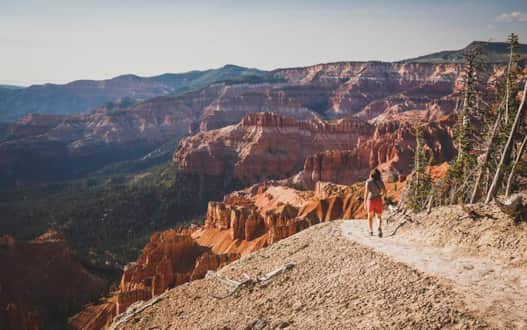 7. The Ramparts of Cedar Breaks
It's only a short walk from the parking lot at Cedar Breaks National Monument to the rim, where a multi-hued fairyland amphitheater plunges 2,000 feet into the plateau. This scene, alone, makes Cedar Breaks worth the drive, but the hike along the rim reveals everchanging angles into the wildly colorful landscape of eroding limestone, shale and sandstone. Red, orange, yellow and purple become even more vibrant with the rising and setting sun.
It's about a mile to Spectra Point, where you'll get your introduction to the elegantly twisted bodies of the grand, old bristlecone pines. The next mile rises and falls along an alpine stream to the park's marquee overlook at The Ramparts.
Travel Tips: Two miles doesn't sound like a lot until you factor in the elevation of 10,000 feet. Carry water and a snack. Look closely and you may see marmots watching you from their back porch, perched on the precipice of Cedar Breaks. Come for the scenery but stay for the star parties: Cedar Breaks is an IDA-accredited International Dark Sky Park.