Four Corners Monument
When government surveyors found where the states of Utah, Arizona, Colorado and New Mexico came together, they installed a simple cement pad marking the spot in 1912. Over time, the monument evolved, with a granite marker bearing a copper disc established in 1992. Further improvements came in 2010 when the site added two intersecting lines through the center disc, marking the boundaries, alongside the seal of each of the four states.
Four Corners National Monument is administered by the Navajo Nation Parks and Recreation Department. At the site, Native American artisans sell handmade jewelry, crafts and traditional foods from numerous booths and shops. The monument's visitor center includes demonstrations and information about native cultures in the region.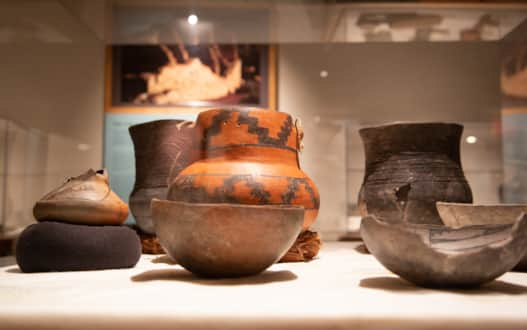 The Four Corners Experience in Utah
Take a drive along Trail of the Ancients Scenic Byway to immerse yourself in the Four Corners region, soaking up the history, culture and endless scenery. The route begins in Blanding, where you can see Ancestral Puebloan artifacts and a 1,000-year-old kiva at Edge of the Cedars State Park Museum.
Meander along State Route 95, leaving plenty of time to stop and explore between Blanding and Natural Bridges National Monument. Comb Ridge, Butler Wash, Cedar Mesa and Valley of the Gods are popular stops along the Trail of the Ancients Scenic Byway.
Spend time in the Four Corners gateway communities to get a true touch of the region. Basecamps could include Mexican Hat, Bluff, Blanding, Monticello or Moab. These areas offer various accommodations and dining options, but during the off-season between October and May, call ahead to find out what's open
"When visiting tribal lands, consider taking some time to ponder the past and the present and learn about the unique cultural elements of this sacred region."
What's Nearby
Bears Ears National Monument

Explore Bears Ears National Monument, which was just established in 2017, but be aware it does not have much infrastructure in place. Please be respectful of the land, its natural, archaeological and paleontological resources, and the people who are closely tied to this sacred land.

Canyonlands National Park

Canyonlands National Park allows for a wide array of recreation experiences, from short and scenic family hikes to rugged backcountry adventures. Find solitude in the backcountry, camp under the stars or explore the Green and Colorado Rivers.

Glen Canyon Recreation Area and Lake Powell

Glen Canyon Recreation Area and Lake Powell are favorite regional spots to soak up the sun while water skiing, jet skiing or renting a houseboat. Relax and soak up the stunning scenery.

Hovenweep National Monument

Hovenweep National Monument provides a window into an ancient world. Ancestral Puebloans lived here around 500 CE to 1300 CE. Examine the intriguing architecture and towers, and lace up your hiking boots for a jaunt on trails to Hovenweep Castle and Tower Point.

Monument Valley Navajo Tribal Park

Visit Monument Valley Navajo Tribal Park and take a Jeep tour to explore Navajo hogans, picturesque sandstone formations and iconic scenery, while learning about archaeological sites, human history and culture.

Natural Bridges National Monument

Three expansive rock arches are a highlight of Natural Bridges National Monument. It is the world's first International Dark Sky Park, and its 6,500-foot-elevation makes it a bit cooler than surrounding areas in the summertime. Enjoy hiking, exploring canyons and stargazing a bit off the beaten path.
Plan Your Four Corners Trip
Stunning scenery and unique cultural opportunities await in the Four Corners region of Utah, but a trip here requires a little extra preparation. To prepare for an unforgettable adventure, be sure to learn about proper protocols when visiting tribal lands, select the best season for your needs, plan for variable weather, print good directions ahead of time and bring an up-to-date printed map (in case you're out of cellphone range).