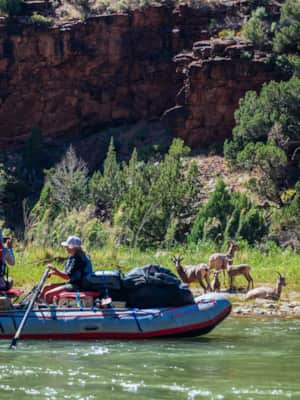 How to Find a Guided Outdoors Experience
You might not be a pro climber, camper or explorer, but Utah's diverse collection of outdoor guides has all of the expertise you need to have an adventure worth getting stoked about.
How to Find a Guide
TripAdvisor
TripAdvisor compiles thousands of listings for companies that offer guided experiences. You can search for any area and activity you'd like to try, browse company offerings and reviews, and book a trip right on the site. TripAdvisor can also connect you to places to eat and stay if you're only looking for a part-day excursion.
Viator
Owned by TripAdvisor, Viator is an easy way to look up affordable guided adventures around the globe. Viator shows you what's included in each experience, when you will depart and return, and additional info you'll need to prepare. You can reserve your spot and pay now or later. See Viator's Utah listings
AirBnb Experience
Find guided activities throughout the state through Airbnb's Experience platform, a partnership established with the Utah Office of Tourism. Airbnb Experiences connect you to unique outdoor and cultural experiences hosted by passionate locals. Ready to tour a local Alpaca farm, anyone?
Contact the National Park Service
There are lots of guided experiences that are offered in Utah's national parks. Park rangers offer their own tours or can connect you with the right groups who lead expeditions into the park you're wanting to explore.
Look locally
If you're familiar with the area you're visiting or know someone who is, one of the best ways to find a guide is by searching locally. Mom and pop outfitters are going to have the greatest expertise when it comes to the terrain, and asking locals or local businesses like hotels or restaurants can get you the best leads to find them. Contact regional travel offices, welcome centers and explore their websites.