Coronavirus Updates
National Parks and Public Lands
All national parks are open, but some services and activities are limited. Consult the current conditions and alerts page for each park before planning your travel.
In addition, please note:
Monument Valley Navajo Tribal Park and Four Corners are now open at 50% of maximum occupancy, along with all Navajo Tribal Parks facilities. Facemasks are required in public.
Facemasks are required in all national parks and monuments per the National Park Service's COVID-19 mask requirement. The requirement includes wearing a mask in all NPS buildings and facilities, including visitor centers and bathrooms and on NPS-managed lands when physical distancing cannot be maintained, such as waiting in lines, narrow trails and scenic overlooks.
Please visit individual park websites for details on operation statuses.
Parks are experiencing heavy visitation, please familarize yourself with Leave No Trace principles and the responsible travel ethos we call Forever Mighty.
Additional resources:
Utah State Parks
State parks are open to all visitors. Masks are required inside all state park visitor centers and facilities. Masks must also be worn at state parks wherever a 6-foot social distance cannot be maintained. See the latest information.
Cities
Several cities currently fall within moderate risk levels of transmission, but the Transmission Index guidelines permit operation of most businesses with a range of health and safety measures to protect business owners and patrons. Scroll down to learn about practices and requirements for dining, bars, live performances and more public spaces. Consult this resource for the latest local directives and orders governing each county and this PDF for full definitions and descriptions.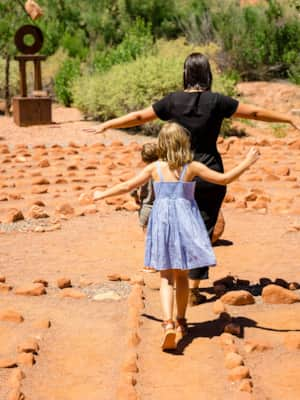 Utah's Artists Say: 'The Arts Will Help Us Heal'
Arts organizations have reopening ambitions to match the mountains.
Travel With Care
The state's travel guidelines request that the general public reconsider non-essential travel to areas with widespread community transmission of COVID-19. Adhere to the guidelines of the geographical areas through which you are traveling, which in higher risk areas may include self-quarantine for some visitors — consult with the chat at coronavirus.utah.gov if you are unsure.
Fortunately, public lands are open for dispersed outdoor recreation activities, which are a great way to stay active and follow public health guidelines to prevent the spread of COVID-19. Follow these adapted tips from the U.S. Forest Service to plan a fun and safe outing:
Before Your Visit:
Call ahead. Review the websites and social media that offer information on local conditions, but visitors are encouraged to reach out to local tourism contacts and land managers with any additional questions.

Select an appropriate activity. Hiking, biking, stargazing and dispersed camping are fantastic options. Avoid high-risk activities like rock climbing or backcountry activities, as law enforcement and rescue operations may be limited due to COVID 19 issues.

Select low-traffic locations and times. Discover a new area. Visit less-traveled locations like state parks and national monuments during non-peak hours to avoid crowding. Check out the regions that surround and compliment each national park.

Stay home if you feel sick. Follow CDC guidance on personal hygiene and social distancing before and during your visit. Stay up-to-date on latest instruction from the Utah Coronavirus Task Force.

Bring necessary supplies. Services like trash pickup and restroom maintenance could be limited or not available at some locations. Bring the supplies you might need such as trash bags and hand sanitizer.
During Your Visit:
Evaluate your surroundings. When you arrive at the recreation area, evaluate your surroundings. A full parking lot or crowded trailhead might indicate that there are too many people recreating. For your safety and the safety of other visitors, please consider changing locations or returning at a less active time. Always have a back-up plan at this time.

Keep your distance from others. Everyone wants to safely enjoy public lands. Please make sure to stay at least six feet away from other visitors as recommend by the CDC. Wear face coverings in settings where social distancing measures are difficult to maintain.

Support local. Find ways to support the local communities that surrounds these natural areas. Stock up with groceries locally, stop in an artisan shop or eat at a restaurant in addition to campfire meals.

Travel responsibly and reduce impact.

Familiarize youreslf with the travel ethic we call Forever Mighty and learn how to do your part to protect and preserve.