Salt Lake City's Must-See Street Art
Each location offers a great photo op as well as a story to pass on.
While adding texture to Salt Lake City as a whole, the more than 80 murals and art installations are evidence that a specific stairwell, wall or building can have its own story to tell. Urban street artists work within the constraints of falling plaster, electric boxes and zoning codes to bring flavor and perspective to the ordinary and mundane. Each mural is a testament that the import of a city isn't solely defined by its tallest buildings, fine art museums or impressive statehouses.
For a complete list of the city's murals and public art, as well as an interactive map, explore THE BLOCKS interactive map.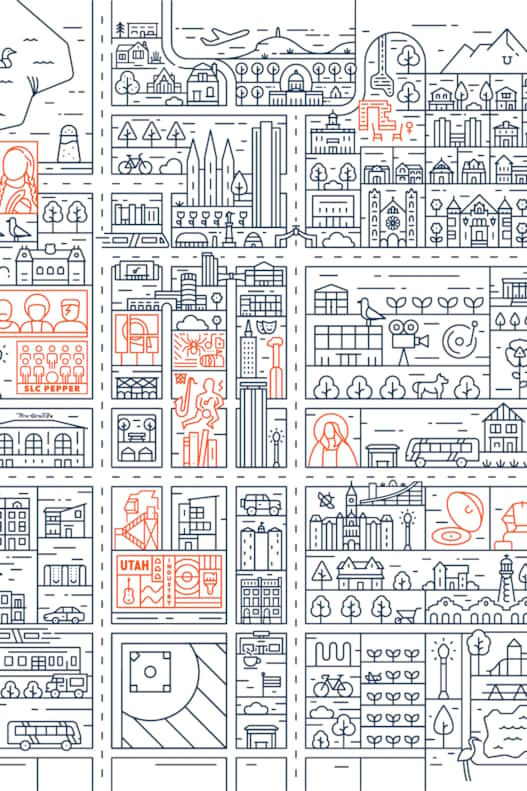 Murals
Ave Maria
By El Mac & Retna
156 E. 200 S.
A few blocks from The Cathedral of the Madeleine, this 44-foot mural depicts the Virgin Mary gracefully facing the majestic mountains and bearing her open heart. Her stature and symbolism evoke a sense of reverence and warmth for viewers.
Este Barrio No Se Vende
By Jessica Sabolgal
708 W. N. Temple
This portrait of Salt Lake community activist, Ella Mendoz, places her standing proud next to the words, "Este Barrio No Se Vende," meaning "This Neighborhood Is Not For Sale." The piece, created by a first generation Colombian-American artist, casts light on the resilience of the Salt Lake City's west-side community and its work to manage gentrification (Read: You Are Where You Eat: Salt Lake Latino's Perfected Flavors)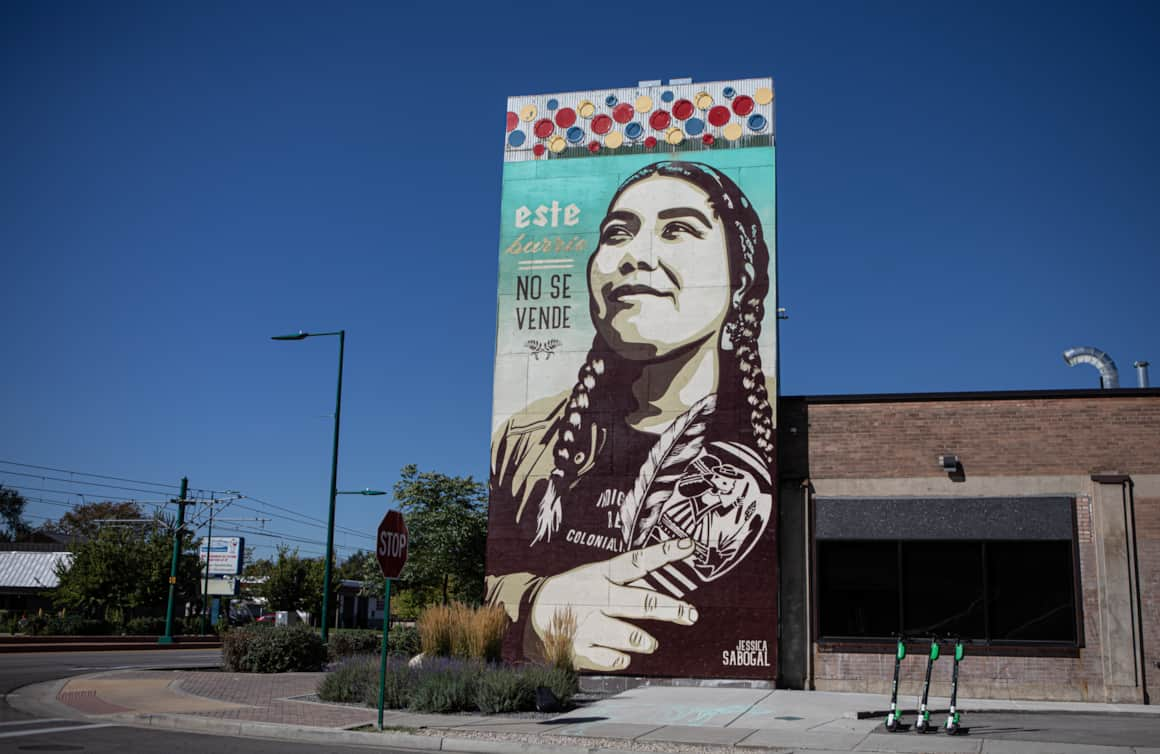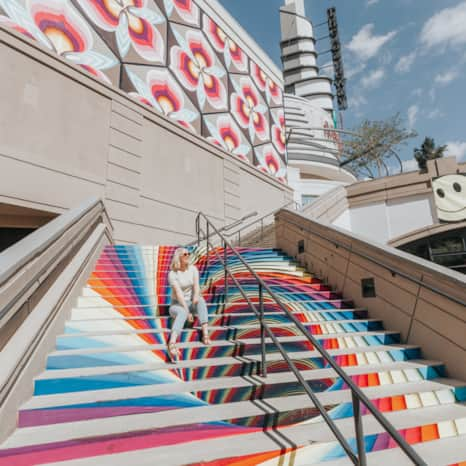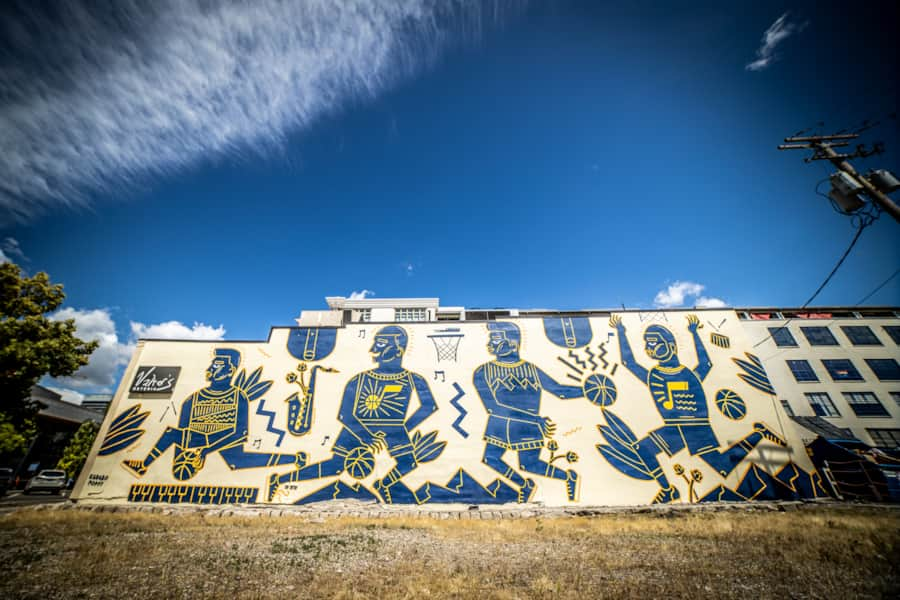 "Each mural is a testament that the import of a city isn't solely defined by its tallest buildings, fine art museums or impressive statehouses."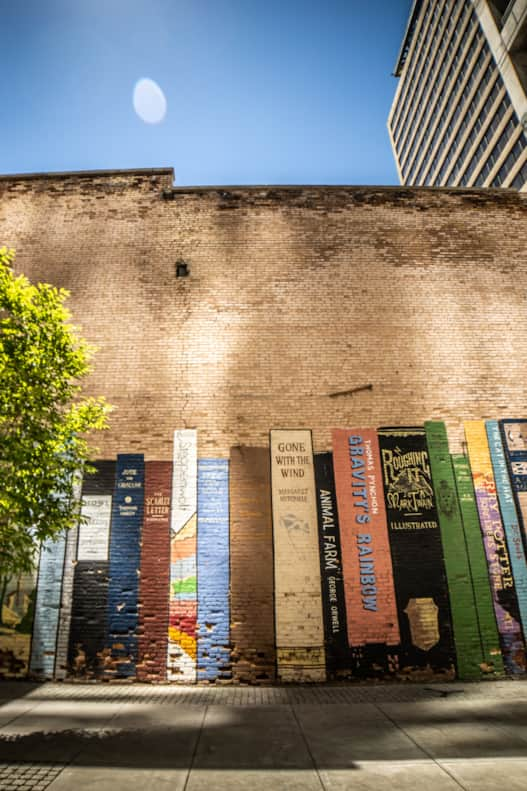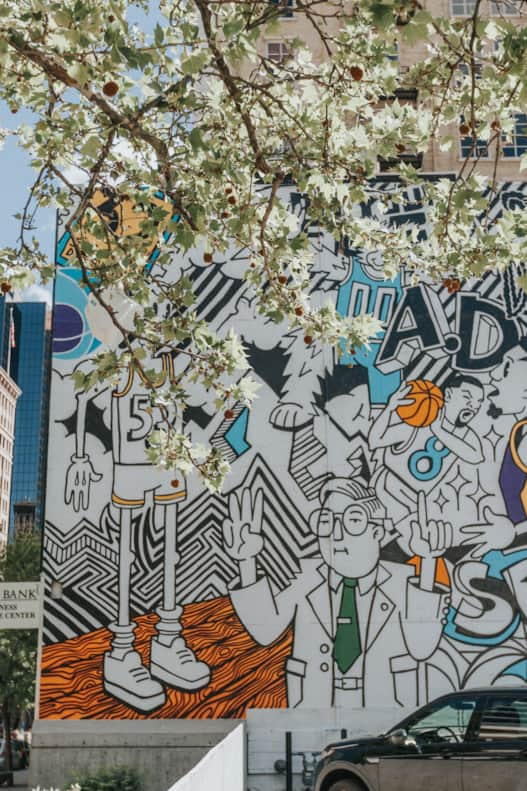 Book Mural
Artist Unknown
222 S. Main St.
In the 222 skyscraper's alley, this mural is a bookworm's dream — featuring a row of giant book spines reading iconic titles such as, "Harry Potter," "The Cat in the Hat" and "The Grapes of Wrath." Make sure to pay close attention to the bindings — they are replicas of rare and unique editions.
Legends of Rock
By Gina Ribadau
162 S. 400 W.
Gaze in the eyes of rock legends Mick Jagger, Freddie Mercury, David Bowie, Jimi Hendrix, John Lennon, Prince, Jim Morrison and Janis Joplin. Nearby, look for 8-foot cubes doning new mural additions — painted on International Women's Day in 2020 — of Dolly Parton, Bjork, Diana Ross, Amy Winehouse, and others. We're sorry if your favorite rock song gets stuck in your head as you walk by.
SLC Pepper
By Jann Haworth
250 S. 400 W.
Haworth, an artist associated with the 1960s Pop Art Movement in Great Britain and a current Utah resident, co-designed the cover of The Beatles' "Sgt. Pepper's Lonely Hearts Club Band" in 1967. Nearly forty years later, she decided to recreate the piece in mural form with contributions from some 30 other artists and the goal of showing a more balanced crowd — she included more women, influential people and people of various ethnicities.
Utah Jazz Mural
By Karabo Poppy Moletsane
173 W. Broadway
This creation features a unification of the Utah Jazz, the state's natural beauty and the artist's South African roots. Moletsane was 26 when she painted the mural, and her artistic portfolio includes work for Nike, Google and Apple.
Utah!
By Evan Jed
741 Kilby Court
This mural outside the beloved music venue Kilby Court is a melting-pot of honeycomb patterns, Utah-centric symbols, and sun-colored and blue-sky tinted paint all emanating a strong sense of grooviness.
Utah Jazz Anniversary Mural
By Trent Call
110 S. Main St.
This cartoon-esque, colorful collage celebrated the Utah Jazz's 40th anniversary in 2018. At first glance, fans will instantly understand what's going on in the piece, but others may have to do some research (or ask a local walking by).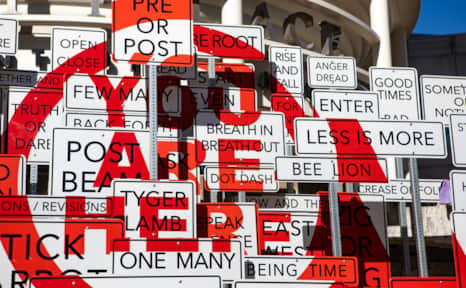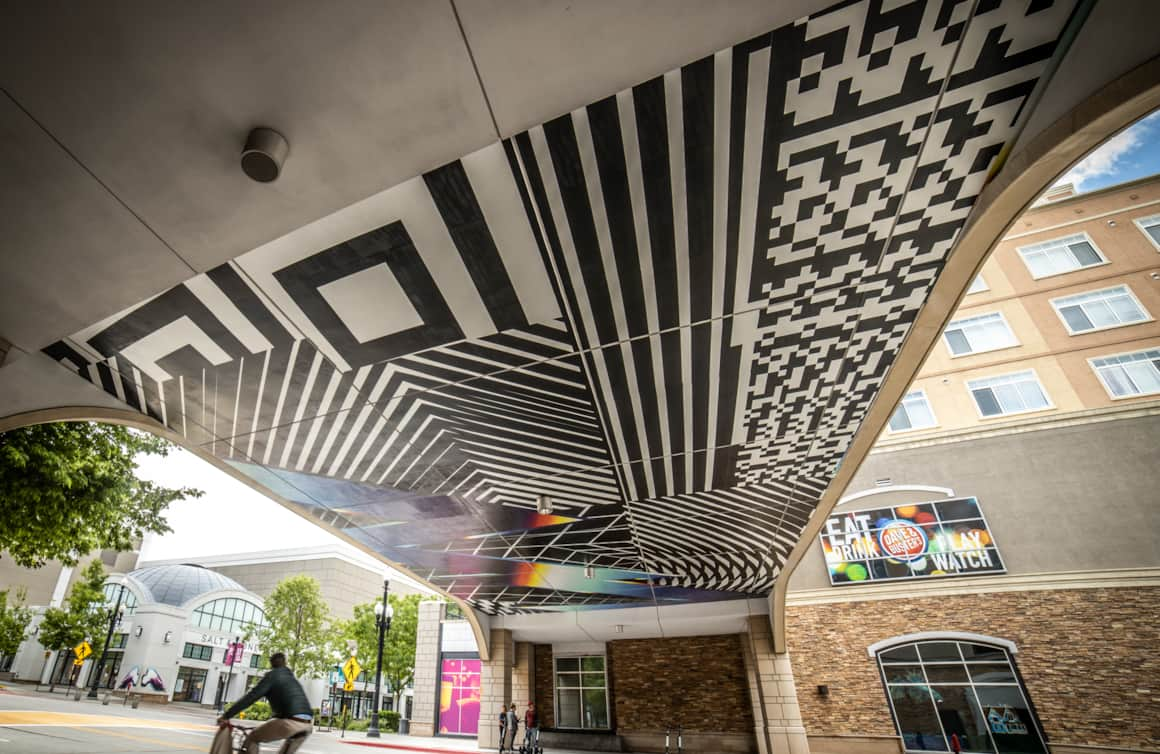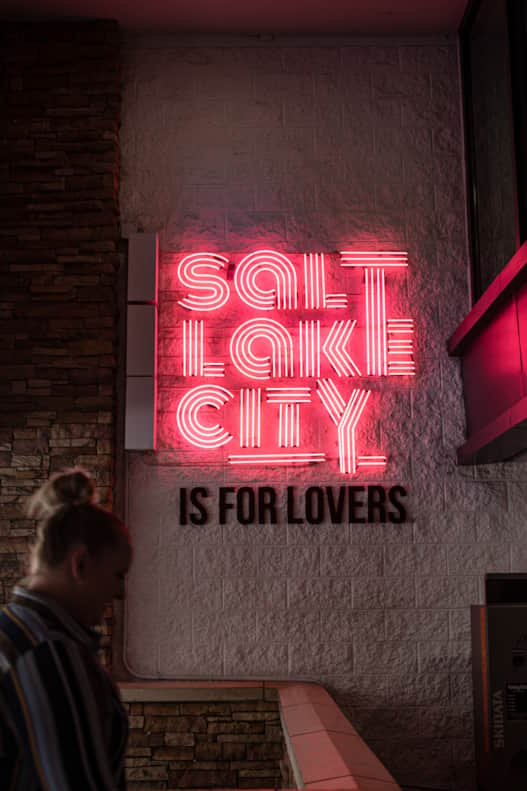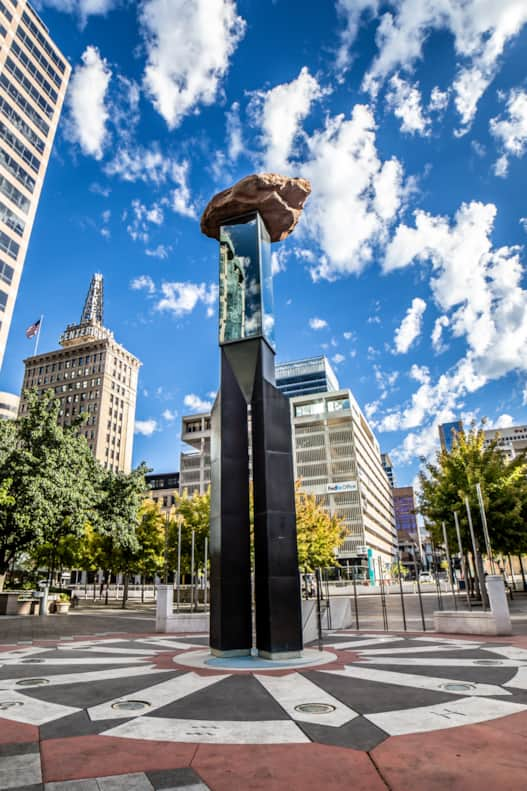 Art Installations
Point of View
By Aaron T. Stephan
100 S. W. Temple
This 2016 installation features a collaboration of more than 150 standard road signs along with the message, "You Are Here." The red bench on the sidewalk welcome passersby to sit and become part of the artwork.
Wave Harmonics
By Louise Bertelsen and Po Shu Wang
475 S. 300 E.
This interactive water sculpture is inspired by nature's "Cymatics." Viewers can step on a pedal and witness a demonstration of what the artists claim is "happening all around us."
Asteroid Landing Softly
By Kazuo Matsubayashi
201 S. Main St. (Gallivan Center)
The piece functions as a sundial with its structure pulling inspiration from Southern Utah's red rock landscape.
Sphinx
By Thomas Battersby Child, Jr. and Maurice Brooks
749 E. 500 S. (Gilgal Sculpture Garden)
Part of Gilgal Sculpture Garden, the Sphinx displays Joseph Smith's head -- he's the founder of The Church of Jesus Christ of Latter-day Saints -- on the body of a sphinx, an ancient symbol of riddles and mystery. The sculpture aims to represent Child's belief that the answers to life's great questions cannot be discovered with the intellect, but through faith.
First to Vote Sculpture
By Kelsey Harrison and Jason Manley
300 N. State St. (Council Hall Building)
Placed in front of the building where the first female vote was cast under equal suffrage laws in the United States, this interactive sculpture allows viewers to contemplate the achievements of Utah and national suffragists and women's advocates, as well as voting rights achievements for minorities throughout the 20th century (Follow the itinerary: Attagirl! Women's History and Highlights). Read more about Utah women's history and stories at visitutah.com/she