The Legendary Joe McQueen: Utah's Original Jazz
Legendary saxophonist Joe McQueen came to the city of Ogden, Utah, in 1945 for a two-week gig and he never left. For decades he was the musical godfather of Ogden's lively 25th Street.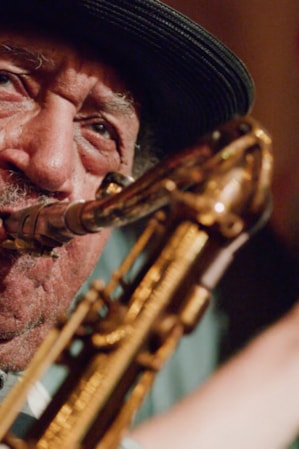 "How about 'Georgia.' You up for it Joe?"
From his seated position, Joe McQueen took a drink from a bottle of water and nodded his head, pulling the microphone close to his face with one hand as he holds his saxophone in the other. It takes a little warming up, but at 98 years old, jazz saxophonist Joe McQueen could still belt "Georgia on My Mind" and without missing a beat pick up his horn and get back to work.
Joe McQueen arrived in Ogden, Utah, in 1945 with his wife, Thelma, and band for a two-week gig. Then, as now, the jagged ridges of Ben Lomond, Lewis Peak, Malan's Peak and other mountains with only numbers for names frame the city, a rock-solid set piece to a city that has grown up a lot, but hasn't forgotten its roots.
More than seven decades after first arriving in Utah, McQueen played regular gigs ranging from swelling crowds at the Utah Arts Festival to packed houses on Ogden's historic 25th Street and near downtown Salt Lake City at the indescribable Garage on Beck. In other words, wherever the music takes him.
Music fans throughout Utah mourned McQueen, who died on December 7, 2019, 74 years to the day after he first arrived in Ogden. At 100, the musician was still playing his tenor sax at gigs around town, still celebrated with concerts every April 18, designated in 2002 as Joe McQueen day by Utah's governor.
A Community Horn
According to blues musician and radio DJ "Bad" Brad Wheeler, "Joe didn't play because he wanted to be famous; he played music because he loved jazz."
Forrest Crawford, a professor and civil rights activist, elaborates: "You got to understand the reason why Joe played his horn the way that he played it is that it was a community horn. It was a community sound." Crawford says McQueen figured out the relationship between music that entertains and music that communicates something more.
McQueen's percussionist Don Keipp knows what that is: "You hear love, you hear passion, you hear the truth."
There was no better town for McQueen than Ogden. When writer Paula Colman visited the city in Utah, she discovered that "community is the bedrock of Ogden." She likened Ogdenites to an aggregate of unique minerals bound together. Bound together, but perhaps a little gritty, referencing the city's "untamed" days as a rugged railroad outpost of the American West, less than 45 minutes from Salt Lake City, but almost a world apart.
Joe McQueen played everywhere from elementary schools to weddings and funerals.
"I know The Good Lord likes jazz because if He didn't I couldn't play it like I do."
Person From Another Era
It might be that most professional musicians don't arrive at the truth in their music without a lot of practice. Joe stated it a little differently: "All I know is I just play. I know The Good Lord likes jazz because if He didn't I couldn't play it like I do." His origin story is classic: a confluence of depression-era economic challenges, the Jazz Age and pure, natural talent inform McQueen's saxophone. And as Wheeler observes, he "was there when they invented jazz" and would go on to play with Count Basie, Duke Ellington, Ray Charles, Lester Young, Dizzy Gillespie, even Hoagy Carmichael, who composed "Georgia on My Mind" in 1930.
"You don't like to use the word dinosaur," says Wheeler, "but I mean, literally, Joe was like that. He was a person from another era that doesn't exist anymore. He's so rare."
It is perhaps no coincidence that a jazz musician from another era set roots in Ogden, a place as steeped in its own history as it is skillfully improvisational in its transition to vibrant urban setting. And like the musician blessed with innate natural ability, Ogden is harnessing the gifts of its bedrock community and vast outdoor recreation access.
Said another way, Ogden may not have learned the rules in a formal setting, but it seems to have an ear for city planning that puts people and character first. It's a city on the rise that deeply values its humble jazz legend, Joe McQueen, seen in its murals and music venues. For McQueen, Ogden was home — and that's where the music lives.