Torrey Cidery Draws Upon a Wild Bunch of Apples
Established in the historic orchard lands of Central Utah, Etta Place Cider draws upon the paradoxical story of its namesake's outlaw life running around with Butch Cassidy's Wild Bunch.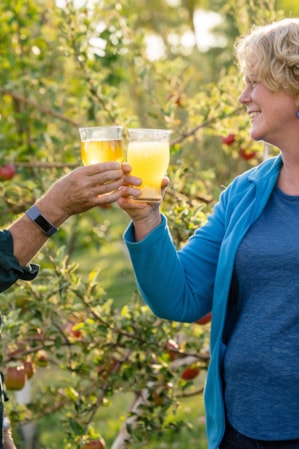 The harvest moon hangs ripe over the Etta Place Cider apple orchards. With its golden glow seen through tree branches, the moon appears to be one of the many heirloom apple varieties waiting to be plucked, juiced, and made into hard cider.
The autumn night feels like a fresh, unbottled cider — crisp and welcoming. The days here in Torrey slowly turn in towards themselves with winter approaching. And Ann Torrence and Robert Marc rush against the fleeting daylight hours to harvest fruit for cider making.
The moon pours across the night sky, illuminating red rock mesas in the distance. And only now can the two, with cider in hand, take respite. Yet the owners and cider makers want to discuss the work yet to be done.
It's the fall of 2020, and the Etta Place team is filled bubbling with hopeful effervescence. These apples will be the first round juiced and sold for public consumption.
"We want to give people a truly unique, novel experience that will help them remember their once-in-a-lifetime trip through Utah's national parks."
– Ann Torrence, Co-owner of Etta Place Cider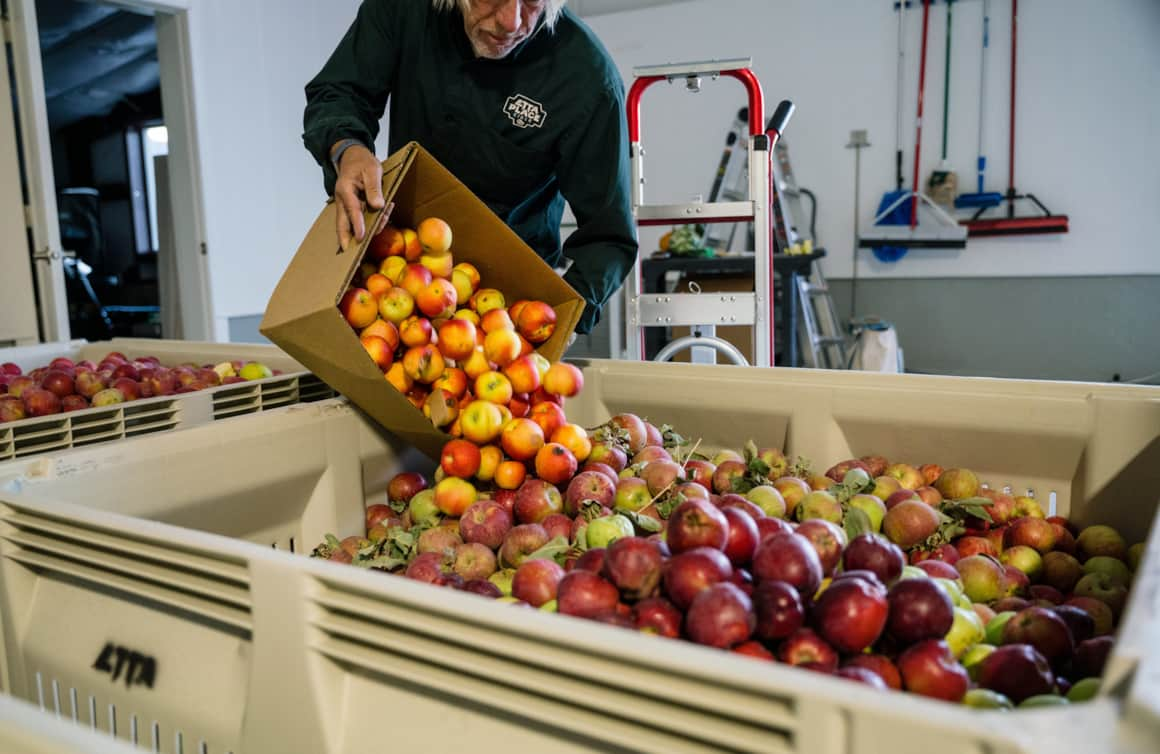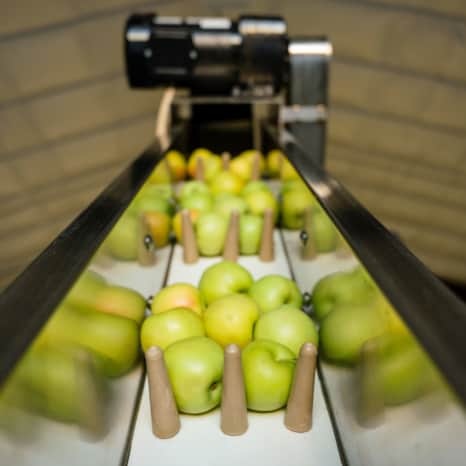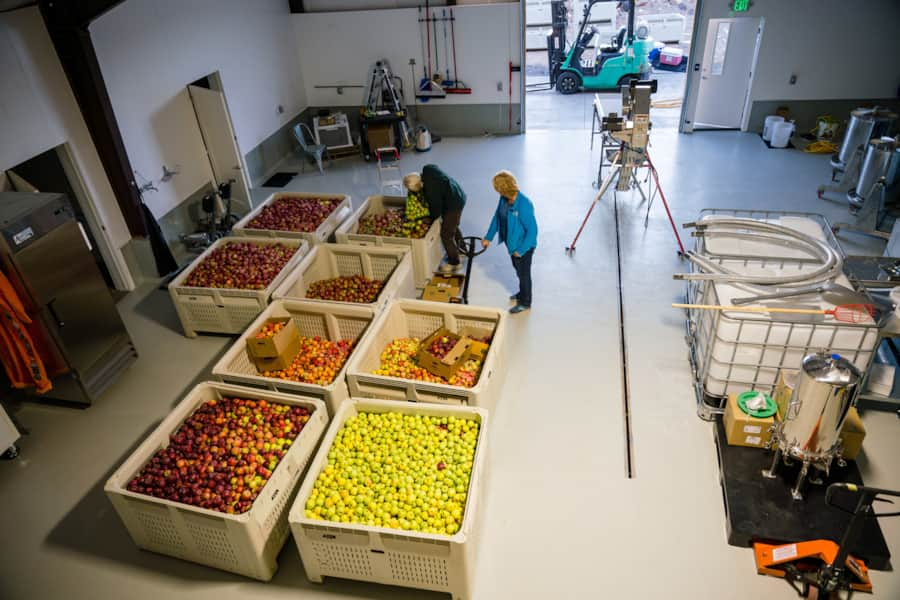 Eight years after planting their first apple trees, this southern Utah cidery has received its liquor license, so production is ramping up. Construction continues on a tasting room which will welcome visitors en route to Capitol Reef National Park and scenic Highway 12.
With the opening of that tasting room, the Etta Place Cider experience will be anchored in Torrey, a town with a rich history of apple growing and agri-tourism. "By the time tourists get to town, they're thirsty," Torrence says. "We want to give people a truly unique, novel experience that will help them remember their once-in-a-lifetime trip through Utah's national parks."
And the cidery's appeal draws upon stories of its namesake, outlaw Etta Place. Torrence and Marc like to imagine her hastily grabbing some apples while on the run with the Wild Bunch to Robber's Roost. (Read: "In Search of Robber's Roost" and "The Return to Robber's Roost.") Her life remains a bit of a mystery, but it's documented she was educated, articulate and liked fine things. And yet, she ran from the law with a motley crew. (Read: "Butch Cassidy's West.")
Marc and Torrence's cider won't be made for mass distribution, so the couple have taken creative license to craft experimental offerings, sometimes in micro batches, from their diverse apple crop of more than 80 varieties. "Having that many varieties is just insane," jokes Torrence, who spent a career as a photographer. "I have to stop being a tree collector, and become a fruit grower."
Ashmeads Kernal, Brown Snout and Dabinett, to name a few — their apples are of rare varieties, nuanced for a truly distinct palette.
Unlike grocery-store staples, such as Golden Delicious or Gala, these specimens don't ship well or necessarily look pretty, so you've likely never heard of them. But who cares when you're drinking them? The syrupy-sweet alcohol that comes to mind when you think of hard cider is not what you'll find here. Think wine, not juice.
With a craftsman's panache, Etta Place delicately balances the heirloom apples to bring out the unique flavor of each. "The character, tannins, acid, floral, spice — they're hiding out there. The question is how to put them together," says Marc, a retired scientist. "It's like the biggest chemistry set ever."
It's the couple's unrelenting curiosity, a joy for what the fruit could be — as well as a certain playfulness — that will be bottled into this year's batches.
"Why grow all of these different apples?" Marc asks from their front porch, pointing into the darkness at the orchard adjacent to their homestead, within site of another orchard down the street. "Well, you can keep the essence of the apple in the cider. Honor and be true to it."
"With a craftsman's panache, Etta Place delicately balances the heirloom apples to bring out the unique flavor of each. "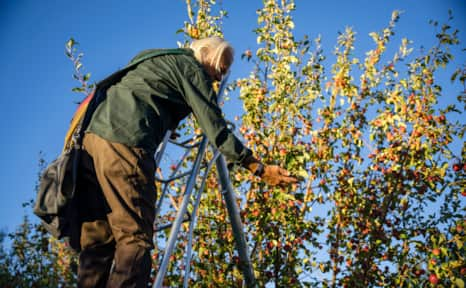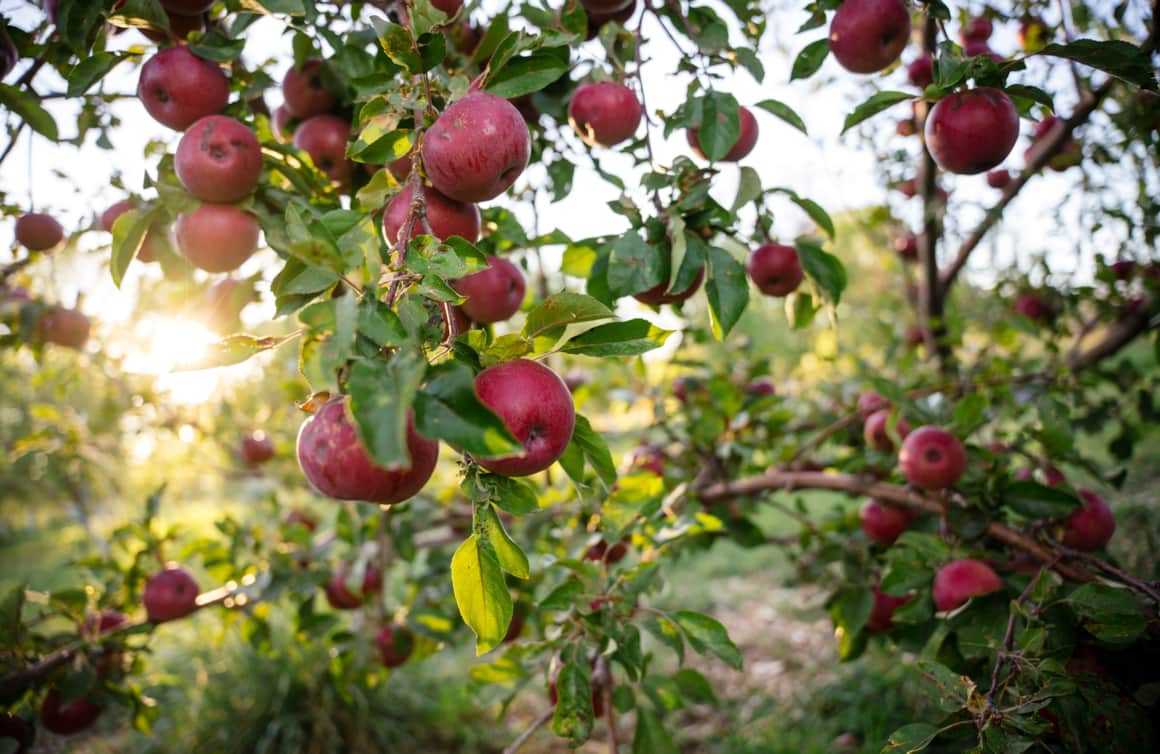 Throughout the summer, all of the apple varieties taste similar. But in the last five or six weeks before harvest, the apples put on their distinct qualities. "It emerges like magic," he says.
This element of surprise is what drew the couple to apple growing, and eventually, cider making. Marc remembers apple picking in Capitol Reef at one of the national park's many orchards.
Marc picked what looked like a familiar golden apple, but when he bit into it, he was overwhelmed with flavors of ginger, black pepper and vanilla. "It was an epiphany, like all the good food was hidden from us," Marc laughs.
Apples, considered the metaphoric forbidden fruit, have a rich history in the area. Early settlers, members of The Church of Jesus Christ of Latter-day Saints who landed in what's now Capitol Reef and the greater Torrey area, planted orchards as a cash crop and for subsistence. Torrence jokes that more than likely a few homesteaders had a still, but that's not a verifiable fact.
The Fruita Orchards, a historical agricultural site, consists of more than 3,100 trees. Contemporary tourists are invited to visit the u-pick orchards; simply enter the unlocked orchards following the signs designating fruit picking, and then pay at the self-pay station.
Considering Fruita's history reminds the cider makers of the dichotomy of namesake Etta Place's personality. They think of the paradox in her story as a fitting metaphor for making wine-like hard cider in the desert. "A little bit rough around the edges," Torrence says, "while also being refined."
Good Roots: The Faces of Utah's Food Culture
Meet some of the agricultural entrepreneurs that are elevating the tastes of Utahns and visitors through heritage and best practices, new and old.
What's Nearby
Capitol Reef National Park

Even considering Utah's many impressive national parks and monuments, it is difficult to rival Capitol Reef National Park's sense of expansiveness, of broad, sweeping vistas, of a tortured, twisted, seemingly endless landscape, or of limitless sky and desert rock.

Fishlake National Forest

This is a paradise known for its beautiful aspen forests, sundry scenic drives, trails, elk hunting, and mackinaw and rainbow trout fishing. Recreational opportunities include scenic drives, mountain biking, snowmobiling, hiking, camping and OHV use.

Fremont Indian State Park and Museum

Part way through the rugged Clear Creek Canyon, your team uncovers what turns out to the be largest known prehistoric Fremont Village site — more than 100 structures filled with countless artifacts. The extensive excavation from that highway discovery is preserved in nearby Fremont Indian State Park.

Mystic Hot Springs

Unwind in an outdoor bathtub filled with mineral water at Mystic Hot Springs, a natural hot spring resort in neighboring Monroe. The hot water flows from the ground and through a channel into eight antique bathtubs for personalized soaking. Two pools — one shallow, one deep — are open for soaking too. Restored pioneer cabins and retro vans are rentable if you want to stay for a night or two.

Old Lime Kiln

Just north of Richfield, take a short hike up to a well-preserved lime kiln from the 1800s, passing an old water wheel and Sevier County's first jail on the way. The limestone was quarried from nearby mountains, melted in the kiln, and cooled to leave a white powder behind. The lime powder was used in brick-making, mortar, and plaster for homes, churches and schools.