11 Utah Scenic Byways for Leaf Peeping
Explore the best scenic drives in Utah for fall foliage paired with unexpected adventure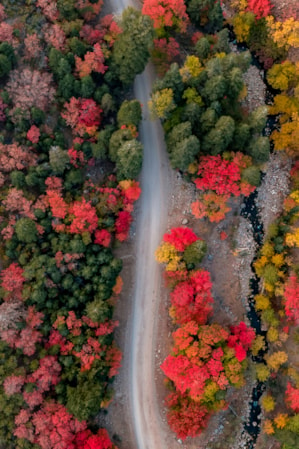 The lure of fall foliage is no secret. Bursts of saturated yellow and fiery red demand your eye and call you to the open road. With forecasting apps and digital foliage maps, terms like peaking and peeping are common language among travelers with a craving for visual fall flavor.
But when it comes to Utah's fall foliage, travelers pursue the leaf peeping road-less-traveled. Often overlooked for New England or the Smoky Mountains, Utah's wide array of forests and state and national parks — each located at different elevations and receiving varying amounts of rainfall — make for a diverse foliage spectacle. Utah's geography creates a multitude of peak viewing times throughout the state, so you can come early or late in the season and still spot breathtaking colors courtesy of the canyon maples, quaking aspens, scrub oaks, Douglas hawthorns, serviceberries and more.
If you don't have your fall foliage map handy, a good gauge is to assume that the colors begin in the highest elevations (such as atop the Wasatch Plateau and Guardsman Pass) in mid-September and wrap in early-October across most of the state. The season beckons for long weekend drives on Utah's scenic byways (or scenic backways), and taking in views as you make your way to the trailhead. Find something pumpkin flavored, fill your apple cider canteen, button up your flannel and hit the open road for some awe inspiring leaf peeping.
"Find something pumpkin flavored, fill your apple cider canteen, button up your flannel and hit the open road."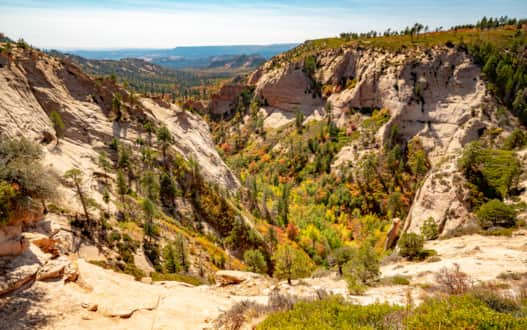 Pair with Jurassic Dinosaur Bones
Energy Loop: Huntington and Eccles Canyons National Scenic Byway (S.R. 96, S.R. 31)
Interested in the best lesser-known terrain of Utah?
Cutting through the heart of Utah, the Energy Loop: Huntington and Eccles Canyons National Scenic Byway in the Manti-La Sal National Forest captures the best of Utah's high-alpine experience (think 10,000 feet high) as it meanders over the Wasatch Plateau among contrasting fields of yellow aspens and deep green conifers. Once a common thoroughfare for first generation coal miners and railroaders, this route affords 360-degree views of Mount Nebo and the San Rafael Swell, known as the Little Grand Canyon.
If the weather is cooperating, take a brisk dive in a sparkling reservoir and continue on to Utah's Castle Country to check out an active dinosaur quarry. The Cleveland-Lloyd Dinosaur Quarry preserves the most concentrated collection of Jurassic dinosaur bones on earth. More than 12,000 bones have been excavated, and several thousand more still remain. Learn more about this drive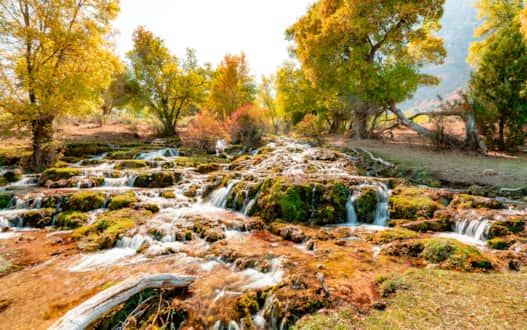 Pair with the World's Heaviest Organism
Fish Lake Scenic Byway (S.R. 25) and Beaver Canyon Scenic Byway (S.R. 153)
These two scenic byways bookend Fishlake National Forest, an often-missed oasis featuring three mountain ranges broken up by desert canyons.
Approaching from the east on Fish Lake Scenic Byway, you'll pass the forest's prize jewel, Fish Lake, which is known for its recreational bliss and yellow-blazen aspen forests. Seize the opportunity for a scenic drive in Utah to see the leaves change on an aspen clone known as Pando, which is believed to be the heaviest organism ever found at nearly 13 million pounds. Pando is located about 1 mile southwest of Fish Lake on state Route 25. If you want to pair your drive with mountain biking, hiking, camping, or fishing for eager-to-bite mackinaw and rainbow trout, make sure to add this spot your autumn itineraries bucket list. Learn more about the Fishlake Loop
On the western side of the forest, the Beaver Canyon Scenic Byway rambles from the town of Beaver to a high point at Eagle Point Ski Resort. If you're feeling adventurous and your clearance allows, continue the route on the unpaved Kimberly/Big John Scenic Backway over volcanic remnants that are now the 12,000-foot Tushar Mountains and down into the Sevier River Valley corridor. Learn more about this backway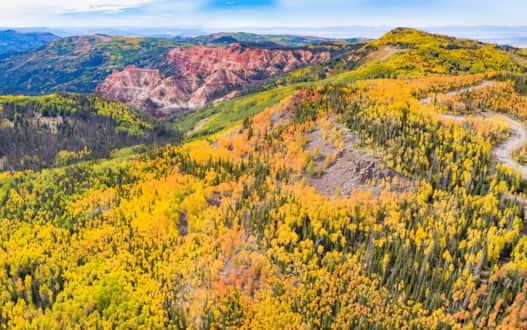 Pair with a Miraculously Resilient Landscape
Utah's Patchwork Parkway National Scenic Byway (S.R. 143), Markagunt High Plateau Scenic Byway (S.R. 14) and Cedar Breaks Scenic Byway (S.R. 148)
This high-elevation and densely forested area of Southern Utah offers a particularly unique leaf peeping experience this fall. During June and July, a fire consumed 70,000 acres near the area of Brian Head, though the town and resort were fortunately saved. In many ways, the patches of charred backdrop make the contrast of the multitude of spared trees even more dramatic. Yes, you will see fire damage along Utah's Patchwork Parkway National Scenic Byway, but you will also see maples and aspens, golden and fiery red, rising triumphantly — almost a tribute to their fallen soldiers — along your journey up to a 10,000-foot plateau. Remarkably, this area connects three scenic byways and features the outstanding Cedar Breaks National Monument — the topmost rise of the geological Grand Staircase.
Known as Southern Utah's Fall Color Loop, begin your loop in Parowan at the start of Utah's Patchwork Parkway National Scenic Byway (S.R. 143), weaving through a patchwork of historic towns, geological formations, wildlife habitat and recreational opportunities. The pink cliffs of the Paunsaugunt Plateau glitter in the distance as an ancient lava field sprinkled with aspen trees line the road. Continue as long as you like, but at some point turn (or make your way back to) the junction of S.R. 143 and S.R. 148, which becomes the Cedar Breaks Scenic Byway as you head south. Along this journey you will encounter the large, natural amphitheater of Cedar Breaks, which creates a supreme backdrop for fall leaves. To finish the loop, turn west back towards Cedar City at the junction of S.R. 14. You're now on your third scenic byway: the Markagunt High Plateau Scenic Byway. Don't forget to stop at the Zion Overlook or Wood Ranch for your fall-themed picnic feast.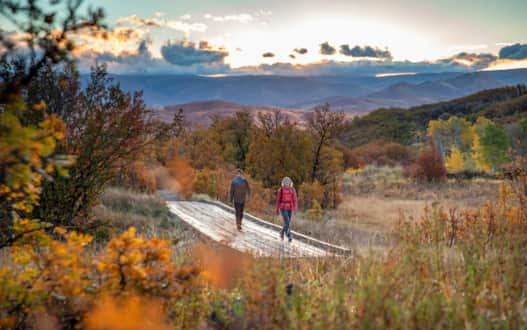 Pair with Certified Stargazing
Ogden River Scenic Byway (S.R. 39)
Heading east from Ogden, it's incredible how dense and varied the foliage gets along this scenic drive within minutes from the metropolitan area. Most color-seekers will travel along the Ogden River Scenic Byway for 44 miles to the eastern boundary of the Wasatch-Cache National Forest at the Monte Cristo Campground. This jaunt passes through narrow canyons, an expansive and beautiful valley, and some fine mountain meadows and forest.
An optional side-trip includes the 9-mile (one way) Trappers Loop Road, which begets marvelous leaf peeping views of the northern Wasatch Front. Come back to the Ogden River Scenic Byway and continue eastward. You'll drive to the lovely towns of Huntsville and Eden — both have great options for eating if you're not feeling up for a picnic. If you drive until sunset, consider having dinner and setting up camp so you can behold some stargazing at North Fork Park, a certified International Dark Sky Park. After a day of energizing golden hues, relax those eyes and prepare for a celestial feast. Learn more about this route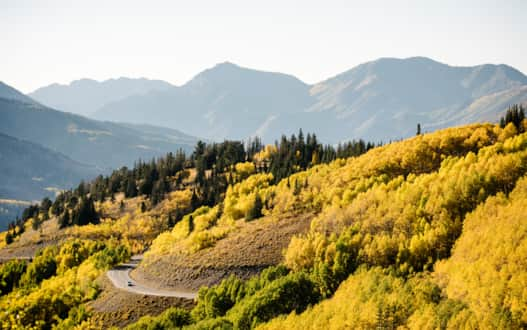 Pair with a Bird's-eye View
Big Cottonwood Canyon Scenic Byway (S.R. 190) and Little Cottonwood Canyon Scenic Byway (S.R. 210)
The glacially carved Big Cottonwood Canyon, home to Brighton Ski Resort and Solitude Mountain Resort, offers immaculate alpine scenery. There are plenty of hiking, biking and picnicking opportunities to take in the views. You can head straight to Brighton at the top of the canyon or take a number of stops along the way. Expand the drive up Big Cottonwood Canyon by continue to Guardsman's Pass — located 15 miles up the canyon — which crosses the range and drops you into Park City and Heber Valley.
And Little Cottonwood Canyon is just as much a site as its big sister to the north. It takes the name "little" because it is smaller and more narrow due to its nature as a river-carved canyon (as opposed to glacier-carved) making its trails and vistas all that steeper and more extreme. With few pull-offs to take in the views, get out of the car and head up to a high alpine lake. If hiking isn't on your agenda, take advantage of a unique opportunity to leaf-peep from a bird's-eye view. At Snowbird Ski & Summer Resort, take the Aerial Tram to the top of Hidden Peak.
Both canyons offer similar flora and fauna and rock formations. Hike along babbling creeks through pines, navigate your way through aspen groves to high alpine lakes, and scramble your way to a peak to enjoy stunning vistas of the reds, oranges and greens in the canyons below.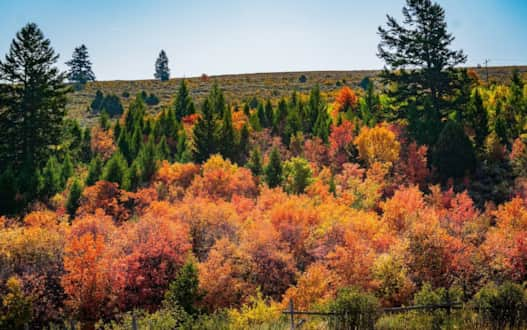 Pair with the Caribbean of the Rockies
Logan Canyon National Scenic Byway (U.S. Route 89)
This scenic drive in Utah is a great route for taking in the season of harvest. Traveling through Cache Valley, this agricultural area has undeveloped terrain, old farms and the painterly aesthetic of the harvest season. From Logan, the 41-mile scenic byway runs alongside the Logan River until it peaks at an elevation of 7,800 feet at a vista overlooking the turquoise waters of Bear Lake — often nicknamed "the Caribbean of the Rockies" — before descending into Garden City.
About a one hour drive each way, much of the trip looks onto limestone cliffs, with aspens, maples and more ablaze in a multitude of hues. This fall foliage paradise is set with the backdrop of evergreens and the deep blue waters of the area's many lakes and reservoirs.
Great stops along the way include Old Ephraim's Grave, Rick's Spring, Tony Grove Lake, and Bear Lake Viewpoint. Or hit the trail for a 5-mile hike to a unique limestone formation known as Wind Cave.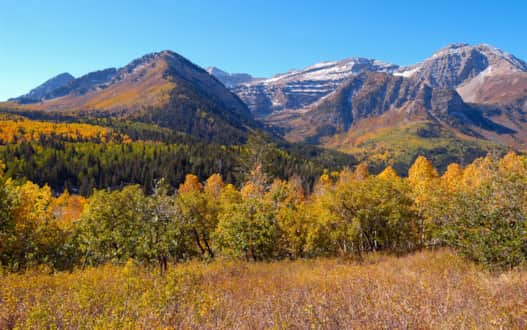 Pair with Cascading Waterfalls
Provo Canyon Scenic Byway (U.S. Route 189)
Only 45 minutes from downtown Salt Lake City or Provo, this area's rugged alpine canyons are brimming with golden aspens and crimson-colored maple that give way to stunning views of Mount Timpanogos and other glacier-carved peaks. The Provo Canyon Scenic Byway connects the beautiful Heber and Utah valleys through Provo Canyon.
A locals' favorite, it's worth adding the Alpine Loop (S.R. 92) through American Fork Canyon to your itinerary. Lush vegetation characterizes this route, which is also marked with popular family-friendly attractions (and is also a cyclists' favorite). Time permitting, stop off for a tour of Timpanogos Cave National Monument and Sundance Mountain Resort. If you're wanting to pair your fall photographs with a waterfall, try a hike to Bridal Veil Falls, Stewart Falls or Cascade Springs.