Cycling the Alpine Loop
The Ride That Bear Hugs You Back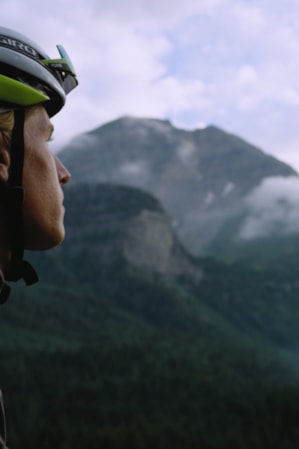 Cycling the Alpine Loop can be described as receiving an all-consuming bear hug.
At least if you're professional cyclist and Lehi, Utah, native TJ Eisenhart. (Also featured in Cycling Zion: Earning the Descent)
Describing one of his favorite sections of the 20-mile mountainous ride through the Uinta-Wasatch-Cache National Forest, "You come around a right bend and the whole mountain range seems like it's giving you a bear hug. It just opens up."
And the backdrop of this intimate moment? White trunks of quaking aspen contrast against evergreen stalwarts. Sparkling glacier-carved peaks fill the horizon, and flowing rivers cool the air.
"You come around a right bend and the whole mountain range seems like it's giving you a bear hug. It just opens up."
Topping out at an elevation of 8,000 feet, a comforting embrace seems like an unlikely descriptor for a high-elevation journey filled with ascents, descents and reascents, but Eisenhart has been riding these roads since he was 11 years old. Sometimes in a denim shirt. And more recently in his trademark turquoise necklace. More on that later.
He admits this ride can also be a beast at times. Gaining around 4,200 vertical feet of elevation might have something to do with that. Or getting a flat with an early-season surprise blizzard looming on the horizon. He's lived that, too.
Casual bike riders might opt for out-and-back rides from either side of state Route 92, since the entire loop is more mileage than most cyclists have the time or the legs to accomplish in a day. It can't be everyone's day job.
But with a mix of easy to hard climbs, a cleanly paved road and the car-free Murdock Canal and Sundance trails, the Alpine Loop Trail, however you decide to construct it, is, as Eisenhart says, "a beast that can be tamed by all."
And this "all" extends beyond cyclists — both professional and amateur.
Drive, Hike, Explore
A local's favorite for fall splendor, driving the Alpine Scenic Loop and Provo Canyon Scenic Byway offers a narrow, windy road with lush vegetation and outstanding vistas, particularly of the imposing Mount Timpanogos. While the bike ride is spectacular, driving the loop allows visitors time to experience it all.
The loop begins at the mouth of American Fork Canyon on state Route 92 at 5,000 feet elevation, and follows the canyon to its crest at 8,000 feet. From the summit, the road winds down towards Provo Canyon and U.S. Route 189. Campgrounds and picnic areas abound, and great hiking trails — such as Cascade Springs, Mount Timpanogos via Aspen Grove, Stewart Falls and the Silver Lake Trail — meander through the Mount Timpanogos and Lone Peak Wilderness Areas. And of course there's the offerings of Timpanogos Cave National Monument and Sundance Mountain Resort.
A Shared Experience
However one experiences it, the key part is to slow down and enjoy the ride. Both figuratively and literally. As a winding road where casual bike riders, pro cyclists and vehicles interact — and moose and mule deer and black bears too — this cherished loop demands that everyone respects each other's journey. Remember, this mountain's offering you a bear hug after all on some of the best cycling routes in Utah.
Eisenhart embodies this both carefree and care-full nature. It's the reasoning behind his turquoise necklace. Sometimes challenged by other riders as a millisecond-slowing, aerodynamic-reducing distraction, he describes it as a reminder to take in the moment.
Grasping his signature turquoise accessory around his neck, he says, "That's what this is. It's the reason why you ride and why you do what you do." It's a reminder to never forget to take in your surroundings — to tame the beast.
Go ahead: Lean in to the bear hug.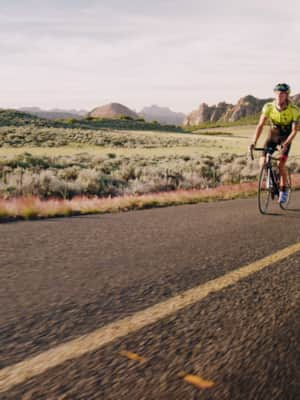 Cycling Zion: Earning the Descent
Watch Utah cyclist TJ Eisenhart climb Zion National Park's Kolob Terrace Road. It's a one-of-a-kind ride that transitions from red rock desert to green valley plateaus.