Cycling Utah with TJ Eisenhart
Follow Tour of Utah pro-cyclist TJ Eisenhart through three days of challenging, scenic and diverse riding.
I grew up riding up the canyon roads and trails in the mountains behind Provo, Utah, a city at the heart of the Utah Valley, south of Salt Lake. Many locals consider the mountains of Utah County to be the most iconic, even more beautiful than those of Salt Lake and other Northern Utah cities. One of the biggest reasons? Mount Timpanogos. The range behind Utah Valley is also home to Timpanogos Cave National Monument, Sundance Mountain Resort, incredible mountain biking and one of the finest road cycling canyons in Utah.
Follow me through three days of challenging, scenic and diverse riding.
The first day explores some of the best mountain roads for cycling. Without a doubt, American Fork Canyon is my absolute favorite place to ride. The climb has some of the wildest views of Mount Timpanogos. This is my go-to climb to test my strength before I head off to a race. This climb is very hard and reaches an altitude of 8000 feet. I've seen mountain goats, brown bears and moose on this ride and the river helps keep it cool in the summer. In October during my rest period, I go trail running up my favorite trail, the Timpanokee trailhead, which will take you to the very top of Timpanogos. The road finishes on an excellent ride past Sundance Resort.
The second day embraces the big climbs. I developed a love for high-elevation biking at an early age. I set out one day following my brother and dad on the Suncrest route. This is a special climb for me because it's the first mountain I ever climbed. There was no looking back from there — no looking back, that is, until reaching the top of the mountain. Today you'll tackle Suncrest and/or Kyhv Peak in the pursuit of the title Queen or King of the Mountain.
Finally, wrap up your grand tour of this riding mecca with more leisurely tours — that is, less climbing — on the Murdock Canal Trail and Jordan River Trail. Complete all these rides and who knows, maybe I'll be racing you to the Tour of Utah finish line!
Now get on your bike and let's pedal it out. Ride baby ride.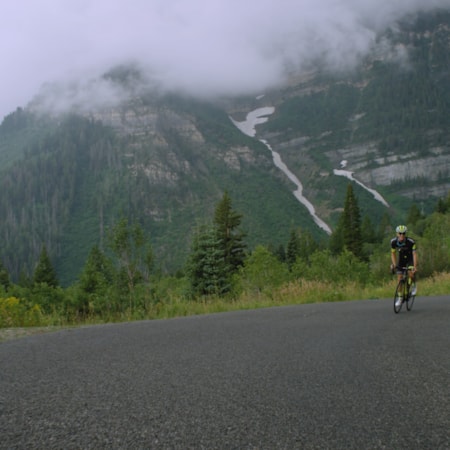 S.R. 92 begins with a challenging and scenic climb through American Fork Canyon and offers eye-popping views of Mount Timpanogos. The neighboring stream helps keep the ride cool in the heat of summer. The road then turns east toward Sundance Mountain Resort and Provo Canyon. Of course, from this direction you get a downhill cruise and a sense for what the return trip is like. For an added challenge, consider a return trip to the summit after refueling at Sundance — or call it a day and meet non-riders in your group or family for a comfortable overnight at the rustic mountain resort. A full loop completes with Provo River and Murdock Canal trails.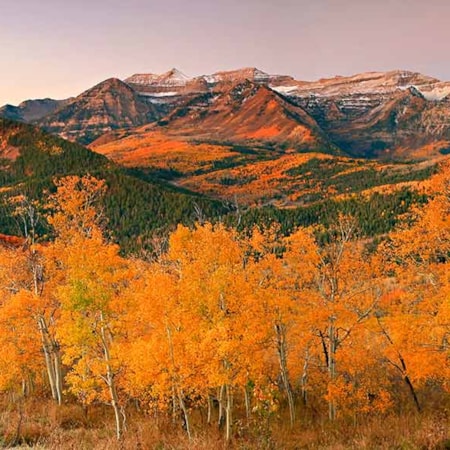 King of the Mountain (KOM)
22 Miles
Here are two of my favorite climbs that will earn you a well-deserved dinner and night's rest in Utah Valley. Suncrest rises from Provo Canyon, challenging you with its steep initial climb then giving way to a gentler, but still punishing grade. From the Provo River Parkway trailhead, it's nearly 2,000 feet to the top over barely 6 miles. Don't let TJ's KOM time discourage you. Any successful climb is worth celebrating. The gentler Suncrest climbs connects Highland on the Utah Valley side of Traverse Mountains to Draper on the Salt Lake Valley side, but this time you're not on a mountain backway. At the top there is a great place to stop for a snack. It's a few miles and just over 1,400 feet to the crest of this climb. Add at least 15 miles on the Murdock Canal trail to complete these two climbs on a single ride. Photo by Pierce Martin, via Flickr CC.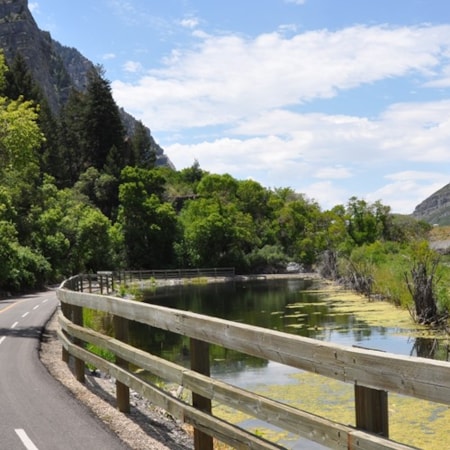 The previous two days featured some incredible climbs. But what if you don't want to climb or need a day for some more relaxed cycle touring? Well don't worry: Here are two fantastic paved trails that I love. Murdock Canal takes advantage of a valley's canal path for some excellent paved touring. Though it crosses several intersections, you'll appreciate the change to cruise the valley off the main roads and away from the vehicle traffic. The ride gets even better when the Murdock Canal trail connects with the Jordan River Parkway west of I-15. A short ride along the Parkway takes you to one of my favorite places to cool off — the bridge at Thanksgiving Point — but the Parkway continues for miles in both directions, including more than 30 miles north to Salt Lake City. It really just depends on how much time and energy you have!