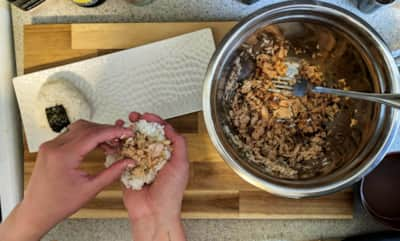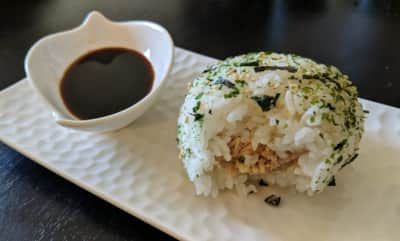 Ingredients:
*Yields about 8 rice balls
4 cups short grain rice
5 3/4 cups water
2 cans tuna
4 tbsp soy sauce OR mayo
2 tbsp chopped green onion
Dried salted seaweed - available at most grocery stores in the snack section
Optional: Furikake (seaweed seasoning)
Instructions:
Wash rice in cold water, rinsing then dumping water three to four times. Then, leave rice to soak for 15-30 minutes, just covered by fresh water.
Dump out water and place rice in a heavy saucepan, then add the 5 3/4 cups new water. Cover and bring to a vigorous boil, then reduce heat to low and simmer until all water is absorbed, approx., 12-13 minutes.
Turn off heat and let sit for 10-15 minutes in the pan to cool.
Cut seaweed into two inch strips.
Open a can of tuna and drain, then place in a mixing bowl. Add soy sauce or mayo, and chopped green onion.
Prepare a small bowl with lukewarm water and a teaspoon of salt.
Fluff rice with a spoon or spatula.
Wet hands with salted water to prevent rice from sticking. Pick up about 1/2 cup rice in your palm and make an indentation. Place about a teaspoon of tuna mix in the center and fold rice around it, molding to triangle shape.
Place strip of seaweed around one side of the triangle, with ends sticking up toward the center. (see photo)
Place on plate and enjoy!